Top 5 Ways To Network During Business School Days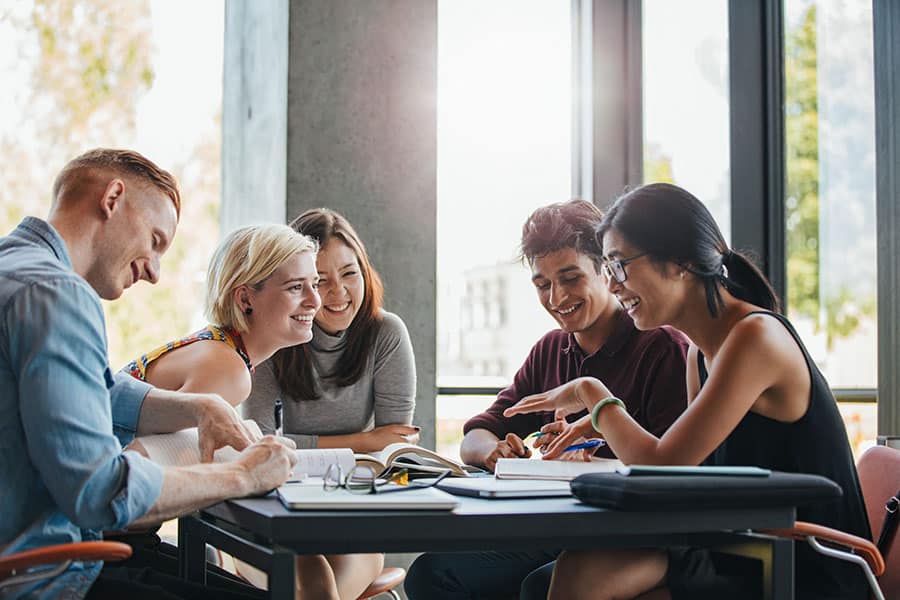 Business school is that crucial time when you build yourself and put yourself out there in the world. This is the time when you meet new people and gain new experiences, making you ready for the hard and realistic life that is going to hit you ahead.
To thrive in life, it becomes important to make connections, know people who will be there to help you professionally and personally both. This stage of building connections and networks begins right at business school. The sooner you start networking, the better opportunities you are likely to receive.
Following is the list of top 5 ways to network during your business school days.
LinkedIn: Social media platforms have been taking over every market and have become an important source of building connections. You should take benefit of the growing speed of social media. LinkedIn is a platform specifically created for development of professional network and making it easier for both recruiter and employee to find suitable candidates.

Make a profile on LinkedIn, add all your accomplishments, and make sure your profile looks impressive. An impressive profile attracts people and will help you create a network. It helps not only in searching jobs but also internships. With LinkedIn, you can build and maintain your network, easily search for jobs, and build a professional reputation.

Seniors, alumnus, and faculty: The people of business school can be an extremely helpful source for developing connections, thus It becomes important that you interact with your seniors who can make suggestions to you or get you in contact with their contacts. They can make your recommendation to their sources as well.

The Alumni base of your university is also equally important as they are diversely located, which can grab you opportunities in different cities and companies. Being at good terms with your faculty also pays off. They can help you in applying to different places or act as your references while applying to different organisation and can make your application stronger with a good feedback.

Internships: Internships are a great way to get to know more people related to your field. You not only get to learn the work but also create such relations that will help you in the future for your career aspects. Even if it is an unpaid internship, it is still an opportunity for professional development, and it is not just to enhance your resume.

You should value the network you are creating more than the money. Do keep in mind that it is equally important to maintain the relations you create.

Attend lectures by visiting guests and conferences: Make sure to attend different kinds of seminars, summits, conferences, and lectures by guest speakers that take place in your business school, or outside.

You might as well get a chance to interact with them. You can approach the panel speakers with your aims, queries, or suggestions. By creating a notable impression, they also might offer you different kinds of opportunities to work with them.

Join clubs and take part in competitions : An important part of joining a business school is to take part in inter-business-school competitions for improving your academic or co-curricular areas. You also get to intermingle with students from other business schools.

Connections made with students of other business schools can result in being equally helpful. Also, joining different clubs within the business school not only helps in building relations within the your business school, but you also get a chance to approach the authorities with meaningful suggestions and ideas that you wish to take upon. This way you get recognised and may get a chance to be part of the system in the near future.
Creating connections is important, but what's more important is to maintain them. Strong ties ensure certainty of help whenever required. Putting efforts in the relations you develop shows your care and reflects the value you attach to these relations.
You should keep your professional network always in place for you never know when you might need it. You should think of the long term prospects of these relations and value them. Do follow all the aforementioned ways to network during your business school days and you are sure to have a decent career in the future!
---
Have you read?
# GDP Rankings Of The World's Largest Economies, 2019.
# Most Expensive Countries In The World To Live In, 2019.
# Countries With The Highest Average Life Expectancies In 2030.
# The World's Best Performing Companies 2019.
# World's Most Luxurious Hotels, 2019.
---
Add CEOWORLD magazine to your Google News feed.
---
Follow CEOWORLD magazine headlines on:
Google News
,
LinkedIn
,
Twitter
, and
Facebook
.
---
Thank you for supporting our journalism. Subscribe here.
---
For media queries, please contact:
info@ceoworld.biz
---