Maximizing Your Next Conference Experience
Whether you plan to attend an important conference yourself or invest in your people to do the same, squeezing all the value possible, given the time and money invested, requires understanding where that value comes from. Consider this: People who aspire to go to a conference will typically state that their reasons for wanting to attend are to learn, connect and grow.  Yet on average, once the conference has concluded, attendees forget 70% of what was presented to them after 24 hours.  They also tend to connect with too few people, lose touch with those they do, and don't apply nearly enough of what they learned upon their return.
The reasons for this are understandable, but avoidable if you recognize (and persuade your employees to realize) that the richest resource at any such event is their fellow attendees.  Once they understand this, they'll be on the path to learning, connecting and growing more effectively.
We need one another to help us remember.
In a recent article by global research analyst Josh Bersin, he cited the Ebbinghaus Forgetting Curve, which describes how our memory declines over time unless we keep revisiting the subject matter.  Bersin notes, "When you study alone, you typically remember 28% of what you learned after two days. When you repeat the material, you remember 46%. But when you use it, answer questions about it, and interact with others, you remember 69%. The reason?  Actually conceptualizing, recalling, and using information is what creates the "memory pathways" that stick in your mind."
The difference between remembering roughly 70% of the content delivered at a conference versus forgetting 70% rests with our willingness to engage other attendees by asking questions, sharing experiences, and talking about how new ideas and concepts can be implemented.  Upon returning home, it will involve rereading your notes with a goal that you've absorbed the content well enough to teach it to others. This will not only make the content stickier for you, but also extend the reach of what you learned to those who did not attend the event.
Building your network requires networking.
Networks have never been more important for career development than they are today.  Executive recruiters cite their value in landing a job, and the relationships employees build both inside and outside their organization are often essential to helping them keep their job and/or advance their career.  It's easy to stay close to what's familiar and socialize with the people you know. There's nothing wrong with that, as it serves to strengthen existing bonds. On the other hand, a conference environment offers the opportunity to meet new people and build on those relationships.
If you want to strengthen and extend your network, then it will require networking.  Approach this task by setting a goal for the number of new connections you'd like to make on a given day.  Think of these new connections in terms of relationships rather than transactions and introduce yourself to others by being interested versus trying to be interesting.  The more interested you are, the more interesting you'll become. Capture the necessary contact information and maintain contact with your new connections. No matter how unlikely it may seem that you'll ever have occasion to work with a new connection, you just never know.
Five factors of a high-performing conference.
The five factors common to high-performing conferences are essentially the same factors found in high performing groups and teams.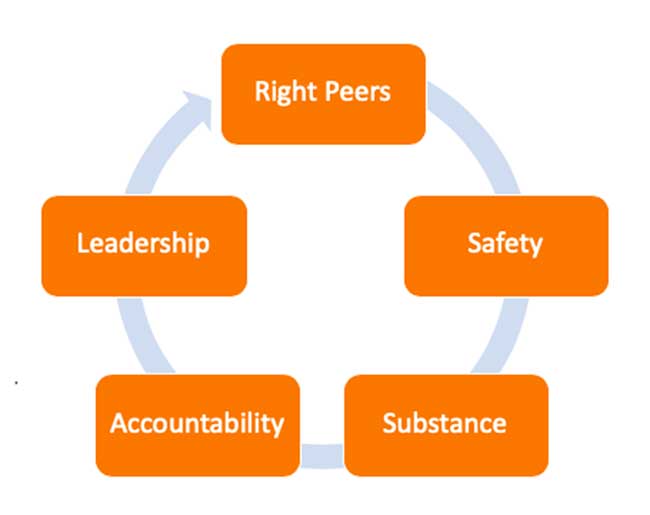 A high performing conference assembles all the right people in the room – people who have a shared interest in the subject matter, yet reflect diversity of experiences, geography, cultures, etc.  It will promote an environment of psychological safety, where people can ask questions and express themselves without fear of being judged. The conference will offer sessions with substantive content, attended by people committed to bringing their A games to every session.  Great conferences are led by those who provide ample and diverse networking opportunities, and who serve as stewards of the other four factors – year in and year out. It's why the best conferences continue to improve over time.
We Learn Better When We Learn Together
If you want to learn, connect and grow, then your next conference experience can be an extraordinary opportunity to do so.  When you consider all the resources available to us to learn that we can access from the comfort of our own homes or offices, it should not go unnoticed that the conference business and the desire for face-to-face human connection is alive and well.
Engaging with others not only helps us understand new concepts more completely, but also gives us the courage to apply those concepts in our daily work – reasons enough to regard conference attendees as your greatest resource for growth.
---
Have you read?
Ranked: The World's 50 Best Cities For Street Food-Obsessed Travellers, 2019.
Who are the top 50 richest people in Singapore, 2019?
Top MBA Colleges In Europe For International Business, 2019.
Top MBA Colleges In Europe For Marketing, 2019,
Revealed: The 50 Best Road Trip Songs Of All Time.
---
Add CEOWORLD magazine to your Google News feed.
---
Follow CEOWORLD magazine headlines on:
Google News
,
LinkedIn
,
Twitter
, and
Facebook
.
---
Thank you for supporting our journalism. Subscribe here.
---
For media queries, please contact:
info@ceoworld.biz
---