How Employee Peer Groups Can Alleviate CEO Worries
In January 2019, CNBC cited the findings of a Conference Board Study of 800 CEOs that revealed the top three things CEOs worry about most: 1) Attracting and Retaining Top Talent; 2) Creating New Business Models Because of Disruptive Technologies; and, 3) Developing Next Generation Leaders.  If you think about it, there's a common denominator to addressing these three worries – an organization's learning and development (L&D) program, supported by employee peer groups. To that end, let's crawl inside each of these worries one at a time, and I'll explain how employee peer group support will make all the difference.
Attracting and retaining top talent.  Employers and employees alike recognize the dizzying pace of change.  According to the 2019 Edelman Trust Barometer, employees want their employers to take an active role in preparing them for an uncertain future.  Turns out, 79% of prospective employees expect employers to provide training programs that will prepare them for what's next. With people leaving their current jobs at the highest rate since 2001 (Conference Board), employers who don't "chin the bar" here risk losing their best people, and on top of that, will likely end up retaining employees who are less interested in learning and adapting than people they just lost.  Not good.
Creating New Business Models Because of Disruptive Technologies.  If you look at today's workplaces, many of them operate with fewer people who are charged with doing more than ever, only faster.  That means when employees participate in L&D activities, ranging from online courses to offsite immersions, they have to do extra work to prepare for their upcoming "learning time." Afterwards, they are challenged to catch up on what piled up while they were otherwise occupied, leaving no time to absorb what they learned in training, let alone implement it.  The learning is lost, and it's back to the grind. When we become consumed with working in our business, without the time to work on our business, we leave ourselves wide open to disruption.
Developing New Generation Leaders.  While we need to provide next generation leaders with the mindset and skills to lead, we also have to give them perspective, or as William Ury calls it, "a view from the Balcony" – the kind of view that paints a complete picture of the landscape, one that your people can't get sitting alone at their desk. With perspective, they can serve as informed participants in the process of determining where they and their organization are going.  If they can do that, they stand a chance of actually leading somebody, somewhere, someday. Making this possible will involve empowering employees to create a mechanism that will help them discuss emerging realties, reflect on new ideas, and act on behalf of the company's future.
If don't have a mechanism for employee reflection and implementation, your L&D program is just a program, sans the learning and development.  Most employers have an L&D program, as evidenced by the more than $360 billion that was spent globally in 2018. I use the word spent versus invested purposely because no one would invest in any other area of their company and tolerate the little ROI they receive in return (year over year) as they do from their L&D program.  That said, if the purpose of your program is simply to check off the box for the 79% of prospective employees out there looking for one, and you don't share the Conference Board's CEO worries, then there's no need to read on.  If, however, you care to avoid being disrupted and want to actually develop and retain the next generation of leaders, then stay with me.
So how does a CEO alleviate their top three worries?  Let's assume your L&D content has been carefully identified to empower your people to adapt to the realities of a new world and help them become better leaders.  If that's the case, then give them the time they need to reflect and share their favorite concepts with their colleagues so they can work together at bringing them into the operations of your company and to the way they lead going forward.
Encourage employees to self-organize into peer groups. Here, they can challenge each other to select key learnings, talk about them in-depth to create deeper understanding, and transform ideas to action.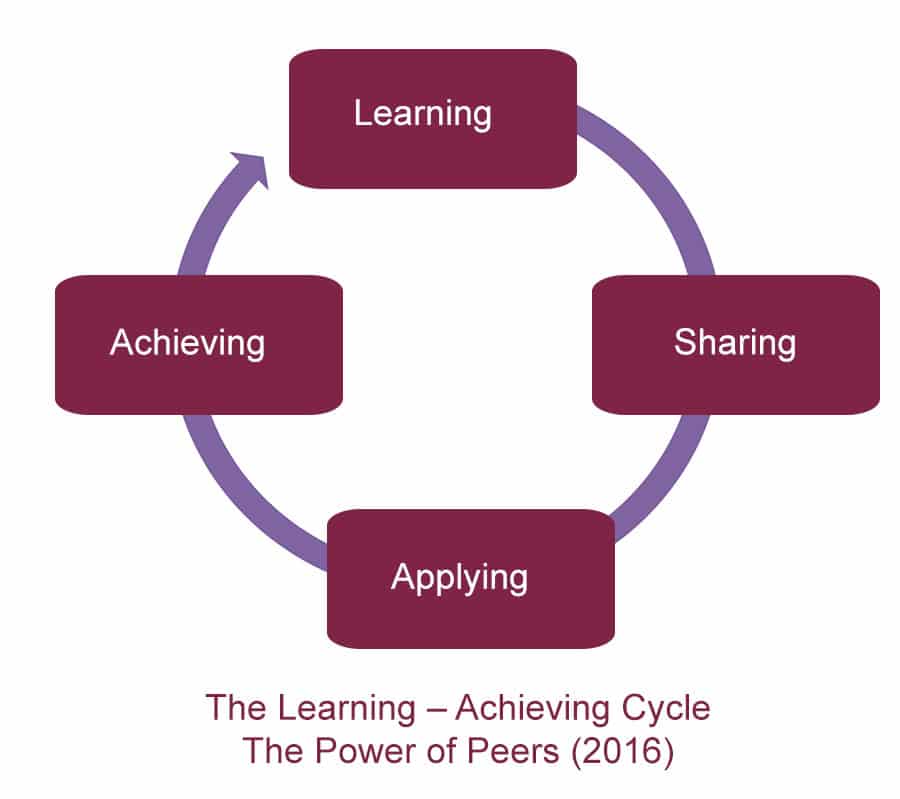 You'll not only benefit by watching your L&D program become operationalized (finally), you'll create a reinforcing loop for your next generation leaders that will help them build muscles around creating collaborative environments and leading teams.  Stanford's Linda Darling-Hammond says that teachers who collaborate with one another, tend to create more collaborative environments among their students. The same holds true for emerging leaders and their team members.
The fact is, we learn better when we learn together.  And if we're not learning, no one is adapting or growing.  As the CEO, it's time to stop worrying. Embrace employee peer groups as a mechanism to support your L&D program – a program you already invest in heavily.  Help your people operationalize what they learned in the classroom, and you'll find yourself bragging about it on their behalf in the boardroom.
---
Have you read?
# World's Most Powerful Women For 2018.
# India Rich List For 2018: Richest Indian Billionaires.
# China Rich List For 2018: Richest Chinese Billionaires.
# Taiwan Rich List For 2018: Richest Taiwanese Billionaires.
# Russia's Rich List 2019: Wealthiest People In Russia.
---
Add CEOWORLD magazine to your Google News feed.
---
Follow CEOWORLD magazine headlines on:
Google News
,
LinkedIn
,
Twitter
, and
Facebook
.
---
Thank you for supporting our journalism. Subscribe here.
---
For media queries, please contact:
info@ceoworld.biz
---