Indian billionaire Gautam Adani to produce wind turbine generators.
Gautam Adani, one of the wealthiest people in Asia, declared the initial stage of constructing a selection of "made in India" wind turbines as it revealed type certification for a new design.
Adani Enterprises Ltd informed investors on the Mumbai Stock Exchange that its subsidiary, Adani New Industries Ltd, was granted a key international endorsement from WindGuard GmbH for its 5.2 MW onshore wind turbine generator – boasting it as "India's largest". This accreditation will permit Adani Wind to initiate mass production for international markets.
The testing of the 5.2 MW WTG created by Adani Wind and W2E Wind to Energy GmbH, Germany, was carried out by WindGuard at the Mundra site in Gujarat. The IEC System for Certification to Standards Relating to Equipment for Use in Renewable Energy Applications (IECRE) has certified the turbine, confirming its commitment to the highest quality and safety standards.
"We are focused on building a portfolio of high-yield next-generation wind turbines made in India and are well-poised to cater to the global wind energy demand," said Milind Kulkarni, chief operating officer of Adani Wind.
The 5.2 MW wind turbine manufactured by Adani Wind features a rotor diameter of 160 meters with a swept area of 20,106 square meters and a tip height of 200 meters, making it one of the world's most powerful onshore wind turbines.
Adani Wind is the wind energy solutions division of Adani New Industries Limited (ANIL), a wholly-owned subsidiary of Adani Enterprises Ltd.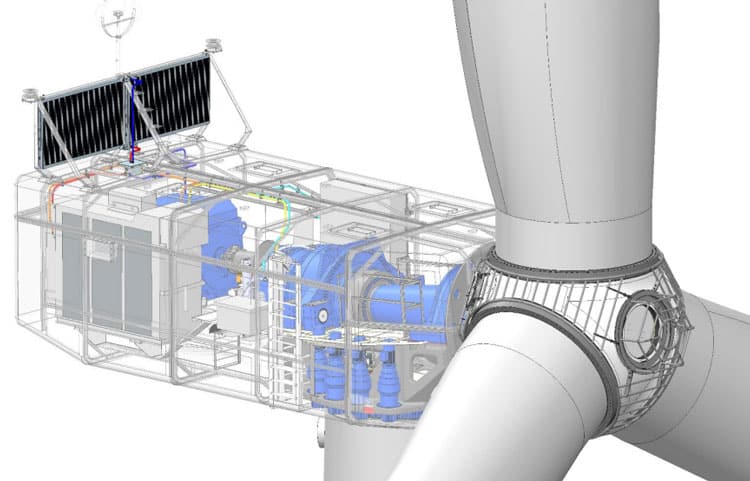 TECHNICAL DATA
Rated power: 5.2 MW
Rotor: 160 m
Wind class: IEC 3b
Cut-in wind speed: 3 m/s
Rated wind speed: 12 m/s
Cut-out wind speed: 20 m/s
Sound power: 107.2 dB(A) (TES, noise reduced modes available)
Hub height: 120 m tubular tower (other options on request)
Drive train concept: 3-point suspension
Electrical configuration: Doubly-fed induction generator (DFIG) / IGBT converter
Power control – LARUS Smart®: Triple independent pitch system
Safety System – LARUS Safe®: Matrix safety system acc. to GL guideline, ed. 2010
POWER CURVES
VWIND [m/s]: Power [kW]
3: 25.1
4: 297.4
5: 654.4
6: 1180.2
7: 1871.0
8: 2768.8
9: 3717.5
10: 4602.3
11: 5167.5
12: 5200.0
13: 5200.0
14: 5200.0
15: 5200.0
20: 5200.0
ANNUAL YIELD
VWIND [m/s]: Yield [MWh]
5.0: 9769
5.5: 12117
6.0: 14453
6.5: 16706
7.0: 18822
7.5: 20760
8.0: 22489
8.5 23990
Have you read?
The highest-paid tech CEOs in the United States.
Highest-Paid Biopharmaceutical CEOs in the United States.
Executive Pay: Top 8 Highest-Paid Hotel CEOs.
Openly LGBTQ CEOs at the helm of major global companies.
Top countries that admire their CEOs and other C-suite leadership teams the most.
---
Add CEOWORLD magazine to your Google News feed.
---
Follow CEOWORLD magazine headlines on:
Google News
,
LinkedIn
,
Twitter
, and
Facebook
.
---
Thank you for supporting our journalism. Subscribe here.
---
For media queries, please contact:
info@ceoworld.biz
---
Tags :
Chief Business Advisor Insider
Chief Culture Officer Insider
Chief Customer Officer Insider
Chief Health Officer Insider
Chief Inclusion Officer Insider
Chief Medical Officer Insider
Inside Director Insider