Why Group Work Begets Better Teamwork
In my last article, Ode to the Misquoted and Misattributed, I started by using an often-misquoted axiom from Aristotle, "The whole is greater than the sum of its parts," to bridge how the best leaders and teammates create synergy in their teams. The longer I reflected on how great teams achieve such a dynamic, the more evident it became that peer advisory group members are naturally equipped to accelerate it on their teams.
How Great Teammates Inspire Synergy
It starts with defining great teammates as people who take pride in the quality of their work, are dedicated to learning and growing, and are committed to making everyone around them better. The last point serves as the difference between excellent employees and outstanding ones. To review, here's a condensed description of how they do it:
For starters, caring is their currency for positively influencing and impacting others. They believe in something larger than themselves – purpose and other people – and their fellow team members happily follow their lead.
They set high standards. The beauty here is that they don't set standards that create distance between them and everybody else; they do so in a way that invites others along for the ride.
They lead by example. In addition to setting high standards, they model daily behaviors that make achieving those standards possible.
Operating from a caring place, they balance challenging and supporting their colleagues to be their best. People accept being challenged if they believe they're not in it alone.
They take the lead in celebrating the progress and accomplishments of their teammates. Recognition and rewards, delivered privately and publicly, can make a big difference in inspiring people to achieve new heights.
The Power of Collateral Learning
In 2017, Stanford's Linda Darling Hammond (education superstar in my book) appeared as a guest on my Year of the Peer Podcast, produced by Randy Cantrell. Dr. Hammond talked about how teachers who participate in collaborative environments and learn from one another tend to have greater success in creating collaborative environments in the classroom. We posited that the same holds for business leaders participating in peer advisory groups and forums.
As discussed during the show, I suspect it's because of what John Dewey described as collateral learning in his book Experience and Education (1938). This type of learning speaks to what we learn from how we learn. For example, when business leaders engage one another in a group setting, they build muscles that help them with being present, asking better questions, steering clear of making assumptions, jumping to conclusions, or being toxically judgmental. They learn to see the best in people and their ideas. This active learning experience is a difference-maker.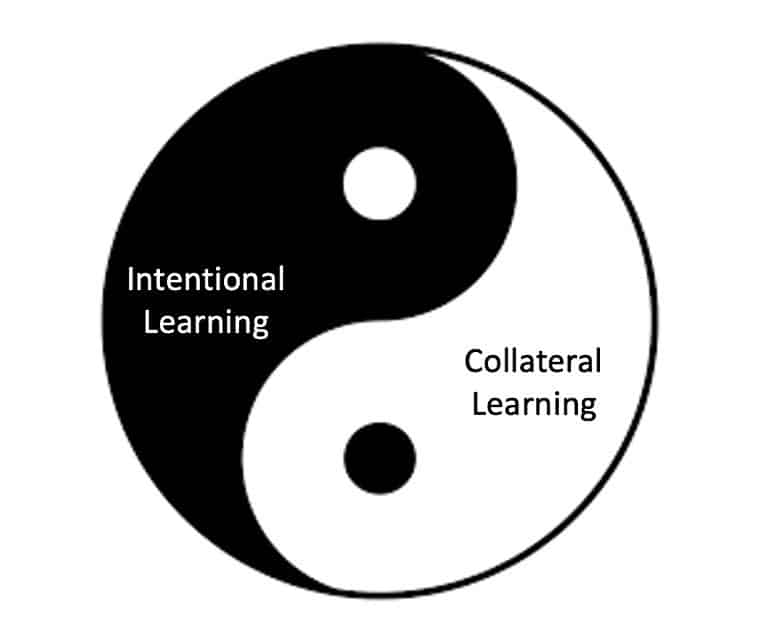 There's Another Reason
The difference between a group and a team is that the group convenes for the benefit of the individuals. In contrast, a team gathers to create a shared work product or achieve something no one can do alone – winning an NBA title, for example. The difference in the reasons groups and teams exist tells the story. Groups are hardwired for their members to grow and make each other better. It's the very reason they come together. That's not the case for teams. It can be, but it requires a greater level of intentionality. As group members share their aspirations, they become acquainted (and emotionally invested) with their fellow members' goals. This dynamic naturally evolves into a culture of caring, from which emerges a positive culture of challenge and continuous individual improvement.
Over time, business leaders who immerse themselves in peer advisory groups become uniquely equipped to deliver on the five points that define how great teammates create team synergy. So it stands to reason – it's how they work and why they exist.
I ended my last article with a line from Sekou Andrews, so I thought I would try it again. Sekou once described leveraging collective intelligence as making "the whole greater than the sum of our smarts." Clever, right? Sekou has more insightful quotes than one can imagine. Keep in mind that Sekou does this for a living, and because he focuses on his craft with an unrivaled commitment to excellence, he can turn a phrase with the best of them. Sekou is as intentional about his poetry as peer advisory groups are at creating environments where individuals help each other improve. Business leaders who participate in these groups develop the skills to do so at their companies. Still not sure how to make everyone around you better? Then it's time to join a group.
---
Written by Leo Bottary.
Have you read?
Uplift at NEARCON 2022 – Taking Web3 To the Next Level by Irina Berezina.
The Only Happy Investor in the Room by Michael Peres (Mikey Peres).
Run a Medical Business? Patient Experience Should Be Your Highest Priority by Dr. Khuong Nguyen.
The Importance of Being a Wise and Mindful Leader by Dr. Ronald Alexander.
---
Add CEOWORLD magazine to your Google News feed.
---
Follow CEOWORLD magazine headlines on:
Google News
,
LinkedIn
,
Twitter
, and
Facebook
.
---
Thank you for supporting our journalism. Subscribe here.
---
For media queries, please contact:
info@ceoworld.biz
---
Tags :
Chief Creative Officer Insider
Non Executive Chairman Insider
Non Executive Director Insider
Outside Director Insider
President Insider
Senior Executives Insider
Senior Vice President Insider
Shadow Director Insider
Trustees Insider
United Arab Emirates Insider
Vice Chairman Insider
Vice Chairwoman Insider
Vice president Insider