These Are The Top 10 Best Bridges In The world You Need To See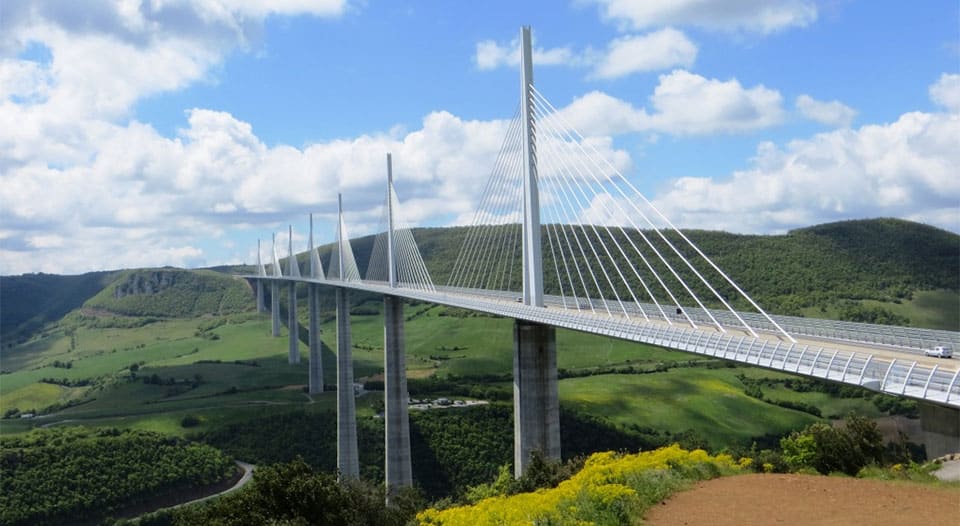 Impressive architecture and construction has never gone unnoticed, especially if it has had the privilege of connecting cultures and telling umpteen stories of its own formation. People have given their lives and inducted themselves in history and folklore through the walls and stones embedded in these monuments. Although the architecture of the past served more of an aesthetic than functional purpose, with grandeur and majesty the central theme, modern architecture has a more functional purpose.
Earth is geographically diverse enough to warrant connection options that are both versatile and large enough to reduce time and effort to get from one point to another. One of those examples is bridges. They are a reasonably simple idea but due to the simple fact that Earth's topography is so diverse that many places have bridges that have become no less than majestic architectures comparable to the pieces of history of the past. This article is about the top ten of them in the world.
Millau Viaduct (le Viaduc de Millau) in France
Crosses: Gorge valley of the river Tarn
Locale: Millau-Creissels, Aveyron, France
Total length: 2,460 m (8,070 ft)
Width: 32.05 m (105.2 ft)
Height: 336.4 m (1,104 ft) (max pylon above ground)
Construction start: 16 October 2001
Opened: 16 December 2004
Inaugurated: 14 December 2004
Located in South France, the bridge was built to cross the Gorge Valley on the River Tam, the bridge holds pride in being the tallest bridge in the world, at 1104 ft (336.4m). The scientific world has called it an engineering marvel, and when you're there, you'll know why that claim is justified.

Lake Pontchartrain Causeway, United States
Crossing: Lake Pontchartrain in southern Louisiana, United States
Carries: 4 lanes of Causeway Blvd
Locale: Metairie and Mandeville, Louisiana, United States
Total length: 23.875 mi (38.442 km)
Opened: August 30, 1956 (southbound) and May 10, 1969 (northbound)
Officially the longest continuous bridge in the world, at 23.87 miles (38.44km) long, the bridge is a way of transportation along the lake Pontchartrain in Louisiana, USA. The bridge's height above water is just 15 ft, but it seems to stretch on forever.

The Duge Bridge, China
Also known as: Beipan River Hangrui Expressway Bridge
Locale: Shuicheng County, Guizhou, Xuancheng, Yunnan
Crosses: Beipan River
Total length: 1,340 m (4,400 ft)
Height: 269 m (883 ft)
Construction end: 10 September 2016
Opened: 29 December 2016
Another contender for the tallest bridge in the world, this time for the sheer distance from the road structure to the Beipan river in China that it crosses, which is 1850 ft (565 m), the Duge Bridge is an engineering marvel.
The Akashi Kaikyō Bridge, Japan
Also known as Pearl Bridge
Crosses: Akashi Strait
Locale: Awaji Island and Kobe in Japan
Total length: 3,911 metres (12,831 ft; 2.430 mi)
Height: 282.8 meters (928 ft) (pylons)
At 2.43 miles in length, the Akashi Kaikyo bridge holds the honors of being the longest suspension bridge in the world. It connects the city of Kobe with the Awaji island in Japan, on a water body known as the Akashi strait. And since it is in Japan, it is made to be virtually Earthquake proof, being able to survive an 8.5 magnitude on the Richter scale.
The Hong Kong–Zhuhai–Macau Bridge (HZMB), China
Also known as: Hong Kong-Zhuhai-Macao Bridge or HZMB or HZM Bridge
Crosses: Pearl River Estuary, Lingding Channel, Jiuzhou Channel
Locale: Pearl River Delta, China
Total length: 55 kilometres (34 mi)
Construction start: 15 December 2009
Construction end: 6 February 2018
Opened: 24 October 2018
Inaugurated: 23 October 2018
The Chinese consider themselves to be sort of Construction experts, and the Zhuhai-Macau bridge, that cuts the town of traversing the 4-hour trekking distance between the two cities to just 30 minutes, is a prime example of that. It is the longest bridge in the world to cross a water body, at 34 miles.
The Seri Wawasan Bridge, Malaysia
Crosses: Putrajaya Lake
Locale: Putrajaya, Malaysia
Total length: 240 m
Width: 37.2 m
Longest span: 168.5 m
Opened: 2003
If you looked at it from a distance you'd probably mistake it to be a ship sailing to a harbor, but in reality, the structure is actually a bridge pylon that is incline forwards. It's a beautiful bridge that looks to be from the future in the Putrajaya lake in Malaysia.
The Aizhai Bridge, China.
Crosses: Dehang Grand Canyon
Locale: Jishou, China
Total length: 1,534 m (5,033 ft)
Width: 24.5 m (80 ft)
Construction start: October 2007
Construction end: December 2011
Opened: 31 March 2012
Another specialty to come out of China, the Aizhai bridge spans the Dehang Grand Canyon in Jishou, and while not the longest or the tallest bridge in the world, it certainly offers some of the prettiest natural views you can find.
The Europa Bridge., Austria
Also known as: Bridge of Europe or Europabrücke
Crosses: Sill River in Tyrol, Austria
Locale: Innsbruck, Tyrol (state), Austria
Total length: 777-metre-long (2,549 ft)
Height: 190 metres (620 ft)
Longest span: 198 meters (650 ft)
Construction start: 1959
Construction end: 1963
Opened: 1964
Known as the bridge of Europe, crossing the Sill River in Innsbruck, Austria, this 6 lane wide masterpiece is also home to the 5th tallest bungee jump location in the world, at 192m. So if you're looking for breathtaking views and a shot of adventure, look no further.
The Second Severn Crossing, United Kingdom (UK)
Also known as: Prince of Wales Bridge or Pont Tywysog Cymru
Crosses: River Severn between England and Wales
Locale: South West England/South East Wales
Total length: 5,128 metres (16,824 ft)
Width: 34.6 metres (113.5 ft)
Height: 137 metres (449 ft)
Longest span: 456 metres (1,496 ft)
Clearance below: 37 metres (121 ft)
Opened: 5 June 1996; 23 years ago
Known commonly as the Prince of Wales Bridge, this is a 5.2 km structure that connects England and Wales. It might sound mundane and is actually a common motorway. Still, it looks beautiful and the surrounding English side doesn't disappoint either.
The Golden Gate Bridge, United States (U.S.)
Crosses: Golden Gate strait (connects San Francisco Bay to the Pacific Ocean)
Locale: San Francisco, California and Marin County, California, U.S.
Total length: 8,980 ft (2,737.1 m), about 1.7 mi (2.7 km)
Width: 90 ft (27.4 m)
Height: 746 ft (227.4 m)
Longest span: 4,200 ft (1,280.2 m), about 0.79 miles (1.28 km)
Construction start: January 5, 1933
Construction end: April 19, 1937
Opened: May 27, 1937
Possibly the most well-known bridge in the world, the Golden Gate Bridge is San Francisco's international symbol, occurring in many instances of cinematic and cultural history. Many who have visited it consider it as one of the most beautiful bridges in the world to photograph considering the fact it is a suspension bridge and the surrounding bay area is picturesque to the last detail. It held the record for the longest and tallest bridge in the world during the early 1940s, and although higher and taller bridges have come up since then, the Golden Gate Bridge still holds sway and a cultural and historic landmark of America.
---
Have you read?
Trillion Dollar Economies In 2020: What's Next?
Revealed: World's Best Cities For Raising A Family In 2020.
What You Need To Know For Doing Business In India.
Top 10 Most (And Least) Racially And Ethnically Diverse Large Cities In The United States, 2020.
Benefits Of The Montenegro Citizenship By Investment Program (CIP).