Kings of this era who live in their palaces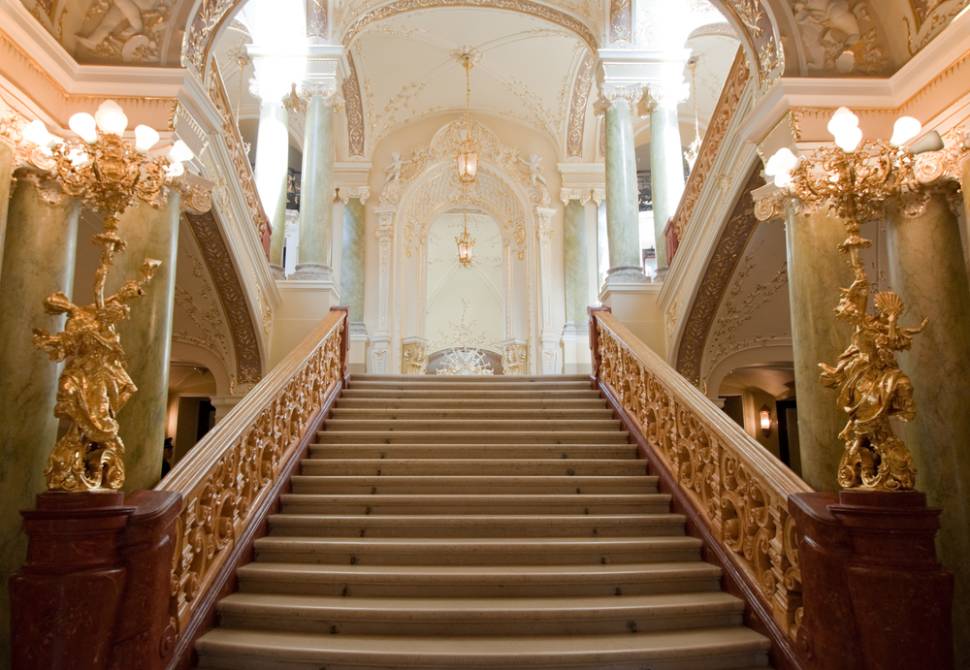 Interior stairs with golden statues
Thanks to millennia of heritage and considerable wealth, royal mansions are graced with one of the most sumptuous themes. Silk and brocade lined panels, enormous lighting, exquisite courtyards, and magnificent masterpieces – royal residences were decorated with one of the most lavish layouts. Royals have had no lack of availability of Palace to dwell worldwide, from huge palaces to villas and charming castles. Then have a glance at this list of a few of the world's most fabulous lavish royal residences.
Queen Elizabeth II, Buckingham Palace at London, England
Since 1837, Buckingham Palace has served as the administrative capital and residence of the United Kingdom's Queen. The Queen's private residence is a smaller suite of rooms in the north wing where she spends her weekdays. Garden parties are held in its beautiful feasts, and the art pieces are quite a popular tourist draw. Buckingham Palace's magnificent balcony is among the most well-known globally, and it is frequently used to honor significant events.

King Carl XVI Gustaf and Queen Silvia, Drottningholm Royal Palace at Stockholm, Sweden
Since 1981, Drottningholm Royal Palace has served as the designated private residence of a Swedish royal family. The royal dynasty exclusively uses the rooms within the southern wing, whereas the remaining Palace is accessible throughout the year. Drottningholm Royal Palace, constructed in the 1600s, is a well-preserved European historical gem and a UNESCO World Heritage Landmark. The Drottningholm Palace Theater, which is the sole authentic 18th-century theatre, and its enormous Chinese pavilion gardens are indeed operational.

Prince Albert II and Princess Charlene, The Prince's Palace, Monaco
The Prince's Palace, i.e., the royal residence of Prince Albert II and Princess Charlene, was constructed as a fortress back in the twelfth century. Prince Rainier III is attributed with restoring and improving the Palace, which also contained silk brocaded walls, custom Florentine and Boulle furnishings, and royal paintings by well-known artisans.

King Felipe VI, Queen Letizia, and their family, The Royal Palace of Madrid, Spain
The Royal Palace of Madrid is the official personal residence of King Felipe VI, Queen Letizia, and his family. In contrast, the royal family's preferred house is the Palace of Zarzuela, situated outside of Madrid in the El Pardo complex. The Royal Palace, which is shaped like a square and comprises about 3,000 rooms and a vast courtyard and galleries, is mainly utilized for formal official and royal events.

King Mohammed VI, Dar Al-Makhzen, Morocco's Royal Palace, Palais Royal
Dar al-Makhzen is the personal residence of Morocco's current king, His Majesty King Mohammed VI, and is situated inside the Touarga district of Rabat. In addition to the King's and his family's quarters, the Moroccan Royal Guard is also housed there at Palace. Mosques, royal institutions, cooking schools, small racecourse, and bookstores are all located within the palace property.

Hironomiya Naruhito, Tokyo Imperial Palace, Japan
The King of Japan, Hironomiya Naruhito, has his legal residence at Tokyo Imperial Palace. The Palace covered 1.15 square kilometers and was built on the site of the previous Edo Castle. Kyden is the location's principal structure, which hosts significant ceremonies and welcomes state visitors.

Belgium's King Philippe and Queen Mathilde, The Royal Castle of Laeken
The Royal Castle of Laeken, the official residence of Belgium's King Philippe and Queen Mathilde, was constructed in the 18th century and refurbished over the reigns of Belgian King Leopold I and Leopold II. The castle's magnificent front features costly gates, a stunning courtyard in front, and a network of conservatories.
---
Add CEOWORLD magazine to your Google News feed.
---
Follow CEOWORLD magazine headlines on:
Google News
,
LinkedIn
,
Twitter
, and
Facebook
.
---
Thank you for supporting our journalism. Subscribe here.
---
For media queries, please contact:
info@ceoworld.biz
---
Tags :
Chief Privacy Officer Insider
Chief Process Officer Insider
Chief Procurement Officer Insider
Chief Product Officer Insider
Chief Quality Officer Insider
Chief Research And Development Officer Insider