Celebrities With The Most Expensive Cars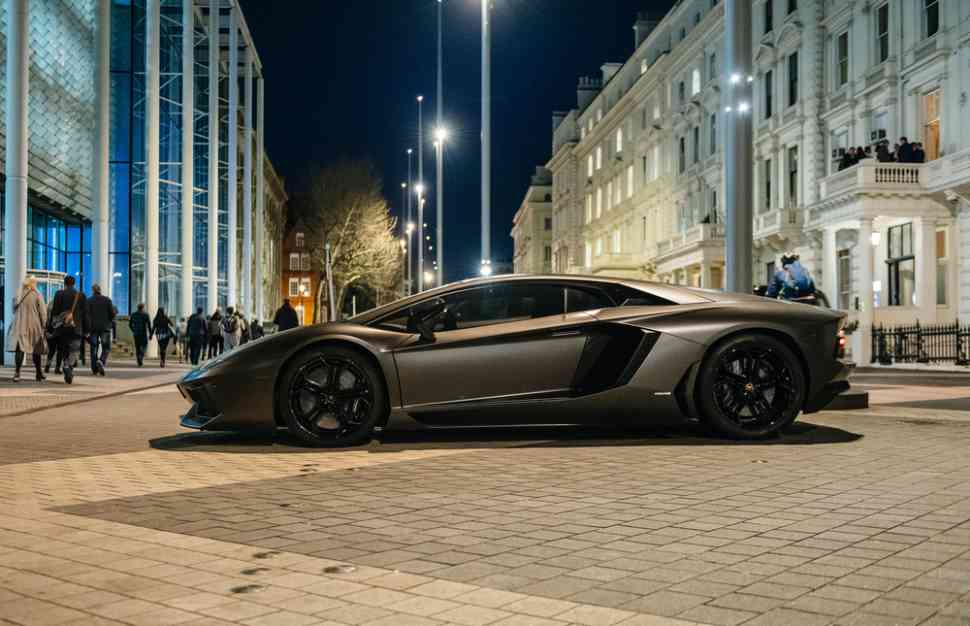 A black Lamborghini Aventador parked in Kensignt
Vehicles today are a monumental status symbol for people, especially celebrities. Many famous TV personalities that we see are known to invest money to get the most luxurious automobiles for their collection.
The blog below covers details of a few such popular faces who are known to possess expensive cars in their garage.
Jerry Seinfield
Car Owned: Porsche 959
Cost: $700,000
Ever since its debut, Porsche has been one of the most loved sports cars in the world. With a powerful engine and speed, the vehicle has attained a huge fan base. One of the biggest admirers of Porsche cars is none other than Jerry Seinfield. The comedian has an impressive collection of Porsche 959 and other cars which have cost him a fortune.
Kanye West
Car Owned: Lamborghini Aventador
Cost: $750,000
The renowned rapper and entertainer, Kanye West is also one of the celebrities with a fleet of expensive cars. One among them is the Lamborghini Aventador. The monstrous machine has a net worth of $750,000 and is a crowning glory among West's huge collection of expensive things.
Beyonce Knowles
Car Owned: 1959 Silver Cloud Rolls Royce Convertible
Cost: $1 million
Beyonce Knowles is an exception in everything she does. Right from her career choices, songs, and even cars, she tends to set her trait apart. The queen of R&B owns a 1959 Silver Cloud Rolls Royce along with other expensive cars, which showcase her unique taste.
Steven Tyler
Car Owned: Hennessey Venom GT
Cost: $1.2 million
Rock Star Steven Tyler is not far behind when it comes to the collection of expensive cars. He owns the Hennessey Venom GT and Hennessey Venom GT Spyder which ranges as one of the priciest cars today. With an impeccable speed, the overall cost of the car comes around $1.2 million.
Samuel Eto'o
Car Owned: Aston Martin One-77
Cost: $1.6 million
When it comes to the most expensive cars in the world, how can the finest footballer be left behind? Samuel Eto'o today is one name that is associated with soccer profoundly. Well, apart from scoring goals on the field, the footballer also has a collection of expensive cars one of which is the Aston Martin One-77.
Byran Birdman Williams
Car Owned: Bugatti Veyron 16.4
Cost: $2 million
Popularly known as Birdman, Byran Williams is one of the most successful rappers today. Although he has carved a niche for himself due to his singing, Williams is also known for his fancy car collection. One among them is the Bugatti Veyron 16.4 which has reportedly cost him $2 million.
Christiano Ronaldo
Car Owned: Ferrari LaFerrari
Cost: $2.6 million
Christiano Ronaldo's penchant for new cars is known to everyone. The superstar soccer player reportedly paid $2.6 million to add Ferrari LaFerrari to his extensive collection. Equipped with all the rarest features, the car is unique in its way.
Floyd Mayweather
Car Owned: Koenigsegg CCXR Trevita
Cost: $4.6 million
At a whopping cost of $4.6 million, the Koenigsegg is one of the expensive cars in the world. What makes the vehicle special is that there are only two units in total available, out of which one is owned by Floyd Mayweather.
Jay Z
Car Owned: Maybach Exelero
Cost: $7 million
The Maybach Exelero was first owned by Bryan Williams and later sold to Jay Z at a mind-boggling price. One of the prime reasons behind the vehicle's extensive cost range is that it is one of the rarest automobiles in the world.
Jay Leno
Car Owned: 1994 McLaren F1
Cost: $12 million
Jay Leno is often credited as one of the richest comedians in the world. Apart from the humour, the public figure is also known for his car collection, which is close to $50 million. One of the prized accessories among his cars is the 1994 McLaren F1 which is a unique and rare car to ever be produced.
---
Add CEOWORLD magazine to your Google News feed.
---
Follow CEOWORLD magazine headlines on:
Google News
,
LinkedIn
,
Twitter
, and
Facebook
.
---
Thank you for supporting our journalism. Subscribe here.
---
For media queries, please contact:
info@ceoworld.biz
---
Tags :
Chief Investment Officer Insider
Chief Knowledge Officer Insider
Chief Learning Officer Insider
Chief Legal Officer Insider
Chief Marketing Officer Insider