Gautam Adani battles with Mukesh Ambani for title of Asia's richest man
Gautam Adani is locked in a tug-of-war with Mukesh Ambani for the title of ASIA's richest person. Both Adani and Ambani currently command vast fortunes, although Ambani has a slight edge over Adani – US$7.3 billion. The pair are followed by Zhong Shanshan, the head of a China-based beverages-to-pharma conglomerate, whose net worth is currently pegged at $71.2 billion.
With a net worth of roughly $77 billion, Gautam Adani, the second-wealthiest person in Asia, has added US$43.2 billion to his wealth this year. The rapid wealth surge Gautam Adani has seen in 2021, beating the gains for Bill Gates and Warren Buffett.
Reliance Group's Mukesh Ambani is the richest person in Asia with $84.3 billion wealth, while Adani is second with $77 billion wealth. Globally, Ambani is the 12th richest, while Adani is at the 14th place.
Asia's top 10 richest people, as of June 12, 2021
Mukesh Ambani: $84.3 billion
Gautam Adani: $77.0 billion
Zhong Shanshan: $71.2 billion
Ma Huateng: $60.1 billion
Jack Ma: $48.9 billion
Zhang Yiming: $44.5 billion
Colin Huang: $43.4 billion
Zeng Yuqun: $39.1 billion
Tadashi Yanai: $38.9 billion
William Ding: $35.7 billion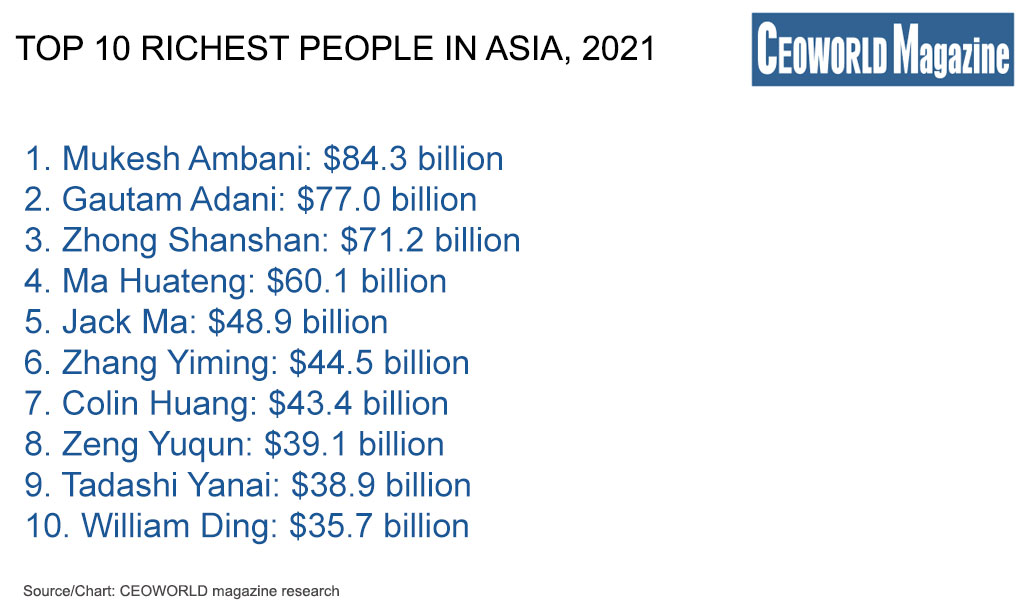 ---
Add CEOWORLD magazine to your Google News feed.
---
Follow CEOWORLD magazine headlines on:
Google News
,
LinkedIn
,
Twitter
, and
Facebook
.
---
Thank you for supporting our journalism. Subscribe here.
---
For media queries, please contact:
info@ceoworld.biz
---
Tags :
Billionaire Insider
Capitalist Insider
Millionaires Insider
Money Insider
Richest Insider
Wealth Insider
Wealthiest Insider