Top 10 Highest Paying Jobs Without A College Degree, 2020
Landing a job that will pay you good bucks doesn't always require a degree. In fact, there are many professions in the world for which the required qualification is always less than a bachelor's degree.
CEO World magazine brings to you a curated list of high paying jobs which are really worth giving a shot. It is a busted fact that all industries today can guarantee a high paying wage, once you make your way up the ladder. However, there some industries that pay better. If money is what encourages you then it is better to vouch for some of the jobs from the below list:
Electrician. (Median Salary: $61,100)
Executive Assistant. (Median Salary: $59,400)
Wind Turbine Technician. (Median Salary: $58,500)
Sales Representative. (Median Salary: $55,200)
Plumber. (Median Salary: $54,300)
Patrol Officer. (Median Salary: $53,900)
Hearing Aid Specialist. (Median Salary: $52,700)
Brickmason and Blockmason. (Median Salary: $52,400)
Insurance Sales Agent. (Median Salary: $51,800)
Firefighter. (Median Salary: $49,800)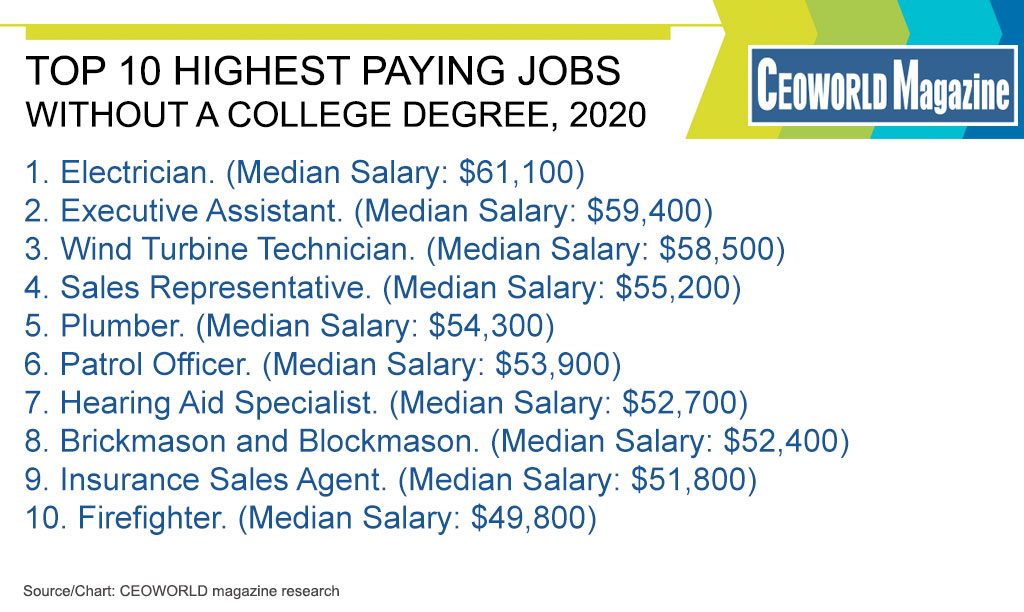 Electricians today are earning more than university graduates and hence the job is ranked at the topmost position in our list. The whole framework of lighting systems, installation of street lights, and repairing electrical wiring makes the job much in demand. From co-ordinating for the lighting in the motion picture to installing alternative energy sources in homes and offices, electricians are the only people who ensure that the wiring is accurate thus saving millions of homes from short circuits.
Executive Assistant: If there is any job that is interesting and pays you well then it is the post of executive assistant. The daily works of executive assistants require managing the boss's calendar, along with providing administrative support to the company. And the list doesn't end here. The scope of possibilities for executive assistants is tremendous. An executive assistant can work in any company and earn up to a lucrative seven-figure salary. With all these brimming opportunities, the task of executive assistant is sure to see growth in the coming years.
Wind Turbine Technician: Wind turbine technicians are mostly professionals who are in charge of maintaining and inspecting a wind turbine. As most of the days for a wind turbine technician are spent way up, these people are check for any technical failures in the gigantic machines. In the coming years, the demand for wind techs is sure to see an upsurge further. This is mainly because of the lucrative pay scale and scope of travel that leads to more recruitment in this field.
Sales Representative:  Sales representatives usually act as a pivot for selling services to consumers. One of the main responsibilities of a sales representative is to market goods that can range from laboratory equipment to soft drinks. There are two traits that form the basis of a professional sales rep i.e an enthusiastic personality and a zeal to travel the world.  As the world, today is in a constant need for specialized products, job opportunities for people looking to build a career as a sales rep are vast.
Plumber: Nothing can be more frustrating than witnessing a leaky pipe or a clogged sink in the morning. This realistic picture also makes us realize how much we are dependent on the expertise of plumbers. All people working in this profession have a lot to do apart from fixing the drainage system of a house. Plumbers shoulder the responsibility to check for water supply and at the same time also try to meet the physical requirements of the job. With new buildings and residences coming up each year, the demand for plumbers is to see a hike in the upcoming 7 to 8 years.
Patrol Officer: The main responsibility for patrol officers is to lodge reports and update records. The much-in-demand job role is considered heroic due to the selfless duty towards protecting and serving general public. The profession is sure to see employment growth in the coming years along with the good figured salary for promising aspirants.
Hearing Aid Specialist: Hearing aid specialists evaluate and carry out tests to check the hearing loss in clients. They conduct various examinations and suggest the best fitting hearing aids for the clients. There is a high chance of growth in this sector as many people today suffer from hearing loss. A hearing aid specialist can help these people from socially awkward situations along with providing the best care for their ailment in no time.
---
Have you read?
World's Top Global Wealth Management And Advisory Firms.
World's Most Powerful Passports.
Rich List Index (Top Billionaires).