Australia ranked one of world's most powerful nations
Australia ranks 15th among the most powerful countries in the world. It is ahead of Turkey, India, Italy, and Iraq, as well as a number of other countries, including Singapore, Sweden, Pakistan, Spain, and Qatar, etc., according to a ranking. The US, Russia, and China ranked first, second and third, respectively. The countries with the least influence in the world include Lithuania, Slovakia, Slovenia, Latvia, and Estonia.
However, Australia is behind such countries as the United Arab Emirates, Canada, Iran, Switzerland, and others. There was no change this year in the top nine countries seen as being the most powerful, the publication says. The top 10 also includes Germany, the United Kingdom, France, Japan, Israel, Saudi Arabia, and South Korea.
The Power sub ranking is based on an equally weighted average of scores from five country attributes that related to a country's power: a leader, economically influential, politically influential, strong international alliances and strong military.
When compiling the world's most powerful countries rankings the report looked at a country's political and financial influences (such as GDP, size of the population, and GDP per capita), as well as its international alliances, the strength it's military and how it acts as an international leader. The report also suggested that the most powerful countries on earth also are the ones that consistently dominate news headlines, preoccupy policymakers, and shape global economic patterns, according to the report.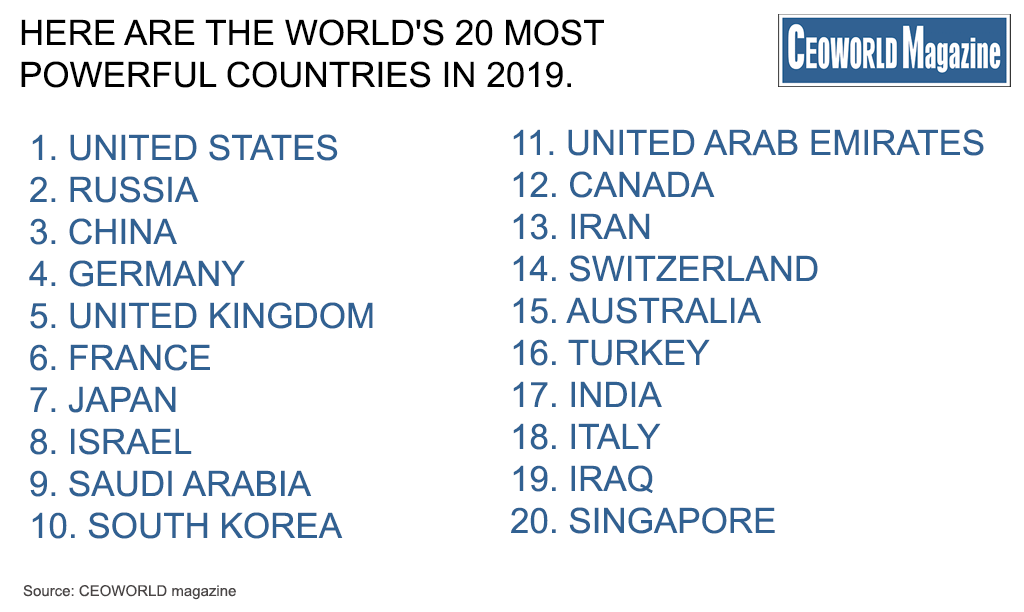 Top 20 most powerful countries on earth
United States
Russia
China
Germany
United Kingdom
France
Japan
Israel
Saudi Arabia
South Korea
United Arab Emirates
Canada
Iran
Switzerland
Australia
Turkey
India
Italy
Iraq
Singapore
---
Have you read?
100 Best Cities For Business Travel In 2020.
These Are The Richest States In The U.S..
The Richest American Families In Each U.S. State.
Richest Sports Team Owners In The United States.
Singapore Rich List: Richest Billionaires In Singapore.
Track Latest News Live on CEOWORLD magazine and get news updates from the United States and around the world. The views expressed are those of the author and are not necessarily those of the CEOWORLD magazine.
Follow CEOWORLD magazine headlines on:
Google News
,
LinkedIn
,
Twitter
, and
Facebook
.
Thank you for supporting our journalism. Subscribe here.
For media queries, please contact:
info@ceoworld.biz