Here Are The World's Most Powerful Countries In 2019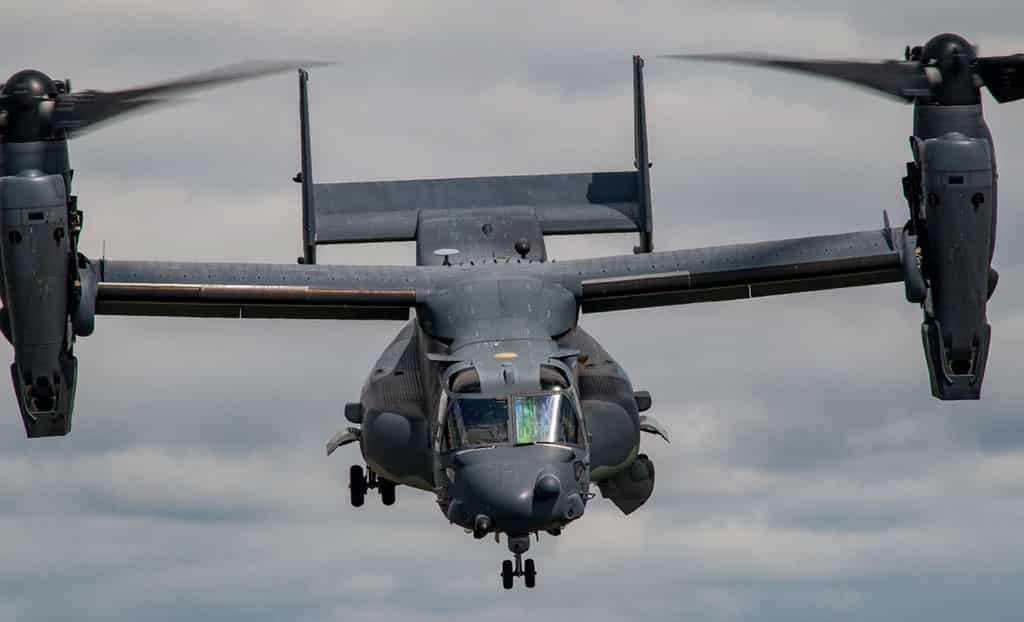 Unsurprisingly, the United States has retained its spot as the world's most powerful country in 2019, according to an annual ranking, followed closely by Russia and China. The report describes the U.S. as the "most dominant economic and military power in the world." America also has a large cultural impact on the world because of how its popular culture is expressed in music, movies, books, and TV shows.
The top ten most powerful countries in the world, according to the rating, include the US, Russia, China, Germany, UK, France, Japan, Israel, Saudi Arabia, and South Korea.
When compiling the world's most powerful countries rankings the report looked at a country's political and financial influences (such as GDP, size of the population, and GDP per capita), as well as its international alliances, the strength it's military and how it acts as an international leader. The report also suggested that the most powerful countries on earth also are the ones that consistently dominate news headlines, preoccupy policymakers, and shape global economic patterns, according to the report.
United States
Russia
China
Germany
United Kingdom
France
Japan
Israel
Saudi Arabia
South Korea
United Arab Emirates
Canada
Iran
Switzerland
Australia
Turkey
India
Italy
Iraq
Singapore
Sweden
Pakistan
Spain
Qatar
Belgium
Netherlands
Norway
Denmark
Egypt
Brazil
South Africa
Vietnam
Jordan
New Zealand
Belarus
Lebanon
Luxembourg
Mexico
Ukraine
Finland
Greece
Oman
Kazakhstan
Poland
Azerbaijan
Nigeria
Indonesia
Ireland
Portugal
Colombia
Philippines
Serbia
Myanmar
Thailand
Argentina
Angola
Ghana
Malaysia
Tanzania
Sri Lanka
Morocco
Panama
Tunisia
Guatemala
Ecuador
Peru
Chile
Czech Republic
Dominican Republic
Romania
Hungary
Costa Rica
Bulgaria
Uruguay
Croatia
Lithuania
Slovakia
Slovenia
Latvia
Estonia
---
These are the 20 most powerful countries in the world, 2019: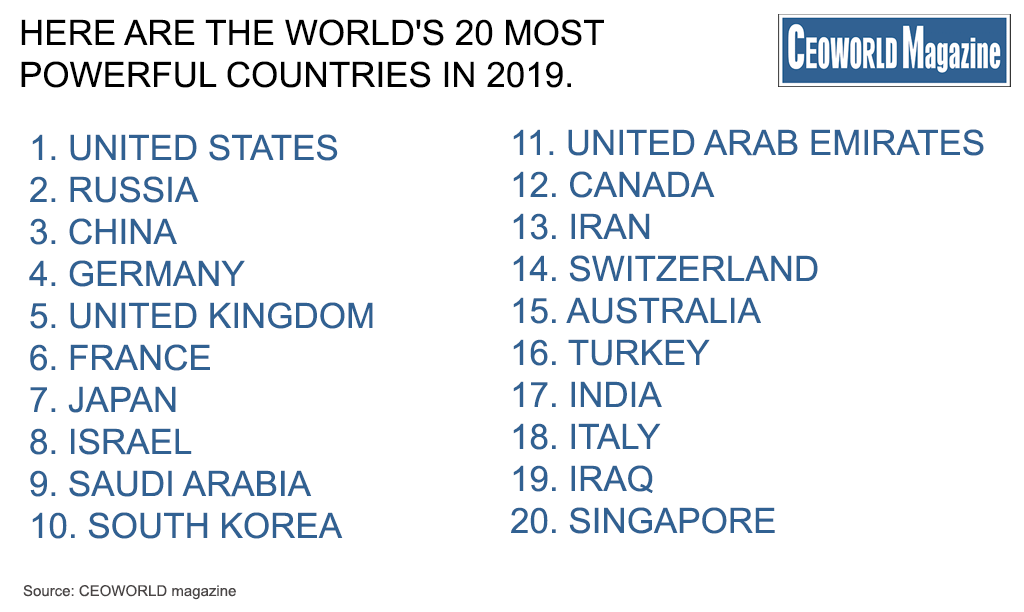 Have you read?
Billionaire Owners And Their Private Jets.
Best Countries For Entrepreneurship.
Countries With The Best Health Care Systems.
Countries With The Highest Inflation Rates In The World.
Best Countries For Investment In Travel And Tourism Sector.