Things To See In London (England) On Your Business Trip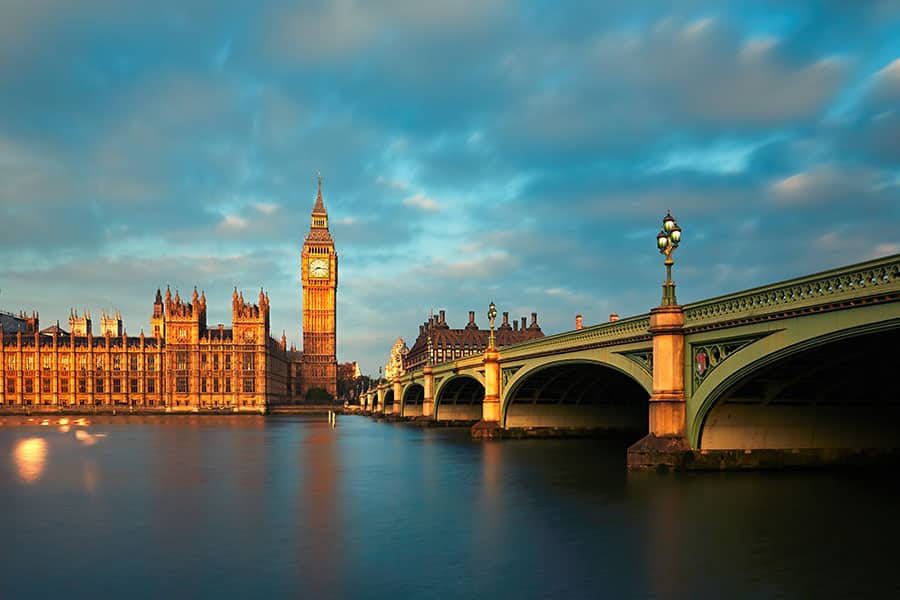 London is one of the most visited cities on this planet. For centuries, it has been the centre of political, cultural, social and economic developments which have shaped and re-shaped its identity in front of the world. It is an iconic city and never gets old no matter how many times you visit it.
If you want to travel to a fascinating hotspot of everything technologically awesome, culturally different, and amazingly beautiful, then I strongly recommend that you keep this city in your bucket list.
Of course, there will be many places to see in London, and this could be the root of confusion with which many tourists deal. I have decided to shortlist the top six of them. Make sure you visit these places once you are here—you will not be disappointed!
Here are six places which make London one of the tourists' favorites spots in the world:
Westminster: Westminster is the centre of political power and control in the United Kingdom. It is a government district, which, if you did not know already, was the former capital of the Kingdom of England.
The most remarkable feature of Westminster is that it houses many of London's famous tourist attractions. For starters, it houses the law-making body of the country, the Parliament. There are also the proud Big Ben, the Buckingham Palace, Westminster Abbey, and of course the scenic views of River Thames.
London Eye: You must have seen the London Eye in textbooks or movies. Once the tallest Ferris wheel in the world, it is one of the most prized possessions of the United Kingdom. It is located alongside River Thames and used to be the highest viewing point in London. Every night, it is lit up in vibrant colours and takes centre stage when New Year's celebrations happen. You cannot miss out on the London Eye, even if you think that a Ferris wheel does not interest you because the London Eye is unlike anything else.
Warner Bros. Studio Tour: Harry Potter? Oh, I know you have been already excited by the mere mention of one of greatest book series ever written on this planet. Whether or not you are a Potterhead, you should not miss the chance of experiencing the wizardly world.
Warner Bros Studio Tour London-The Making of Harry Potter will give you first-hand experience of the sets, props and everything else which were used in the making of the Harry Potter movies. You can stroll through the Great Hall or Hagrid's Hut.
I am sure that you will be bewitched by what you experience in the world of magic crafted just for you!
Tower Of London: Tower of London has had a mixed history. It is quite infamous for being used as a prison during the 16th and 17th centuries. Back in those times, if somebody said "sent to the tower", it meant torture and doom.
However, the Tower of London was once used as a Royal Palace, but not many know of this fact. Even as a royal palace of the Normans (who built it), it became symbolic of elitist oppression.  When Tudors took control, the purpose of the palace dwindled and eventually, it became what made it most notorious—a prison.
Churchill War Rooms: World War II is a horrific reminder that humans are capable of a lot of destruction. However, it also tells us what large-scale, prolonged war requires and how it was handled. We are going to focus on the latter for this segment.
The Churchill War Rooms is a well-noted museum which is part of the Imperial War Museum. The museum contains an underground complex and many Cabinet War Rooms. The War Rooms have been preserved under the aegis of the Department for the Environment. It is from these rooms Prime Minister Winston Churchill oversaw and administered actions with respect to the ongoing war.
You should most certainly visit this place and relive the times of World War II!
Hyde Park: Hyde Park, too, has historical relevance aside from social one. It is the most popular park in the city and has witnessed many protests in the past. There is a spot called Speaker's Corner which still holds demonstrations and performances every week. In addition, there are water bodies and memorial features.
Most Popular Tourist Attractions of 2018 in London (England, UK)
Tate Modern: 5.87 million
British Museum: 5.83 million
The National Gallery: 5.74 million
Natural History Museum (South Kensington): 5.23 million
Southbank Centre: 4.45 million
Victoria and Albert Museum (South Kensington): 3.97 million
Science Museum: 3.17 million
Somerset House: 3.14 million
Tower of London: 2.86 million
Royal Museums Greenwich: 2.55 million
Royal Botanic Gardens, Kew: 1.86 million
Royal Albert Hall: 1.75 million
St Paul's Cathedral: 1.66 million
The Royal Academy: 1.59 million
National Portrait Gallery: 1.58 million
Westminster Abbey: 1.55 million
British Library: 1.44 million
Tate Britain: 1.27 million
ZSL London Zoo: 1.13 million
Old Royal Naval College, Greenwich: 1.1 million
To identify the most popular tourist attractions of 2018 in London (England, UK), CEOWORLD magazine reviewed numerous national and international media reports. Additional information about the the popular tourist attractions came from Association of Leading Visitor Attractions. The table below present a ranking of the most popular visitor attractions in London (England, UK) in 2018. In 2018 the Tate Modern was the most visited attraction, with approximately 5.87 million visitors.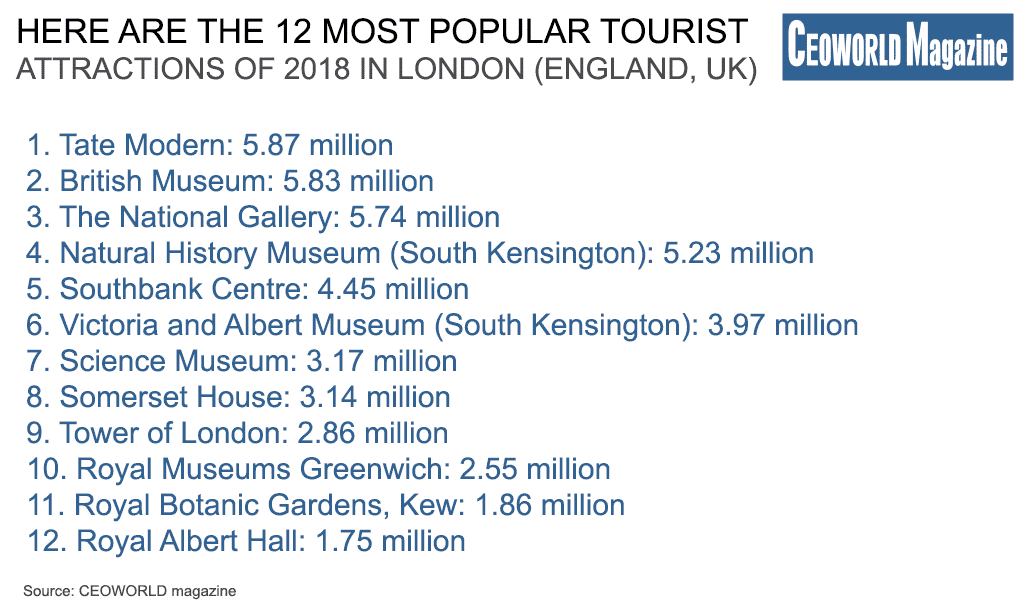 Come here to relax and experience peace!  
---
Have you read?
1. Most Affordable Business Schools In Asia For MBA Programs, 2019.
2. Why companies like Google and Facebook are cool and others are not?.
3. Best Snorkeling Destinations In South America, 2019.
4. Kids should travel a lot in their growing years.
5. Most Popular Shopping Malls In America, 2019.
---
Add CEOWORLD magazine to your Google News feed.
---
Follow CEOWORLD magazine headlines on:
Google News
,
LinkedIn
,
Twitter
, and
Facebook
.
---
Thank you for supporting our journalism. Subscribe here.
---
For media queries, please contact:
info@ceoworld.biz
---