Best Snorkeling Destinations In South America, 2019
Recife, the fourth largest city in Brazil, has been recognized as the best snorkeling destination in South America for 2019, according to the International Benchmark Survey For Business Travel Satisfaction by the CEOWORLD magazine, while Galapagos Islands and San Andres placed second and third, respectively.
To get the best of multi-cultural environment, colorful and vibrant architecture and beautiful scenery, South America is the best continent to visit. Interestingly, South America also has amazing sporting options and snorkeling destinations are an added attraction.
The breathtaking Latin-American coastlines offer perfect waters for snorkeling and surfing.  These destinations are at their pristine best without any trace of pollution at all. There is no better place than South America to snorkel and indulge in a bit of thrill and adventure.
The data come from an annual survey of 85,000 business travelers and 7,000 travel agents in 74 countries conducted by the CEOWORLD magazine in partnership with Cosmos Yachting and Aegean Luxury Yachting. The study was conducted over three months from January 20, 2019, to April 19, 2019. So, without further ado, here is the official list of best-snorkeling destinations in South America for 2019.
Best Snorkeling Destinations In South America, 2019
Recife, Brazil: The sunny days, sandy beaches and bright climate with a vibrant atmosphere make Brazil an ideal destination for fun and frolic life. Recife is a fantastic place for snorkeling and makes a dive into the country's purest form of waters. Perfect drop off zones, patch reefs, and walls with beautiful coral formations is a perfect place for snorkeling.
Galapagos Islands, Ecuador: Willing to dwell into unending snorkeling fun in the unexplored island feels of South American islands? Visit Galapagos Islands for such experience. This place also boasts of sea turtles, sea lions , and amazing exotic wildlife.
San Andres, Colombia: A Columbian island with reefs, Spratt Bight Beach is a brilliant place for snorkeling. Also, visit the Johnny Cay Island and Old Point Mangrove Park for an ideal day's out. Who can say no to pristine blue waters, beautiful palm trees, and beach breeze?
Maracajau, Brazil: Breathtaking chalets,  beaches and fantastic snorkeling is the biggest perk of Maracajau.  With a largest fishing community among the coast,  Maracajau is also called Parrachos de Maracajau for the natural coral formations here.  Also, visit Manoa park for good adventure and fun.
Buccoo, Trinidad and Tobago: With refreshing range of flora and fauna, dazzling sponges, hard corals and tropical fish – Buccoo brings an amazing experience for marine life lovers.  This area is under conservation to retain the rare treasures. Visit the pigeon point , store bay and indulge in snorkeling in Nylon Pool.
Klein Bonaire, Caribbean island: Escape to this small less inhabited island which is known for renowned beaches, snorkeling reefs  and the pristine sandy No Name Beach.  The turquoise waters, sunny climate, and ideal breeze direction makes it a perfect snorkeling escape route.  The place also boasts of fantastic marine life with exotic fish and sea animals.
Aruba, Caribbean island: A tiny former Dutch colony is high on colonial vibes and located at the pristine coast of Venezuela. The dry, sunny weather, blond beaches and gentle surf makes it a brilliant destination for snorkeling.  The cool breeze, divi-divi trees are greatly blended with European influences making it a unique place for water sports.
Isla De La Plata, Ecuador: A beautiful little island near Ecuador's central coast, near Puerto Lopez, this place has some great national parks to visit as well. Exotic marine birds, albatrosses and beautiful reefs make this an enthralling destination. The marine life here also includes migratory humpback whales which arrive here for the attractive waters.
Fernando do Noronha, Brazil: Located off Brazil's northeast coast, Fernando do Noronha is another world class diving spot. Fernando de Noronha is a grouping of 21 islands some 350 km (218 miles) off the mainland of Brazil, isolated, and surrounded by incredible water, beaches and waves.
Cocos Island, Costa Rica: Costa Rica is perfect for adventure, both above the water and underneath.
---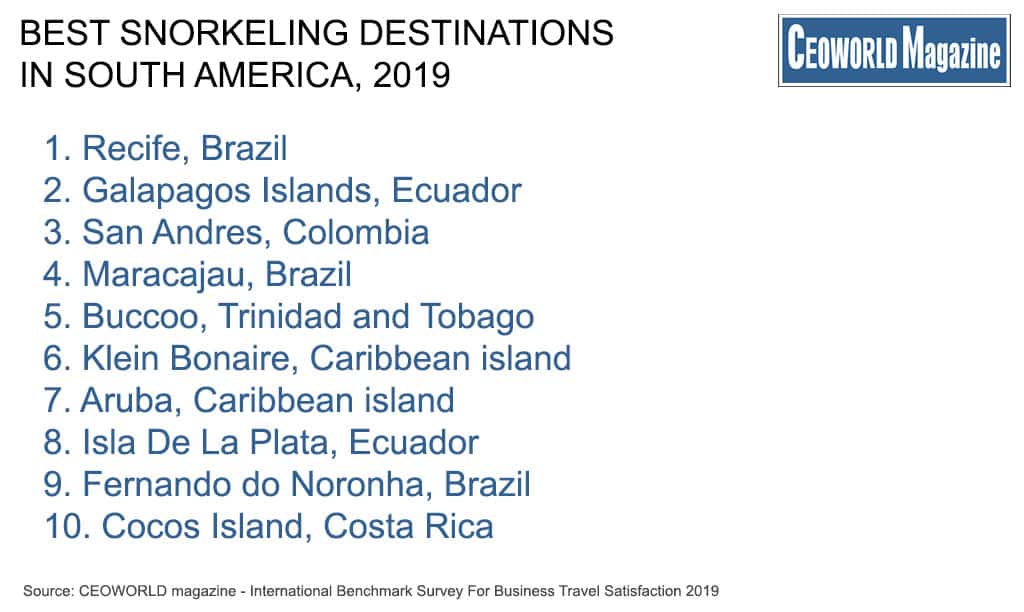 Have you read?
# Spiritual Lessons For CEOs And Business Leaders.
# These Are The Most Beautiful Mountain Ranges Of The World, 2019.
# Why Our Old Approach to College Is Putting a New Generation at Risk by Mark C. Perna.
# Leading On Innovation Time by Alf Rehn.
# Ranked: The 15 Cities With The Most Billionaire, 2019: New York And Hong Kong Tops.
---
Add CEOWORLD magazine to your Google News feed.
---
Follow CEOWORLD magazine headlines on:
Google News
,
LinkedIn
,
Twitter
, and
Facebook
.
---
Thank you for supporting our journalism. Subscribe here.
---
For media queries, please contact:
info@ceoworld.biz
---