Top 25 Must-Visit Destinations Of The Rich And Famous In Asia For 2019
Asia, one of the seven continents of the world, is a varied mix of countries with a multitude of terrains, including mountains, lavish backwoods, shimmering shorelines, beautiful trees, and even tremendously huge deserts. With hundreds of years and centuries of reported history, Asian nations are rich with long history of religious and archaeological locales such as architectural marvels, forts, and battlegrounds.
The way of life in every nation is assorted by its very own traditions and customs. And of course, this list includes some of the countries with the best food in the world, with cuisine so unique that only locals know how to do it right. With 49 established countries and home to roughly 60% of the world's population, Asia is the largest continent on the planet – and the most geographically diverse. It can be overwhelming to decide where to visit in Asia, so here we have curated a list of 25 top picks for destinations to visit in Asia!
Goa, India tops CEOWORLD magazine's "Top 25 Must-Visit Destinations Of The Rich And Famous In Asia For 2019," Singapore and the Vietnamese capital Hanoi were ranked #2 and #3 respectively, while Bali, an Indonesian paradise was ranked #4. CEBU was ranked the 5th must-visit destination of the rich and famous in Asia for 2019, the only destination in the Philippines included on the list.
The top 10 must visit destinations of the rich and famous in Asia were Goa (India), Singapore, Hanoi (Vietnam), Bali (Indonesia), Cebu (the Philippines), Tokyo (Japan), Phuket (Thailand), Siem Reap (Cambodia), Kathmandu (Nepal), and Kyoto (Japan).
Top 25 Must-Visit Destinations Of The Rich And Famous In Asia For 2019:
Goa, India
Singapore
Hanoi, Vietnam
Bali, Indonesia
Cebu, The Philippines
Tokyo, Japan
Phuket, Thailand
Siem Reap, Cambodia
Kathmandu, Nepal
Kyoto, Japan
Jaipur, India
Hong Kong
Seoul, South Korea
Bangkok, Thailand
Hoi An, Vietnam
Chiang Mai, Thailand
New Delhi, India
Beijing, China
Da Nang, Vietnam
Ho Chi Minh, Vietnam
Krabi, Thailand
Shanghai, China
Taipei, Taiwan
Lombok, Indonesia
Osaka, Japan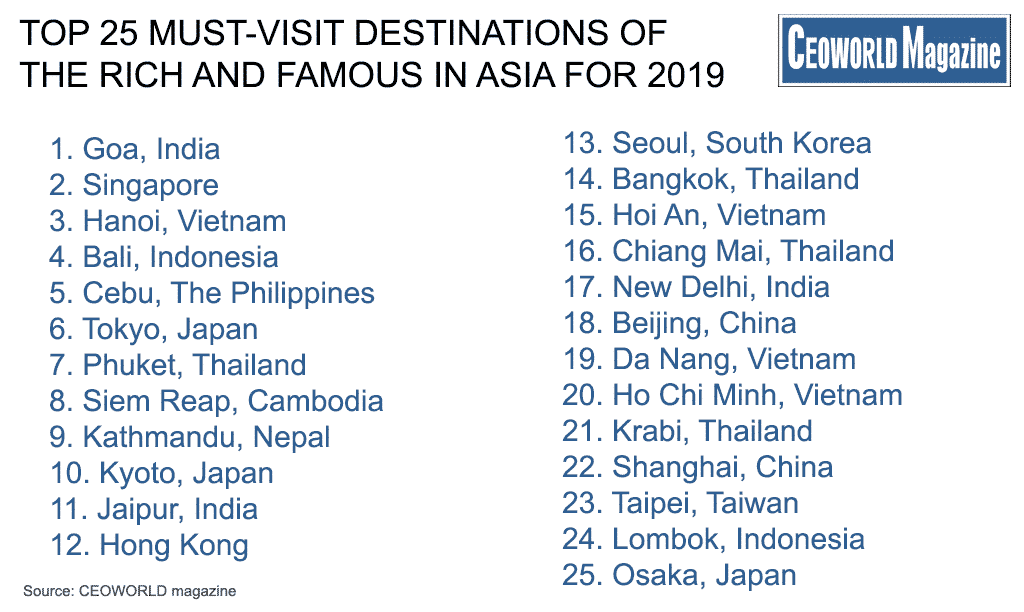 India
India is the land of an enthralling history and rich traditions. It is steeped deep into the unmatched cultural exuberance that allures travelers from across the country. Beyond the beaches, extravagant cooking, pleasant mountains and unfathomed luxuriousness, the social legacy of India will simply captivate you. From observing Diwali in Varanas, the otherworldly capital of the North, to investigating Fort Cochin's old stories in the South, India offers astounding social encounters. Additionally, the variety of street food available in India is vast and is must-try!
Singapore
From the moment you land at Changi Airport and travel to the main South Asian worldwide city-territory of Singapore, you know you're in a charming spot, where you should simply to kick back and watch the city tempt you. To start with, the city is 5 things at the same time: An island (consisting of 63 sub-islands), a port, a city, a state and a nation too! You'd be surprised to know that there are no traffic policemen, no beggars, no vendors, no posters and no garbage (owing to the under walkway drainage) in the Republic of Singapore (as Singapore is officially called). Singapore offers you a wide variety of food to please your taste buds. The variety of food represents different ethnicities and is seen by the government as a symbol of its multiculturalism.
Vietnam
Vietnam is one of Southeast Asia's most wonderful nations, drawing in travelers to its lavish mountains, urban cities and brilliant beaches. Regardless of quick modernisation in Vietnam's urban centres of Hanoi and Ho Chi Minh, long-established conventions stay flawless among local people. The antique and flawless tourist spots and pilgrimages of Vietnam have been known for its rich history. Buddhist holy places can be found besides transcending high rises, where you can encounter dynamic celebrations and functions going back many years. Long, sandy beaches are home to luxurious resorts and fine-dining venues, making them ideal romantic getaways, while expansive rice terraces on the hills make for excellent hiking excursions.
Indonesia
The world's biggest archipelago, with somewhere close to 13,000 and 18,000 islands, Indonesia is wild! Dissipated like pearls along the line of the equator, it is comprised of dynamic volcanoes, mountain ranges shielding immaculate clans, and tremendous swathes of rainforest. It's additionally wonderful, with perfectly terraced slopes and flawless beaches that make it the absolute choice to take a plunge for. Best of all, it's all available at a bargain-basement price. It's one of the world's least expensive destinations, where your travel money travels furthest and you can actually shop till you drop!
Philippines
This country is known to be as one of the most secure and fun nations to travel in the world for the LGBTQ+ community, and others! It has everything to fulfil your knack for exploring – rainforests, amazing food, beaches and just the best of shopping hubs. You can even visit Chocolate Hill, which is a geological formation situated in the Bohol province. Further, you can explore the Masungi Georeserve, a huge forest conservational area. Philippines has about 7,000 islands! One must try the infamous Halo-Halo Filipino shaved-ice dessert, because you don't live twice!
Traveling to new places is always an exciting experience.
Take a visit to these famous countries of Asia and cross out yet another dream destination off your wander-list!
---
Have you read?
# World's Most Powerful People, 2018.
# World's Most Powerful Women For 2018.
# India Rich List For 2018: Richest Indian Billionaires.
# China Rich List For 2018: Richest Chinese Billionaires.
# Taiwan Rich List For 2018: Richest Taiwanese Billionaires.
---
Add CEOWORLD magazine to your Google News feed.
---
Follow CEOWORLD magazine headlines on:
Google News
,
LinkedIn
,
Twitter
, and
Facebook
.
---
Thank you for supporting our journalism. Subscribe here.
---
For media queries, please contact:
info@ceoworld.biz
---