5 Things To Keep in Your Backpack While Trekking
Adventure trips give you the thrill we often want in our lives, but at the same, we cannot ignore the fact that this thrill should be enjoyed with some preparation. I do not ask you to be fully prepared for everything, but want you to have a few things in your backpack which can greatly enhance your experience—this is, especially, the case with trekking. Trekking can be made easier with the help of an intelligently assorted backpack.
We are all prone to overestimating or underestimating the worth of some of the items which we might or might not put inside our backpack. In this article, I plan to write about those items which are important in every way and should not be left behind
Here are five items you must keep in your backpack before you go for trekking:
Water Bottle
The first and foremost thing to keep in your backpack is a water bottle. Trekking is a physically exhausting activity and requires you to take in large amounts of water for hydration.
Always carry a moderately-sized water bottle to drink from during trekking. However, it is recommended you get a sturdy bottle which is less vulnerable to leakage and breaking. Also, you can keep filing it up during the trek and save the unnecessary purchase of plastic bottles sold over there.
Also, when you take along your own water bottle, you reduce garbage on trails. Many trekkers purchase use-and-throw plastic water bottles and these accumulate into a trail of garbage—something of which we should all be ashamed.
A Flashlight
You can never estimate how a trek turns out to be. You might have signed up for a trek which ends by evening, but YOU CAN NEVER BE SURE. Trekking consumes a lot of time, and there may be occasions when you do not reach your meet-up places before sunset. A flashlight can be a real help in such cases.
You do not have to get a bulky flashlight to stuff in your backpack. Get the small-sized ones which fit in properly and do not take much space. However, get a good quality one because bad ones do not work when they have to (obviously!).
First-Aid Kit and Other Emergency Kits
It is not too frequent to find immediate first-aid facilities on treks, even in the most commercialized ones. A first-aid kit is a must-keep in your backpack, and there should be no questions in this respect.
In your first-aid kit, you should at least have antiseptic creams or wipes, bandages, safety pins, insect sting treatment medicine, medical adhesive tape, and antihistamine for allergies. You should consider putting aspirin, glucose, sunscreens, and medicine for cold.
In addition to this, you must carry a few supplies which can help you cater to other emergencies. These include a whistle, a swiss knife, lighter, sanitary pads, toilet paper and a pair of binoculars.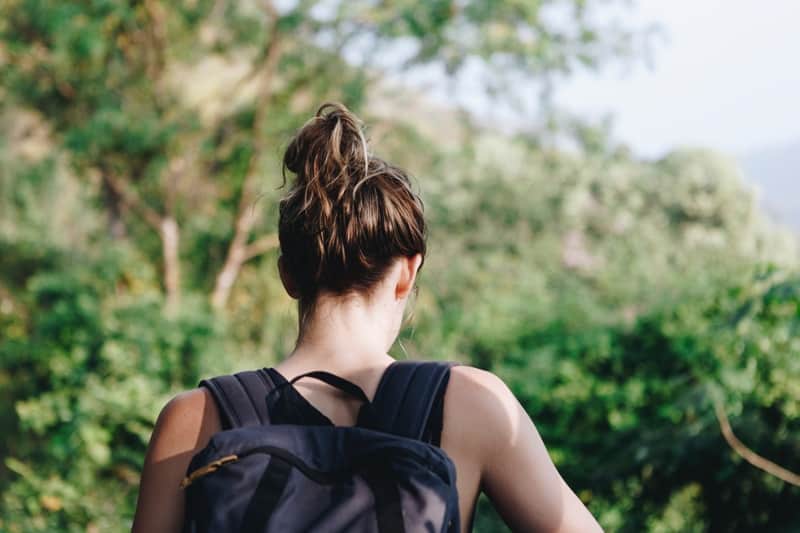 Quick Bites
You need to keep filling in your stomach during trekking in order to ensure continued supply of energy to the body. But, this does not mean you eat heavy food during treks.
It is recommended that you get packaged energy-filled snacks such as energy bars, nuts, dry fruits, and anything else of the similar kind. The benefit of carrying these items along is that they take very less space and do not spill inside the backpack.
While on the trek, do not go overboard with eating. Eating moderately—in simpler terms, munching on them—and you will have enough energy to reach the destination.
Navigation Tools
You are trekking, and it will be too unreasonable to expect that there will necessarily be continued availability of mobile networks wherever you go. Study the trail you will be taking and get the map of the same. Also, you can consider keeping a compass.
It may be difficult for you to understand maps because they are not as simple as Google Maps we so frequently rely on. So, it is advised that you get a hang of them before you use them during trekking.
One really important advise to not overlook: if possible, keep an extra map. Having an additional map can help you avert a situation in which you accidentally lose or damage the map and are without any navigational support.
Have you read?
# Best Music Schools In The World For 2019.
# Top 500 Best Universities In The World For 2019.
# World's Top 50 Universities For Medicine And Health Science Degrees, 2019.
# World's Top 50 Universities For Life Science Degrees, 2019.

---
Add CEOWORLD magazine to your Google News feed.
---
Follow CEOWORLD magazine headlines on:
Google News
,
LinkedIn
,
Twitter
, and
Facebook
.
---
Thank you for supporting our journalism. Subscribe here.
---
For media queries, please contact:
info@ceoworld.biz
---