5 Canopy Tent Features to Consider Before Making a Purchase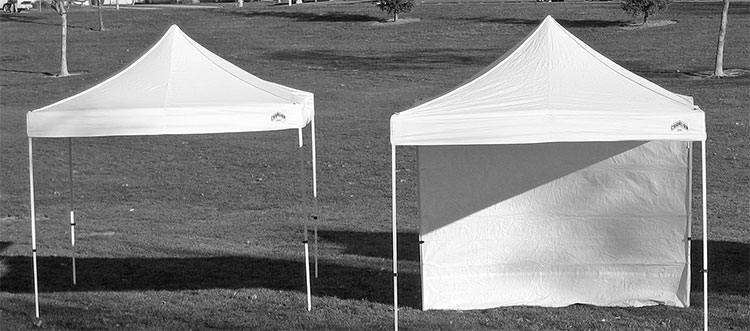 Whatever your needs for purchasing a canopy tent, there are certain things you need to know about to make sure you buy the right one. Canopy tents are a big investment, and you don't want your investment to lose its value after its first use. That's why we're going to be looking at several features of canopy tents that will show you the ins-and-outs of these incredible recreational/marketing tools.
Sizing
Even though all tents need four legs and an overhead cover to function properly, there's a plethora of frame sizes and legs for you to choose from. If you pick the wrong sized frame for your overhead cover… that's just bad. The opposite is true: there is no use in buying large legs for a small canopy cover. If you setup a canopy tent that is far too small for the event, it is hard (and even embarrassing) to keep everyone inside a crowded tent. Therefore, you absolutely must be 100% certain of what your needs are. Knowing beforehand will help you determine the size that will fit your needs, as a 12'x12' tent may be way too large for you. Take into consideration the venue where you will be setting up your tent, and measure accordingly.
Promotion vs. Recreational
Marketers who are attending trade shows, or business owners who want to set up at corporate events… will get more bang for their buck when they choose tents made specifically for marketing. For family fun at the beach or birthday parties, there are specific canopy tents made specifically for recreation. Whatever your occasion, you can buy a custom canopy to design a message for a birthday party (recreational) or a brand name (marketing).
Materials
Most frames are made from steel and aluminum. Steel is, understandably, sturdier than aluminum – and far heavier. That's why steel framed tents are a wise choice if you suspect the event will be caught in a storm. However, because aluminum is lighter, it'll make transportation and installation a breeze. It is lighter and may be susceptible to bending. Most canopy covers are made with water-resistant and fire-repellant polyester – they come in various thicknesses.
Truss Bars
Without truss bars, canopy tents collapse. That's why the thickness and diameter of these bars guarantee stability and strength under tense weather conditions. When you're shopping around for tents, find ones with double-sided connectors – which allows truss bars to be connected more easily. When you're searching for footplates, you can't go wrong with steel or aluminum footplates. Never purchase a tent with plastic footplates – as it is plastic and can break like nothing.
Locking systems
Locking systems are set in place to make sure the framework and components (during installation and uninstallation) keep everything running smoothly. There are three types of locking systems to consider: button press, push trigger and pull-pin. Any locking system depends on which is easier for you to use, but keep in mind that most commercially-graded canopies come equipped with the pull-pin system.
To prevent canopies from being carried away by wind gusts, be sure to buy leg weights, anchors or sandbags. Although most canopies (bought from reputable companies) come with these additional extras already, it's something to keep in mind if yours does not. Canopy tents may seem expensive, but the features that we've talked about (as well as the benefits they offer) drastically outweigh the price tag.
Have you read?
# Richest Women In The United States For 2018: 55 Female Billionaires.
# Top 20 Richest Sports Team Owners In The World, 2018.
# The 100 Most Influential People In History.
# Top CEOs And Business Leaders On Twitter: You Should Be Following.
---
Add CEOWORLD magazine to your Google News feed.
---
Follow CEOWORLD magazine headlines on:
Google News
,
LinkedIn
,
Twitter
, and
Facebook
.
---
Thank you for supporting our journalism. Subscribe here.
---
For media queries, please contact:
info@ceoworld.biz
---