The Best Performing Countries In Tackling Climate Change: Report 2018
The United States is performing worse than most other advanced countries in tackling climate change, according to the global SDG Index. The US is ranked 35th globally in meeting its sustainable development goals – behind most other high-income countries including Germany, Japan, Canada, and the United Kingdom.
Unsurprisingly, Sweden ranked number 1 among 156 countries participating in the United Nations' effort to measure how countries are addressing 17 of the most robust social and environmental challenges.
The 20 best-performing countries in tackling climate change:
1. Sweden
2. Denmark
3. Finland
4. Germany
5. France
6. Norway
7. Switzerland
8. Slovenia
9. Austria
10. Iceland
11. Netherlands
12. Belgium
13. Czech Republic
14. United Kingdom
15. Japan
16. Estonia
17. New Zealand
18. Ireland
19. South Korea
20. Canada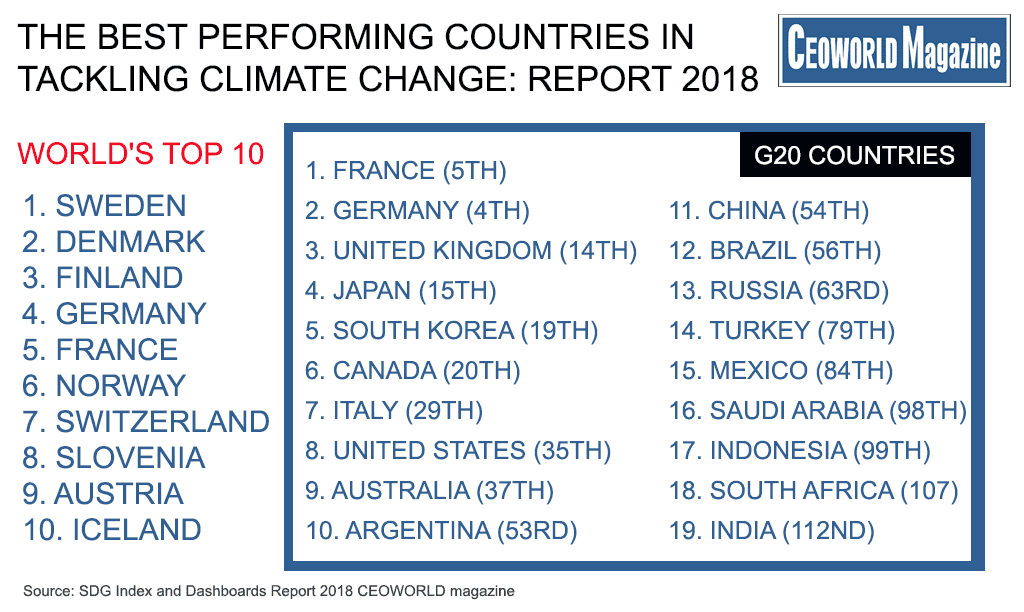 G20 countries risk falling short of achieving Sustainable Development Goals:
India is the worst performing G20 member state in tackling climate change. Meanwhile, it rates France (5th globally) the best among the G20 countries, followed by Germany, the United Kingdom, Japan and South Korea.
1. France (5th)
2. Germany (4th)
3. United Kingdom (14th)
4. Japan (15th)
5. South Korea (19th)
6. Canada (20th)
7. Italy (29th)
8. United States (35th)
9. Australia (37th)
10. Argentina (53rd)
11. China (54th)
12. Brazil (56th)
13. Russia (63rd)
14. Turkey (79th)
15. Mexico (84th)
16. Saudi Arabia (98th)
17. Indonesia (99th)
18. South Africa (107)
19. India (112nd)
Track Latest News Live on CEOWORLD magazine and get news updates from the United States and around the world. The views expressed are those of the author and are not necessarily those of the CEOWORLD magazine.
Follow CEOWORLD magazine headlines on:
Google News
,
LinkedIn
,
Twitter
, and
Facebook
.
Thank you for supporting our journalism. Subscribe here.
For media queries, please contact:
info@ceoworld.biz