The 14 top-earning authors in the world, 2016
James Patterson topped the list of the world's biggest-earning authors, estimated to have earned $95 million pre-tax between June 2015 and June 2016, according to Forbes magazine, Diary of a Wimpy Kid author, Jeff Kinney was 2nd earning $19.5 million.
James Patterson is the richest author in the world for the third year in a row, he is the author of the detective series based on the leading character Alex Cross. Harry Potter creator J K Rowling, who comes in at third place earning an estimated $19 million, closely followed by John Grisham, and Stephen King.
The World's 14 top-earning authors list, 2016
1. James Patterson: $95 million
2. Jeff Kinney: $19.5 million
3. J.K. Rowling: $19 million
4. John Grisham: $18 million
5. Stephen King: $15 million
6. Danielle Steel: $15 million
7. Nora Roberts: $15 million
8. E.L. James: $14 million
9. Veronica Roth: $10 million
10. John Green: $10 million
11. Paula Hawkins: $10 million
12. George R.R. Martin: $9.5 million
13. Dan Brown: $9.5 million
14. Rick Riordan: $9.5 million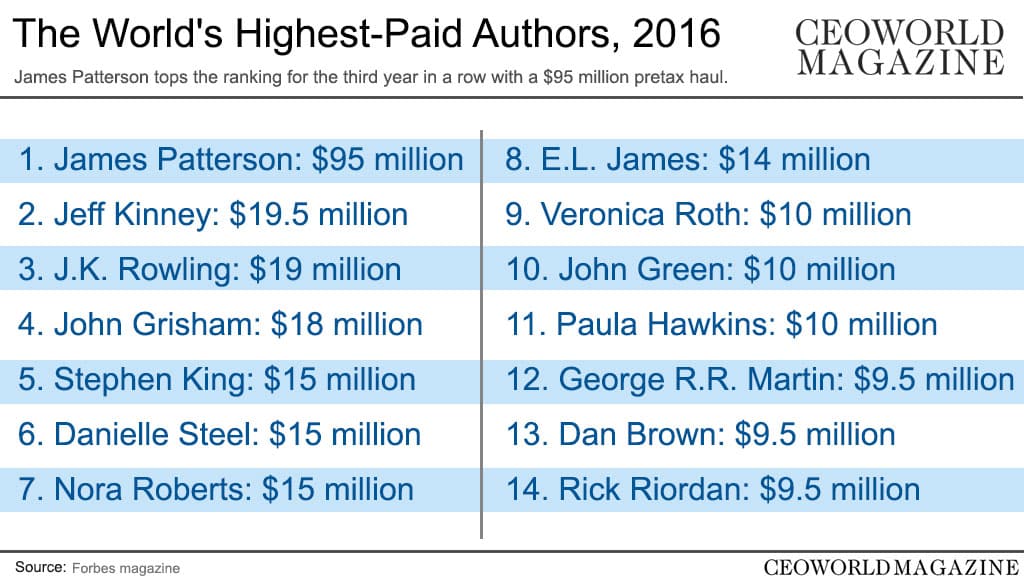 Track Latest News Live on CEOWORLD magazine and get news updates from the United States and around the world. The views expressed are those of the author and are not necessarily those of the CEOWORLD magazine.
Follow CEOWORLD magazine headlines on:
Google News
,
LinkedIn
,
Twitter
, and
Facebook
.
Thank you for supporting our journalism. Subscribe here.
For media queries, please contact:
info@ceoworld.biz