Infographic: 6 Steps to Achieving Fearless Feedback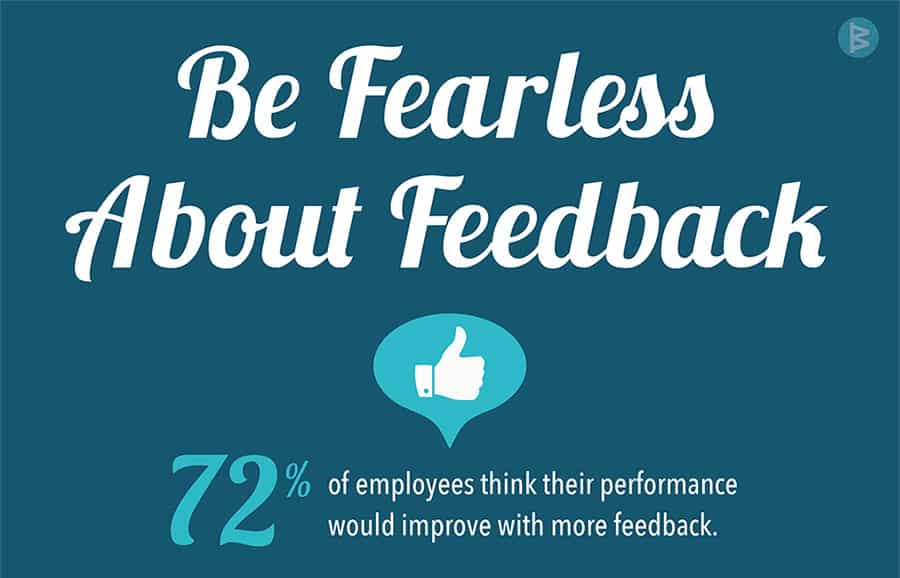 A whopping 72% of employees think their performance would improve with more feedback and 83% say recognition is more rewarding than cash. Feedback is one of few free levers to improve performance, but many managers miss the opportunity. Feedback should be an ongoing conversation with employees and it's an essential ingredient to skill and career growth.
Unfortunately, antiquated annual review and formal feedback processes miss the mark while lack of leadership training or time and hesitancy to "be the bad guy" hold individual managers back. Giving and getting feedback can be emotionally charged which also inhibits giving it and reduces people's ability to put feedback into practice.  When employees don't get feedback, they don't give their best.
When feedback is viewed as a learning and leading opportunity and teams are fearless about it, people perform at their best – boosting company and career velocity. Both positive and negative feedback have an important role in helping people and teams perform at their best.   Use these 6 practices to be more fearless about feedback and make it a habit in your organization:
1. Just do it.
Giving regular feedback is an important rather than trivial part of the manager's job – make it a part of the work week. 50% of managers fail to drive accountability and give constructive feedback for fear of being unpopular. That fear is misguided because 57% of employees prefer corrective feedback. People want and need to know how to improve and where they're not meeting expectations. You do them a disservice by withholding that information, especially when it is factored into their performance assessment.
2. Tailor feedback to the individual
Career stage, personality, skill level, circumstances and age all affect the type of feedback that people want and need. 70% of young employees' learning happens on the job. Giving strengths-based feedback reinforces what they're doing right as they experiment without experience. Older employees typically want 50% more feedback than their younger counterparts and more constructive feedback which helps them grow.
3. Skip the "feedback sandwich."
When negative feedback is couched in positive feedback, it breeds mistrust and undermines the value of positive feedback. Negative feedback helps people achieve at their best, particularly people already at a higher level of expertise. It informs people where effort and change are needed. Instead of viewing negative feedback as a problem, see it as another part of the business conversation and focus on business outcomes.
4. Make time for positive feedback.
Not surprisingly over 80% of employees find praise from a manager highly motivating; they operate at their best when they feel valued and their talents welcomed. Positive feedback helps people stay optimistic as they face new challenges and steep learning curves. A five-to-one mix of positive feedback to negative is most effective. End your week giving positive feedback to team members and you will increase your satisfaction and theirs.
5. Listen as well as talk.
Create space for both manager and team member to listen during feedback discussions. Rather than ignore or back away from contradictory information, take it in. If the intent of the feedback is to achieve better results, understanding roadblocks or missing enablers is useful information. You may not have all the facts and the team member may have insight on where a manager can help.
6. Get feedback on your feedback.
Take time to ask team members what is most effective for them. Feedback on feedback provides great data on how you can increase your leadership effectiveness and helps strip away emotions that inhibit performance candor.
Help new or younger team members understand the value of feedback, particularly constructive feedback. When they know it's not an indictment but an opportunity, they'll be able to apply the feedback more quickly. It takes practice to hear and benefit from criticism, so coach where needed.
When feedback is an ongoing conversation rather than a rare or dramatic episode, team performance and culture improve. Institutionalizing "Feedback Fridays" where managers and peers provide feedback can put a positive wrap on the week and make feedback the norm.   New mobile and Web apps like Workboard are free, fun ways to trigger and give frequent feedback in context with goals, priorities, work and progress for a continuing and context-rich conversation.
[Check out Deidre Paknad's infographic: Be fearless about feedback]
[imagebrowser id=66]
About the author:
Deidre Paknad is CEO of Workboard, which provides a free app for leaders to engage their teams to execute and achieve their goals. She leads product and market strategy, works directly with customers and engages the broader management community on increasing leadership capacity and execution velocity.  She was previously CEO of PSS Systems until its acquisition by IBM, where she was vice president of a global solutions business.   Prior to PSS, Deidre was CEO of CoVia and held management roles in other consumer and technology companies. She has been recognized by the Smithsonian Institution for innovation twice, has 17 patents and has published over 30 papers and articles on leadership, information economics, entrepreneurship and governance topics. www.workboard.com.
You can follow Deidre on Twitter: @day_dree and LinkedIn: Deidrepaknad.
Track Latest News Live on CEOWORLD magazine and get news updates from the United States and around the world. The views expressed are those of the author and are not necessarily those of the CEOWORLD magazine.
Follow CEOWORLD magazine headlines on:
Google News
,
LinkedIn
,
Twitter
, and
Facebook
.
Thank you for supporting our journalism. Subscribe here.
For media queries, please contact:
info@ceoworld.biz