Why Can't the Public Sector Consistently Make Smart Decisions?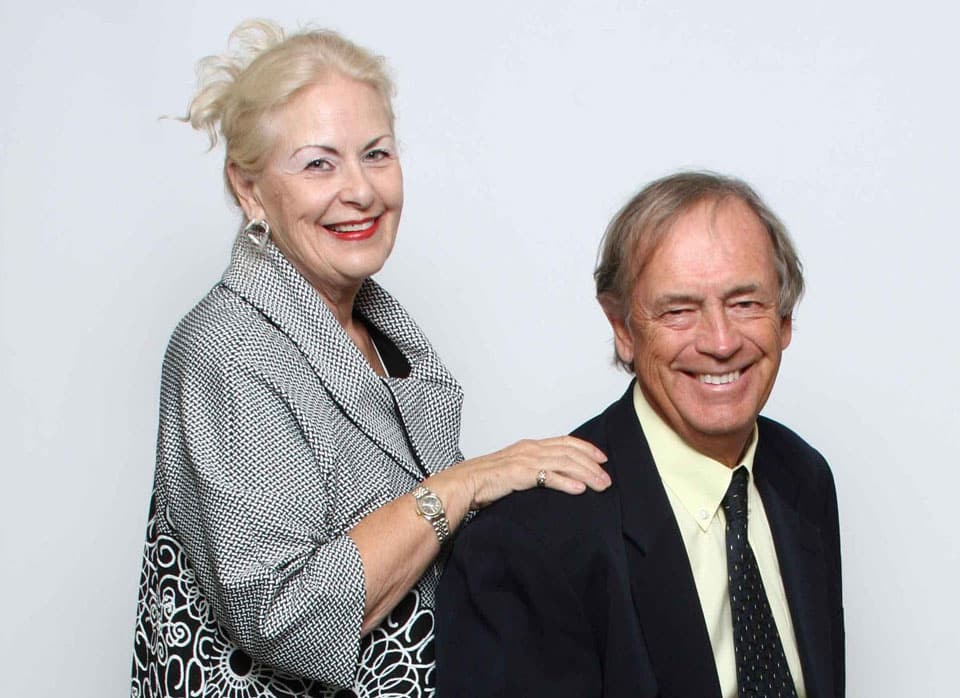 Public sectors all over the world spend billions of dollars annually, more money than any other organization at national, state and local levels. Well documented by auditors, many of those billions are wasted annually. This is especially painful when these same funds are critically needed for health care, education, elderly care, and other societal concerns.
What is Smart Decision Making?
Smart decision making balances the needs of multiple participants in the organization including management, employees, clients and stakeholders by winning their commitment while staying aligned with overall strategic direction of the organization and the fiscal constraints of government. It addresses the resolution of important issues which when left unsettled inevitably lead to conflict. It ensures that the government operates in an ethical manner in line with stated principles and in support of the common good. In short, decision making is a system that controls and directs the organization and is ultimately responsible for its success or failures. 
What is Poor Decision making?
There are the 4 major characteristics of poor decision making in the public sector:
Poor transparency

almost always guarantees that the decision is poorly understood, lacks visibility, and is not accepted and supported throughout the organization. 

Duplication of effort

is a direct result of poor visibility – the left hand does not have a clear idea of what the right hand is doing, resulting in an overlap of initiatives especially in human resource and information technology that cost untold billions of dollars. 

Lack of streamlined approach to decision-making

results in delays costing millions of dollars in direct or indirect fees. 

A lack of stated principles

to follow when involved in the decision-making process, leaving decision makers without clearly understood guidelines to assist in the process. 

Behavioural consequences

– poor communication, lower morale/motivation, poor leadership and poor productivity throughout the organization.
In summary, many instances in the public decision-making practices are characterized by inconsistent, idiosyncratic, personalized approaches to decision-making at executive committee level. In other words, there is no set of business practices that lays the foundation for effective decision making. 
Solution
So, what is the solution to this decision-making problem?
First, it must be recognized that smart decision making is both an Art and a Science. 
The science of smart decision making involves creating and then incorporating and using the following strategies:
Business and Operational Plans

provide the framework for decision making by ensuring all decisions support the strategic direction of the organization. But more importantly, it sets out the standards against which performance will be assessed.

Performance measurement

provides a navigational system to reward achievements and the means to deal with the ongoing issues that interfere with organizational success. 
The art of smart decision making requires:
A defined governance methodology

that makes certain that decision masking is streamlined, transparent and impartial so that decisions support the organization as a whole rather than a particular segment.

And that the

decision making is tailored

to the unique requirements of the organization with respect to planning, performance measurement, timing and security.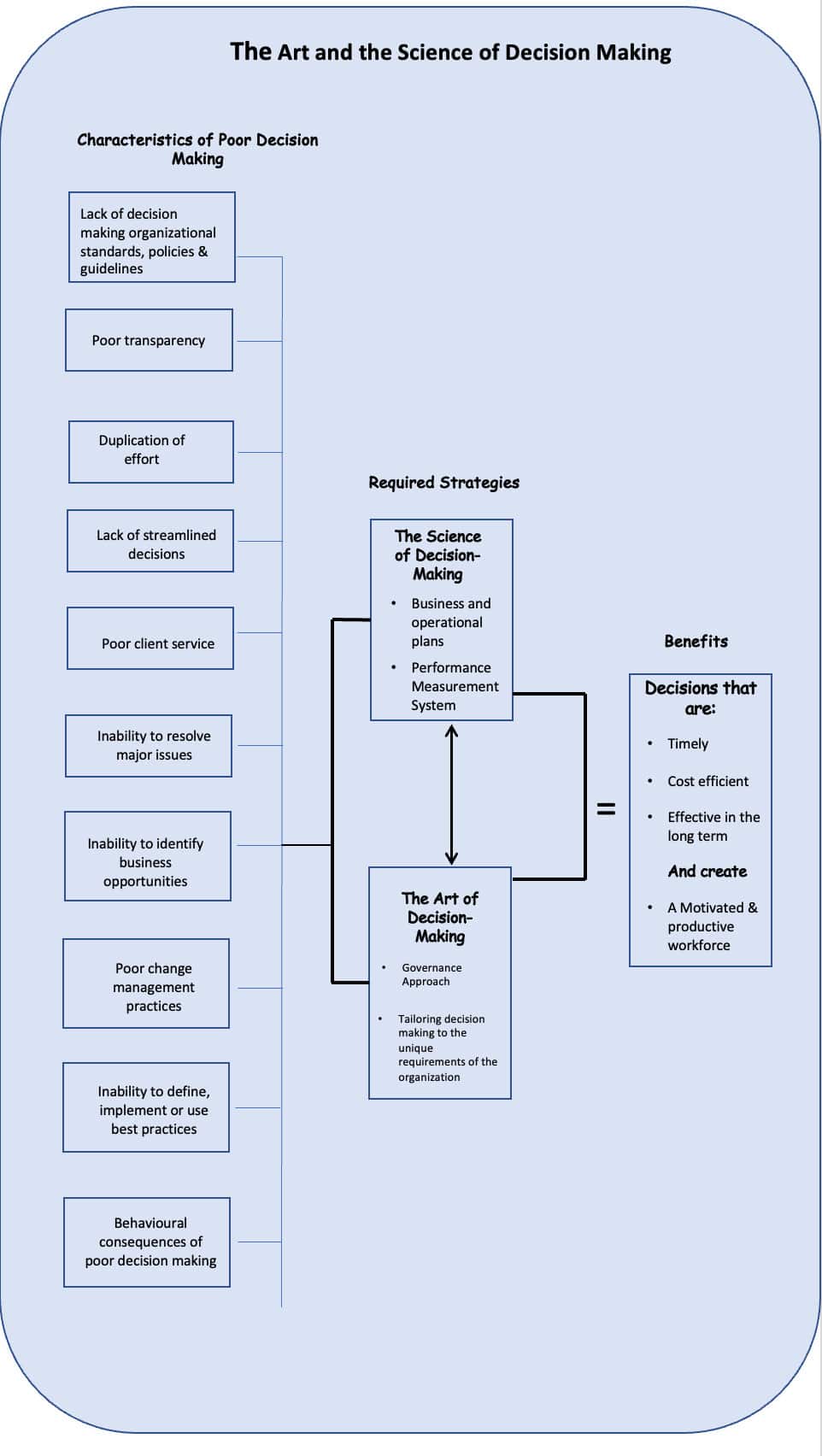 Best Practices 
In many public sectors the current approach to decision making is based upon "Muddling Through".  It is not an exaggeration to say that if poor decision-making practices are not recognized or identified, then very quickly public sector organizations cannot tell the difference between successful decisions and poor decisions. By not dealing with ineffective decision making, the organizations and the people within them contribute to its ongoing use. These organizations then lose the ability to identify success and instead perpetuate continued failures with all the inherent negative consequences.
Wouldn't it be incredible if decisions were based on:
The best solution instead of the cheapest. 

Long term focus instead of short term.

Avoiding problems by addressing them as they arise.

Engaging emergency preparedness plans for major functions instead of ignoring the situation.

Having competent and knowledgeable organizational leadership. 
There is a better approach.
The scientific part of the answer focuses on effective business/operation planning backed by performance measurement. Together, they ensure that decisions are focused on the strategic direction of the organization with the ability to adjust according to ongoing contingencies. Equally important is the art of decision making which ensures its acceptance through a governance approach that ensures that decisions are transparent, streamlined and impartial to benefit the organization as a whole rather than a specific component.  Together the art and science of governance ensure that decisions mobilize the public sector workforce as a motivated and productive whole to deliver timely, cost effective and user-friendly services.
---
Written by Bryan Shane.
Have you read?
World's trendiest countries, 2023.
World's Richest People (Top Billionaires, 2023).
Best Apps for Reading News for Google's Android and Apple's iOS.
Music successful CEOs and C-level executives listen to.
Which are the healthiest countries in the world for 2023?
Ready to join the CEOWORLD magazine Executive Council– Find out if you are eligible to apply.
---
Add CEOWORLD magazine to your Google News feed.
---
Follow CEOWORLD magazine headlines on:
Google News
,
LinkedIn
,
Twitter
, and
Facebook
.
---
Thank you for supporting our journalism. Subscribe here.
---
For media queries, please contact:
info@ceoworld.biz
---
Tags :
Andorra Insider
Argentina Insider
Canada Insider
Chief Academic Officer Insider
Chief Financial Officer (CFO) Insider
Chief Government Relations Officer Insider
Chief Green Officer Insider
Chief Growth Officer Insider
Chief Marketing Officer Insider
Chief Medical Officer Insider
Chief Merchandising Officer Insider