The most fast food-obsessed countries in the world, 2023
This shouldn't be much of a surprise, the United States is the biggest fast-food consumer in the world. The study carried out by CEOWORLD magazine revealed that the US ranks as the world's most fast-food-obsessed country. The United Kingdom is second to only the United States. The research reveals how often residents of the 20 countries we surveyed eat junk food in an average month.
United States
United Kingdom
France
Sweden
Austria
Mexico
South Korea
Greece
China
Norway
Italy
Australia
India
Russia
Switzerland
Portugal
Japan
Finland
Canada
Germany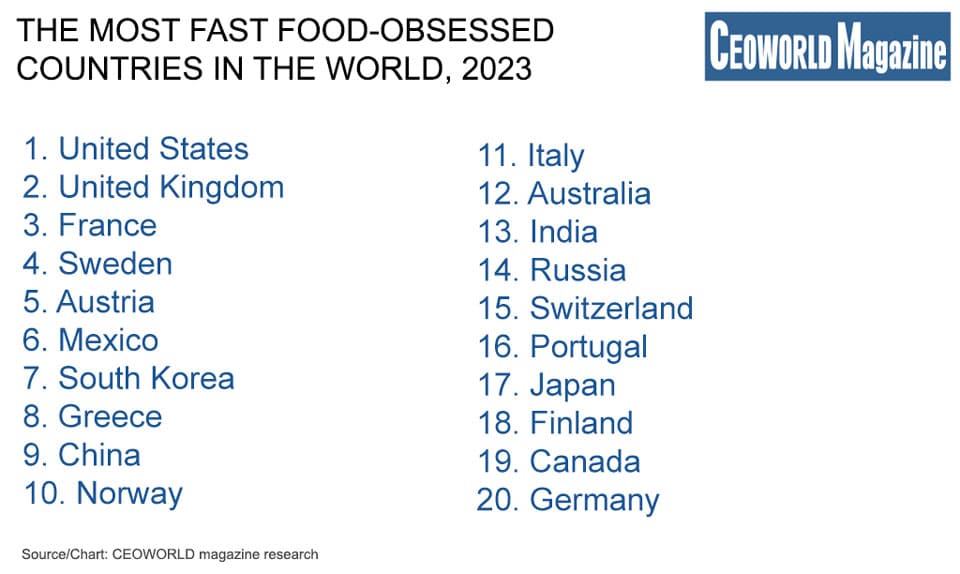 ---
Have you read it?
Best Business Schools In The World For 2022.
Best Fashion Schools In The World For 2022.
Best Hospitality And Hotel Management Schools In The World For 2022.
Best Medical Schools In The World For 2022.
The World's Best Universities For Doctor of Business Administration (DBA), 2022.
Track Latest News Live on CEOWORLD magazine and get news updates from the United States and around the world. The views expressed are those of the author and are not necessarily those of the CEOWORLD magazine.
Follow CEOWORLD magazine headlines on:
Google News
,
LinkedIn
,
Twitter
, and
Facebook
.
Thank you for supporting our journalism. Subscribe here.
For media queries, please contact:
info@ceoworld.biz
Tags :
Alternate Director Insider
Board Of Trustees Insider
Boards Insider
C level Executives Insider
C Suite Executives Insider
C Suite Insider