3 Ways AI Benefits the Supply Chain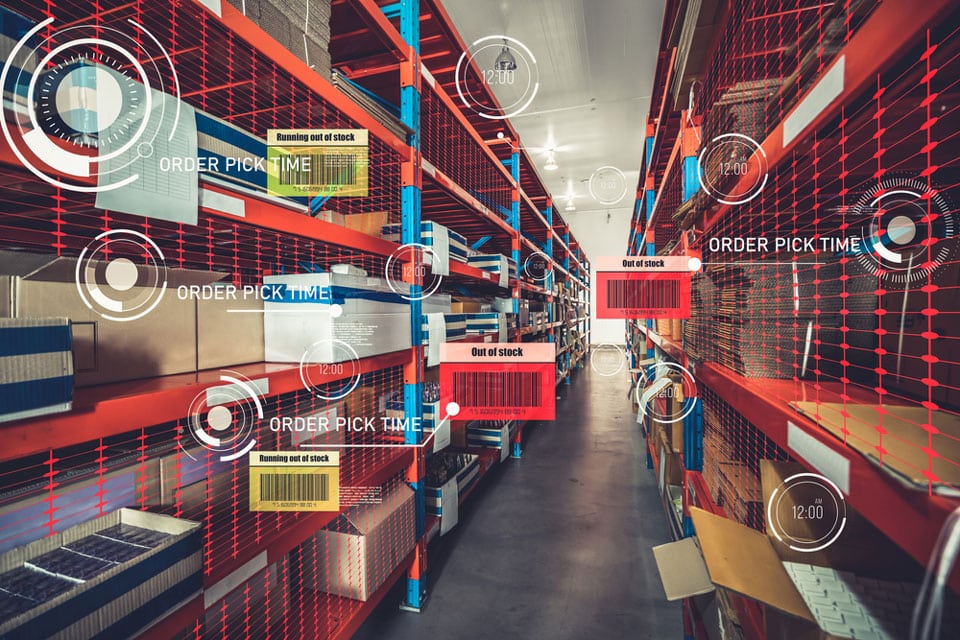 Supply chain disruption seems to be a never-ending battle for most companies. Regardless of what kind of business you run, you've likely felt the strain of supply chain disruption in some way. AI solutions can help overcome many of the challenges and improve your supply chain overall. 
The supply chain seems to have reached an inflection point across all industries. According to a 2022 Protiviti survey, 72% of finance leaders say their financial operations have been negatively affected by supply chain problems, pandemic fallouts, and/or inflation issues. The problem has become so big that some brands are taking a proactive approach to keeping stakeholder expectations low. In September 2022, Ford announced that its third quarter returns would reflect an extra $1 billion in costs due to supply chain and inflation problems.
Regardless of what kind of company you lead, you've probably felt disruption to some extent. And if University of Rochester economist George Alessandria is correct, it might be at least another 12 months before the supply chain kinks start to work themselves out. In the meantime, you don't have to sit around and do nothing. Though you might be feeling the pinch like every other organization, you can always lean into AI solutions.
AI software and systems have the potential to chip away at supply chain challenges in several key ways. The reason? AI can "think" faster than any human. Consequently, AI can spot trends, patterns, and opportunities amid huge pools of unstructured data. These findings can be used to improve supply chain and distribution processes at your business.
Below are some of the advantages of using AI to address your supply chain pain points:
AI can help widen your profit margins
People don't like to hear that a product you're selling is unavailable. During the height of the pandemic, B2C and B2B customers might have been more forgiving. Today, they want to know that what you're advertising is available to buy immediately. This is where predictive AI software can be a major asset to your organization.

Ali Hasan R., co-founder and CEO of ThroughPut Inc., explains that companies everywhere can harness the power of AI to avoid angry customers and busted budgets: "Without a clear understanding of consumer demand, companies risk pushing products that don't sell, costing businesses millions of dollars. AI-powered forecasting can help companies sense demand changes early, allowing them to optimize products for the best profit margins."

Here's how the process can keep your profits from atrophying: First, find the AI solution that gives you insider forecasting capabilities using historical and real-time data and predictive algorithms. Next, leverage what the AI tells you about upselling and cross-selling possibilities. For example, if it appears demand will skyrocket for one of your products or services, you can price and market your offerings accordingly.

The more you can learn about what people will need before they need it, the more you'll be able to control your profitability. Although AI isn't a 100% foolproof crystal ball, it's better than operating in the dark and putting your revenue stream at risk.

AI can keep supply chain demands in check.
It's common for organizations to order too little or too much of whatever they need for their supply chains. Typically, the reason is that humans are simply guessing and "using their gut" to determine what's needed. This can leave you with warehousing problems and, in the case of perishable goods, a lot of waste.

Even the smartest, most seasoned procurement expert can't promise the demand prediction accuracy of an AI system. As mentioned before, AI works very quickly and can spot patterns within data that might not be evident to the naked eye. Plus, some AI programs include forms of social listening or use other data points to enhance their findings.

What happens if your AI system shows demand for merchandise, equipment, parts, etc., that your current suppliers can't get to you? Knowing in advance allows you to pivot and perhaps find other sources to replenish your supplies.

When you have an inkling of what's coming, you can ward off issues before they start. Though it's not exciting to realize you have a possible problem on your hands, it's better to know in advance than to find out suddenly and scramble to fix it. Even a small lead time allows you to exercise greater control over your inventory.

AI can provide the best route for every supply chain piece.
Even so-called "simple" supply chains can be surprisingly complex. As 

McKinsey & Company reporting

shows, the average tech company can have more than 7,000 suppliers within its broader supply chain. And the average car manufacturer can top out at more than 18,000. If just one piece of that supply chain gets misaligned, the whole network can suffer.

AI can serve as your "eyes in the sky" to watch the supply chain from beginning to end. As long as an AI system is given a transparent view of the supply chain ecosystem, it can predict the best ways to move materials from one point to the next. That means you have a much larger chance of being able to get products before — or at least when, if you're following a just-in-time model — you need them.
What if you're an e-commerce retailer? You might want to work with a shipper that uses AI in this capacity. Plenty of carriers have begun to invest in AI to help plan trucking delivery roadmaps. Take ORION, UPS' AI-powered system. For a decade, ORION has played a massive part in keeping UPS trucks running efficiently and effectively. AI not only looks at street maps, but also weather predictions, live traffic reports, and more. UPS has said that it has saved millions of miles and gallons of fuel by leaning into AI.
Take time to look at your organization's broader supply chain. AI could be the tool you need to close delivery gaps and move items more rapidly from point A to point B.
AI won't solve all the concerns you have about supply chain disruptions. But AI-backed systems and solutions can at least give you more control over your supply chain and provide insights into how it affects your company's overall branding, customer experience, and performance.
---
Written by Rhett Power.
Have you read?
Prescriptive Policies Undermine the Freedom to Innovate by Lisa Gable.
What the Future of Cyber War Holds by Brian Wallace.
Getting Started on Your First Book by Vincent Barletta.
Keynote Speakers in a Metaverse – The Future of Business.
The Pandemic Isn't The Last Disruptor You Will Face: How To Get Ready For The Next One by Steven L. Blue.
---
Add CEOWORLD magazine to your Google News feed.
---
Follow CEOWORLD magazine headlines on:
Google News
,
LinkedIn
,
Twitter
, and
Facebook
.
---
Thank you for supporting our journalism. Subscribe here.
---
For media queries, please contact:
info@ceoworld.biz
---
Tags :
Chief Government Relations Officer Insider
Chief Human Resources Officer (CHRO) Insider
Chief Information Officer (CIO) Insider
Chief Information Security Officer Insider
Chief Information Technology Officer Insider
Chief Innovation Officer Insider
United Arab Emirates Insider