What Harvard MBAs and Fortune 500 CEOs can learn from small business owners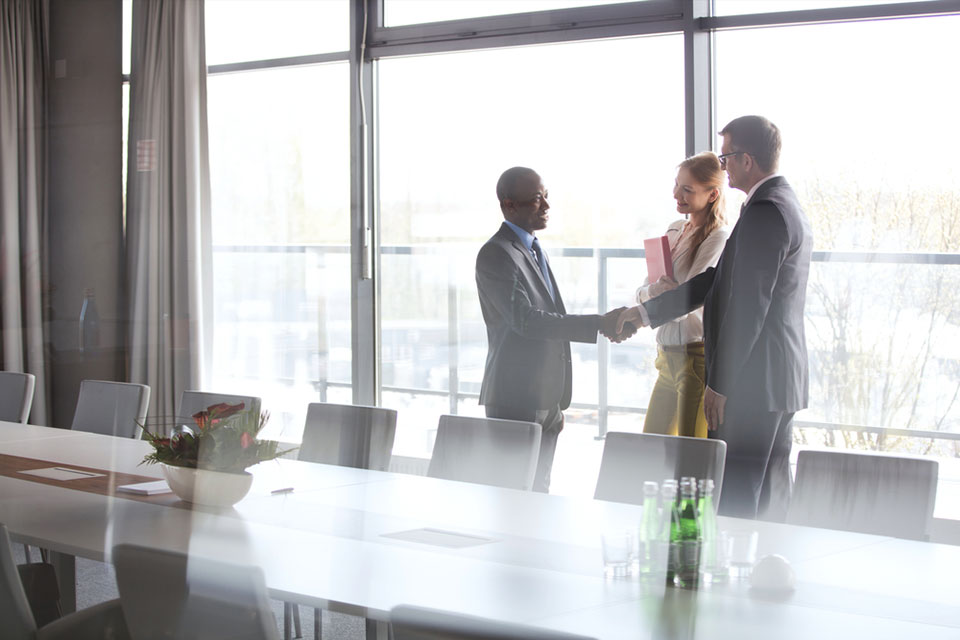 If there's one thing guaranteed in life, it's change, and some people deal with it better than others. However, it doesn't mean those who don't cope well with change can't learn to do so. There are plenty of lessons to be learned from successful entrepreneurs and leaders, who must learn how to deal with change from the moment they start on their journey.
Even leaders of massive Fortune 500 companies can learn some excellent lessons about change from owners of small Main Street businesses.
What makes a successful entrepreneur?
Jason Feifer, editor-in-chief of Entrepreneur magazine and author of the book Build for Tomorrow, says people experience change in four stages: panic, adapting, facing their new normal, and deciding they wouldn't go back. His decision to write the book stemmed from a question people repeatedly asked him as editor-in-chief of Entrepreneur.
Everyone wants to know the qualities needed to be a successful entrepreneur, leader or grower, and Feifer said being able to adapt to change is a critical step in becoming a leader. As editor-in-chief of the magazine, he has been able to interview numerous CEOs, celebrities and other interesting people, including Dwayne "The Rock" Johnson and Maria Sharapova. He used what he learned from all those interviews to help others learn how to improve their reactions to change.
"The most successful people are adaptable," Feifer said in a recent interview. "The most successful companies are led by adaptable people with adaptable structures. I thought, 'How are they adaptable and how do they learn to do this?' They don't seem to be born with it, so the pandemic gave me the answer to that. I got to watch as everybody went through the same change at the same time."
Feifer felt that some people were nimble and creative in dealing with the changes brought about by the pandemic, while others focused on protecting themselves and retaining what they had just to survive. He started to chart how people were getting ahead through change and discovered the four phases of change: panicking, adapting, facing the new normal, and deciding they wouldn't go back.
"Everybody goes through these four changes whenever they experience change," Feifer said. "The difference is some people are much better at moving through them in an efficient way, and I wanted to help people do that."
The right and wrong kinds of overconfidence
He also observed other abilities common to successful entrepreneurs. For example, Feifer noticed that the most successful business owners are inquisitive and consider themselves lifelong learners. They aren't boxed in by their own beliefs and assumptions, and they're not overconfident "in the wrong way."
I find overconfidence to be a fascinating thing to think about because, in a way, the entrepreneur or any other leader has to be somewhat overconfident," Feifer explained. "They have to believe something to be true, even if they don't have enough evidence. They have to be able to try to take risks if they don't have the confidence to do that."
He recalled a conversation he had with Warren Hatch, CEO of the forecasting company Good Judgment. The firm's "Superforecasters" will forecast what will come next in an industry. Good Judgment came out of a government-sponsored contest to identify ways to predict the future. The company developed a system to identify people who could accurately forecast what would happen next — people who are exceptionally good at looking at data and then making predictions.
Feifer asked Hatch what makes someone a good forecaster, and he said they are good at matching patterns. Additionally, they're not limited by their own biases, and they are entrepreneurs and leaders. Hatch also said good forecasters are not overconfident. In fact, Feifer said it's possible to test for overconfidence.
"They've found that most people are overconfident, even though they don't think they are."
Testing for overconfidence
Although the test for overconfidence is a long process, Hatch shared one example of the types of questions used. He asked Feifer what year he thought Gandhi was born.
"I tell you in the book about the Gandhi test because what I found blew my mind, how I responded to that question and what it taught me about my degree of overconfidence, and I realized that being confident that you can accomplish something despite not having a clear path ahead of you is a sign of a clear leader," Feifer explained.
In response to Hatch's question, Feifer initially said he didn't know, so Hatch asked him what he thought were the earliest and latest possible years that Gandhi could have been born. Feifer suggested the earliest year was 1940 and the latest year was 1955, but the real answer is 1869.
Hatch explained that it didn't actually matter that Feifer didn't know the year. What really mattered was how wide of a range he gave in the years.
"I gave a range of 15 years, so I really limited the scope of information I was willing to consider, and I gave him a confident answer despite not knowing anything about the answer to the question," Feifer said. "This is a test to see how confident you are in the knowledge you think you have. I narrowed my bands, and what people need to do more of is widen their bands and be aware that they may not have all the information."
Think bigger
He emphasized that people should widen the range of information they are willing to consider instead of making decisions based on a belief that they have information they don't. Feifer added that people should be OK and comfortable proceeding with that awareness. This is where he sees some leaders get into the wrong kind of overconfidence.
"The wrong overconfidence in a leader is someone who isn't willing to consider what they don't know or how to widen their bands and therefore makes decisions… that do not align with reality," Feifer explained. "Those mistakes compound based on faulty assumptions each time they do it. The original sin becomes worse."
The leaders he respects the most are very comfortable with knowing that they don't know the answer to a question. As a result, Feifer surrounds himself with people he perceives as smarter them him in certain areas. Additionally, he says leaders don't try to hide things they don't know.
"I love when I interview CEOs and founders, and they tell me they're still figuring something out or didn't understand something for a long time," Feifer said. "I think that's wonderful. That contrasts with the right kind of overconfidence."
He also likes when a leader says they don't have all the information they need to guarantee that something will work out. However, they do have a lot of information, so the only thing left to do is try it because there's no other way to know if it will work out unless they take the most calculated risk they can.
Feifer added that successful business leaders who have taken a calculated risk would adjust along the way if things don't go exactly as planned. He noted that most people don't take significant risks but rather cling tightly to whatever feels the safest. Feifer feels that this sort of mindset is OK for those who aren't looking to build or grow, but it won't work for those who want to be great leaders and creators.
"They have to be willing to take a few steps in the dark but be sure they're taking the best direction in the dark they're walking in," he clarified.
 A desire to build and grow
Recalling some of his favorite interviews, Feifer highlighted his talk with Dwayne "The Rock" Johnson and his business partner, Dany Garcia, on a movie set. His favorite thing from that interview was when they said they aren't attached to process but rather only to the outcome. Feifer felt it was great that they wanted to build and grow but didn't really care how they did it. He emphasized that everyone has to change all the time.
"Every time I talk to someone like that, they always tell me one thing that lodges in my brain," Feifer said. "Ryan Reynolds said that you can't be good at something unless you're willing to be bad. Michael Dell keeps mementos from his company failures on his desk in his office as a good reminder or symbol of how much the company had to learn and how every failure led to another success."
On the other hand, speaking with a successful founder on Main Street often reveals that every decision comes with a minuscule margin of error. In those cases, Feifer said every decision they make could radically impact their business. He recalled how one entrepreneur who runs a wig shop handled the change required by the pandemic — and why that change ended up being the best thing that could have happened to her business.
Forcing change
Before the pandemic, the owner of Lena's Wigs ran a storefront that enabled anyone to walk in off the street, be greeted by a staffer, and browse the available wigs. However, when the pandemic began, she couldn't run the shop the same way. Lena was forced to see customers by appointment only so that people came in one at a time.
"That's not a radical idea," Feifer pointed out. "The crazy thing about business is sometimes the most innovative ideas are not the most insane. Often, things are overlooked or discarded or just seemed a little too complicated."
Lena didn't want to do appointments because she thought it seemed like it created too much friction for people who wanted to come into the shop. However, when she went to an appointment-only model, she discovered that her profits and sales went up — as did her customer satisfaction and happiness.
Applying Main Street lessons to the Fortune 500
When Lena ran her business like a storefront, she relied on someone randomly coming off the street to buy a wig. However, the customers who did that were usually just curious about wigs. Generally, people don't just walk off the street and buy wigs.
Those who buy wigs do so for personal reasons and often don't want to shop with random people off the street. As a result, Lena's customers were thrilled with the appointment-only business model because it gave them privacy and a personalized experience. As a result, she saw more business than ever before because of how the pandemic forced her to make a change.
"I find these stories to be fascinating," Feifer said. "Take the thing Lena figured out and apply it to a Fortune 500 company. The way the company was serving the consumer was not the best way. They had an idea of the way the company should be, and if they're not careful, they lose track of what the consumer wants, and there's a gulf between what they want and what we think they want. You get to see when you shrink down to the level of a Main Street shop and see business principles in action, executed by people who don't have a Harvard MBA and are just trying to make things work."
---
Written by Jacob Wolinsky.
Have you read?
Everything You Need to Know about GreenPrizm.
The 7 myths about part-time work by Belinda Morgan.
The Ukraine War and the Shift in Russia-China Relations by Chan Kung.
Leaders: What's Your Strategy for Truth by Antonio Garrido.
7 Ways to Stabilize Your Budget During Economic Uncertainty by Dr. Anthony Decoste.
Track Latest News Live on CEOWORLD magazine and get news updates from the United States and around the world. The views expressed are those of the author and are not necessarily those of the CEOWORLD magazine.
Follow CEOWORLD magazine headlines on:
Google News
,
LinkedIn
,
Twitter
, and
Facebook
.
Thank you for supporting our journalism. Subscribe here.
For media queries, please contact:
info@ceoworld.biz
Tags :
Chief software officer Insider
Chief solutions officer Insider
Chief strategy officer Insider
Chief sustainability officer Insider
Chief technical officer Insider
Chief Technology Officer (CTO) Insider
United Arab Emirates Insider
United Kingdom Insider
United States Insider