Anguilla's Expanded MEADS Bay Bubble Gives Visitors Multiple Beach and Dining Options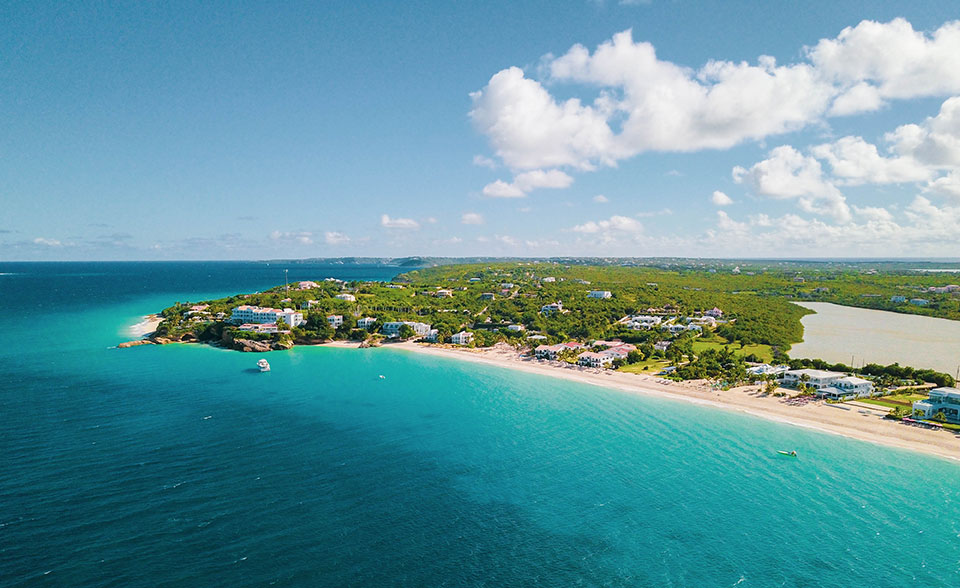 Group of Villas, Resorts, and Restaurants On MEADS Bay Partner to Give In-Bubble Guests Expanded Beach Access.
Until now, travelers to Anguilla were only able to access the beach directly in front of their accommodations while in the island's required 10- to 14-day vacation bubble.
However, with the development of the new Meads Bay Bubble, in-bubble guests staying at partnering properties Bella Blu, Carimar Beach Club, Frangipani Beach Resort, Kishti Villas, Meads Bay Beach Villas, Nathan's Cove, The Beach House, Tranquility Beach Anguilla Resort and Turtle's Nest Beach Resort can swim, kayak, walk and run the beach between Frangipani Beach Resort and Carimar Beach Club. Guests can also make advance reservations through their concierge and stroll down the sand for breakfast, lunch, drinks or dinner at participating restaurants Straw Hat, Blanchards and Blanchards Beach Shack. Resort and villa staff are readily available to escort in-bubble restaurant diners to and from their Meads Bay Beach accommodations or arrange transportation.
"Being in the Meads Bay Bubble has been a breeze," said vacationer and Toronto-resident Mark Harris. "I have been coming to Anguilla since 1993 and love the people of Anguilla like they are family, so I am following all prescribed guidelines and making arrangements through my concierge. It's been worth it. I appreciate being able to enjoy more of the beach and being able to just walk down the sand when I want a great meal. Everything else I've wanted to see or do has been just a short taxi-ride away. I am having a wonderful vacation."
Under Anguilla's wider activity bubble, Meads Bay Bubble guests may also safely enjoy favorite pastimes such as golfing, boating, snorkeling and fishing and dine at other restaurants on Meads Bay, around the island and on offshore cays. Required advance reservations and transportation are arranged by the respective resort's concierge. After a second negative PCR test at the end of the 10 or 14 days, guests are cleared to rent a car and roam the beach and island on their own – and will find Meads Bay the ideal jumping-off point for exploring Anguilla.
Located on the island's West End, Meads Bay Beach is a destination in itself; the wide ribbon of white sand and turquoise waters is home to many of Anguilla's most popular and award-winning restaurants and resorts such as Malliouhana and Four Seasons. With the expanded beach access the Meads Bay Bubble affords, short-term vacationers can maximize their time on island, and digital nomads and other long-term guests can enjoy one of the world's most beautiful beaches at every stage of their stay.
Travelers can visit the partners' websites to learn about available amenities, services and any current promotions. Information on Anguilla's new pre-approval entry process, testing schedule and guided bubble can be found on the Anguilla Tourist Board's website.
Participating properties in the Meads Bay Beach bubble
Bella Blu – www.bellabluanguilla.com
Blanchards & Blanchards Beach Shack Restaurants – www.BlanchardsRestaurant.com
Carimar Beach Club – www.carimar.com
Frangipani Beach Resort – www.frangipaniresort.com
Kishti Villas – www.villakishticollection.com
Meads Bay Beach Villas – www.meadsbaybeachvillas.com
Nathan's Cove – www.nathanscove.com
Straw Hat Restaurant – www.strawhat.com
The Beach House – www.littleharbourestates.com/the-beach-house
Tranquility Beach Anguilla Resort – www.tranquilitybeachanguilla.com
Turtle's Nest Beach Resort – www.turtlesnestanguilla.com
---
Have you read?
Rankings. | Best Countries. | Best Books. | Richest List.
---
Add CEOWORLD magazine to your Google News feed.
---
Follow CEOWORLD magazine headlines on:
Google News
,
LinkedIn
,
Twitter
, and
Facebook
.
---
Thank you for supporting our journalism. Subscribe here.
---
For media queries, please contact:
info@ceoworld.biz
---