The global economy collapses, right now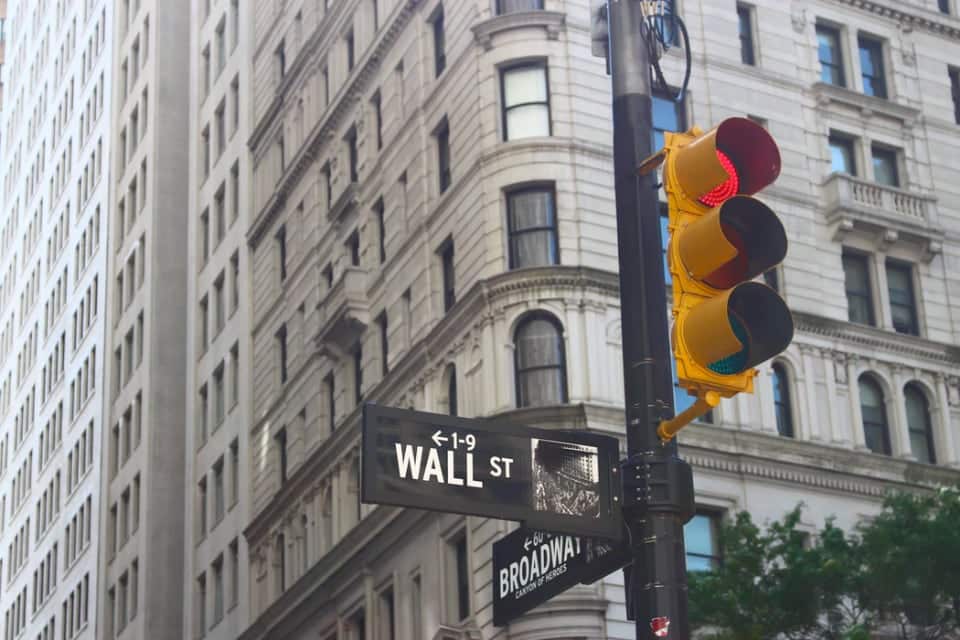 A few years ago, my wife and I visited an Indian city with a couple of million inhabitants, which was approximately a 4-hour drive from New Delhi. As we approached the city center, the traffic also changed the character to the typical Indian colorful traffic, including its natural hectic.
As anywhere in India, everything that could move was on the streets, and everybody had the honorable aim to move faster forward than our car, whether it was people on bicycles, mopeds, tuk-tuks, etc. Even the man with his about eight water buffaloes caught up with us again, and, like everyone else, got past the car.
As his water buffaloes literally crowed past the car, they pushed on the car from all sides and edges, making it feel like you were in a hefty sea disturbance. Then, with enthusiasm, I explained to my wife that we were experiencing and finding ourselves in the midst of what was GDP growth at the higher end. The many people on the vehicles are making money by moving something from A to B, or someone had something to sell, and all are done to generate profit and purchasing power. However, my enthusiasm was not shared to any great extent, and it was probably quite good that the man with his water buffaloes advanced onwards.
This was a true example of emerging economic growth, but I had never imagined that I would stand in the middle of a normally busy metropolitan area where there are no people on the streets, making the whole city seem like a ghost town. This is also what I experienced in Manila last month after the lockdown was introduced. It is exactly the pictorial expression of what has been happening in many places around the world- not only is economic growth slowing down, but the whole economy was brought to a complete standstill within just a few days.
It is effectively a significant economic collapse, affecting millions in Manila, but the same is true for the man with the water buffaloes and all others on the move in the Indian-million town. Similar stories also apply to the rest of the world, large western cities included, even entire countries, in almost complete silence.
I am not addressing whether the lockdown decisions have been correct or wrong. Though I have always argued that private households and businesses should be compensated 100 pct. for all government measures taken against the spread of COVID-19, alternatively, values ​​will be destroyed.
The reality is, that right now value destruction is happening but nobody knows the magnitude. This uncertainty, and many other variables, ranging to increased expectations about easing of the lockdowns. All-in-all it is a fairly big challenge to come up with an indication about where the financial markets and the global economy are heading the coming six months.
It is certain that the global economy will experience a very extreme negative growth rate in the current second quarter, where the International Monetary Fund (IMF) report from 14th April is providing good insight.
On the other hand, I also consider it highly probable that one or more medical solutions will counterweight COVID-19, such as a vaccine. This means that there will be a period of high economic uncertainty until the virus can be controlled medically, and thereafter is the period where all the economic consequences will continue to influence the global economy.
In my view, there have been no new developments, data, etc., that suggest that the next six months in the financial markets will avoid being volatile, at best. The prime example is probably very up-to-date, namely the 20 to 25 pct. rebound from the bottom of the US stock market, which has taken place over the past two to three weeks. It has been a relief to many investors, but the rebound has happened just ahead of the global economic collapse that is happening right now, which is a good indication that more fluctuations are waiting just around the corner.
The complete shutdown has created havoc in many economies, but the restart of businesses and consumers that needs to happen now is just as big of a concern. In my view, the private consumption was the strongest global economic force before the shutdown of many economies, and the consumers will return, but it's the speed of the return that I am focusing on. Right now, consumers are already afraid in the two important economies, the USA and Germany (as graphic one and two show), and among German households, fear of recession is even spreading.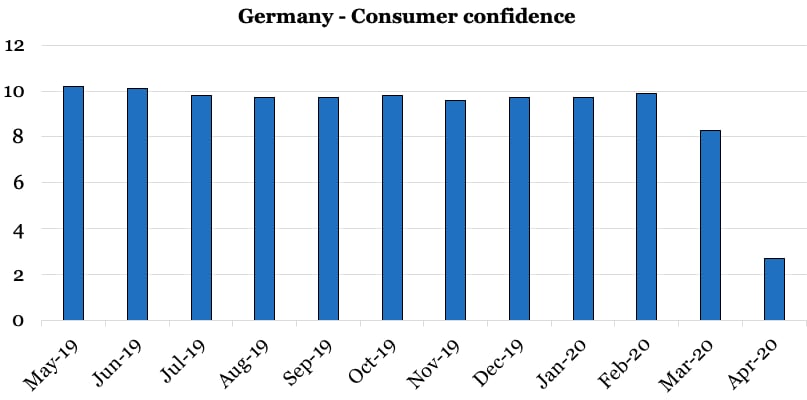 If governments want to kick-start private consumption, it might be necessary to hand more money out directly to consumers. This further increases the budget deficits and the government debt, though investors' concerns about government debt levels are already on the rise, also because the combined Eurozone public debt is now suddenly close to 100 pct.
Another major macroeconomic uncertainty, which does not necessarily affect the stock markets in the near term is whether how many small businesses will manage to open again. If many governments had chosen to reduce the economic activity level to, for example, around 30 pct. of the normal economic life, it would have been somewhat easier to scale up small and smaller businesses again. A re-opening from zero is much more troublesome and unsecure, and I expect this to be most difficult in countries with the toughest shutdowns and with the highest fixed costs– which applies to several countries in Western Europe.
Germany Consumer confidence
May-19: 10,2
Jun-19: 10,1
Jul-19: 9,8
Aug-19: 9,7
Sep-19: 9,7
Oct-19: 9,8
Nov-19: 9,6
Dec-19: 9,7
Jan-20: 9,7
Feb-20: 9,9
Mar-20: 8,3
Apr-20: 2,7
USA Consumer confidence
May-19: 100
Jun-19: 98,2
Jul-19: 98,4
Aug-19: 89,8
Sep-19: 93,2
Oct-19: 95,5
Nov-19: 96,8
Dec-19: 99,3
Jan-20: 99,8
Feb-20: 101
Mar-20: 89,1
Apr-20: 71
Written by Peter Lundgreen, Have you read?
# Global Passport Ranking, 2020
# World's Best Cities For Millennials In 2020
# Richest Actors In Hollywood For 2020
# Richest CEOs In The World For 2020
# Countries with the largest household size
---
Add CEOWORLD magazine to your Google News feed.
---
Follow CEOWORLD magazine headlines on:
Google News
,
LinkedIn
,
Twitter
, and
Facebook
.
---
Thank you for supporting our journalism. Subscribe here.
---
For media queries, please contact:
info@ceoworld.biz
---