These Are 17 Countries With Just One Billionaire, 2019
There are about 2,153 billionaires in the world, unsurprisingly, the United States is home to a large number of billionaires. However, there are 17 countries — including Georgia, Iceland, and Liechtenstein — with just 1 billionaire in 2019.
Here are 17 countries that have only one billionaire:
Algeria
Issad Rebrab
Net Worth: $3.8 billion
Angola
Isabel dos Santos
Net Worth: $2.2 billion
Eswatini
Nathan Kirsh
Net Worth: $5.3 billion
Georgia
Bidzina Ivanishvili
Net Worth: $4.9 billion
Guernsey
Stephen Lansdown
Net Worth: $2.3 billion
Hungary
Sandor Csanyi
Net Worth: $1.1 billion
Iceland
Thor Bjorgolfsson
Net Worth: $2.3 billion
Kuwait
Kutayba Alghanim
Net Worth: $1.4 billion
Liechtenstein
Christoph Zeller
Net Worth: $3 billion
Macau
Hoi Kin Hong
Net Worth: $2 billion
Nepal
Binod Chaudhary
Net Worth: $1.7 billion
Portugal
Maria Fernanda Amorim
Net Worth: $4.9 billion
Qatar
Faisal Bin Qassim Al Thani
Net Worth: $1.3 billion
Romania
Ion Tiriac
Net Worth: $1.1 billion
Slovakia
Ivan Chrenko
Net Worth: $1.6 billion
Tanzania
Mohammed Dewji
Net Worth: $1.9 billion
Zimbabwe
Strive Masiyiwa
Net Worth: $2.7 billion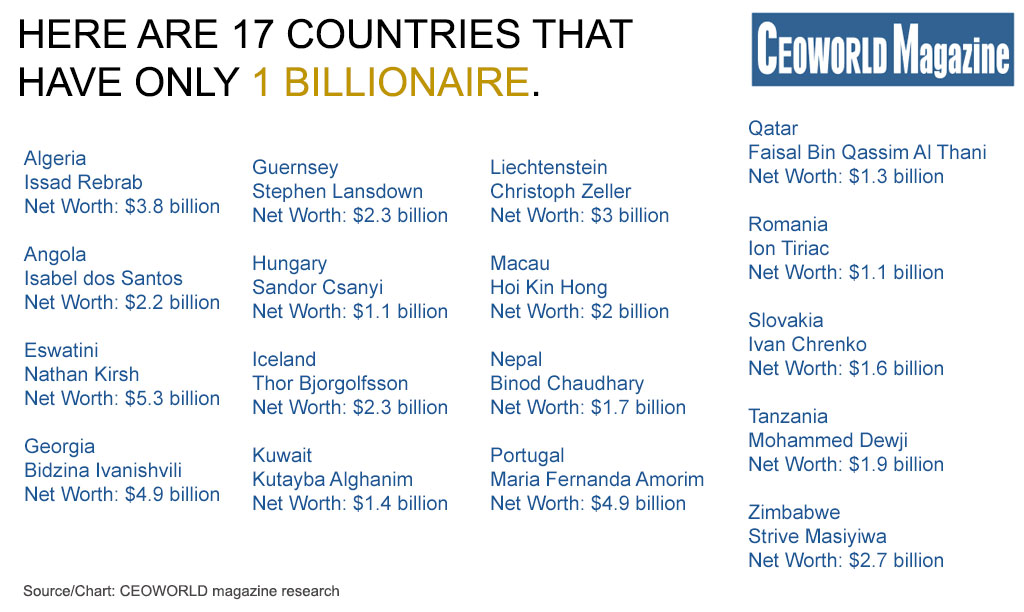 Have you read?
For those who are planning their next business trip, here are the best hotels for business travelers to stay in Tenerife, Malaga, Lanzarote Island, Canary Islands, Phuket, Bangkok, Abu Dhabi, Dubai, and London.
Track Latest News Live on CEOWORLD magazine and get news updates from the United States and around the world. The views expressed are those of the author and are not necessarily those of the CEOWORLD magazine.
Follow CEOWORLD magazine headlines on:
Google News
,
LinkedIn
,
Twitter
, and
Facebook
.
Thank you for supporting our journalism. Subscribe here.
For media queries, please contact:
info@ceoworld.biz