How To Find Vegan Food On Your Holiday
Whole Grain pancakes
Everyone loves holidaying but what spoils the fun is food. There's no problem with non-vegetarians, a little bit with vegetarians, but vegans face problems the most, as they have lesser food options. Being a vegan one can't eat butter/cream, cheese and milk (from animals), eggs, meat, poultry, lamb/beef, fish, gelatin, honey etc. but then it seems what to eat? Don't worry, there are still many options to exercise.
If you can have internet access during your holiday then you can simply surf vegan restaurants nearby but if not, then too you need not worry. We are presenting before you a handful of yummy dishes that are available almost everywhere:-
Whole Grain pancakes:
A wise pick as a nutritious dessert can be opted for breakfast with vegan burritos/chickpea and onion omelet. Apple/banana or any of your favorite flavor can be chosen.
Salads with sprouts:
Have you ever heard of mouth-watering salads? Yes, you read that right, salads can be tempting too. Here's a list of palatable salads just for you-
Chopped Kale Salad (sweet potato, kale, beans, avocado, cranberries)
Green salad with black-eyed peas
Cranberry Cilantro Quinoa Salad
Black Bean Taco Salad
Cucumber Salad with Fried Tofu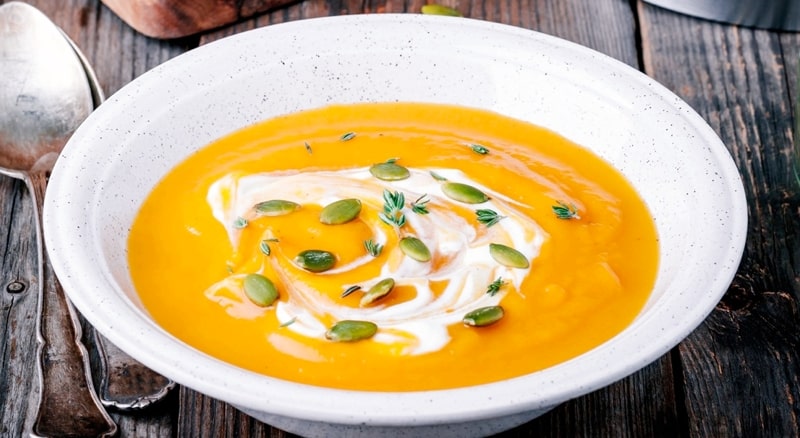 Hot Soups:
Soups have always been hearty, warming and veggie-ful. A few soups which can come out to be the best for vegans are-
Gluten-free Lentil Soup
Quinoa Veg. Soup with Kale
Roasted Butternut Squash Soup
Veg. Tortilla Soup
Curried Cauliflower Soup
Muffins:
We all love muffins, don't we? Vegan muffins can be equally tempting since most of the recipes use almond milk. Muffins can also be crunchy and savory. A gluten-free muffin coupled with veggies, herbs, beans, and seeds, is wholesome as well as appetizing. Even non-vegans can also try their hands on them-
Chocolate Muffins
Apple Almond Muffins
Vegan Corn and Blueberry Muffins
Vegan Toast and Milk:
Toasts are an indispensable part of everyone's breakfast. You can use various toppings for toasts, such as:-
Chickpeas
Peanut Butter with Fruits
Non-dairy Yogurt with Fruits and Dry Fruits
This combined with vegan milk (milk of almond/ soy/ rice/ cashew/ coconut/ hemp/ oat) will provide you the required energy and nutrients.
Smoothies, Oatmeal and Milk-
It is a healthy and luscious way to begin your day. You can look up for your favorite greens, seasonal fruits, vegan yogurt and nut butter. Coconut/ Almond milk based smoothies accompanied by a warm bowl of oatmeal give you a nourishing start of your day.
Fruits/ Fruit Crumbles:
Wherever you go and at whatever time you go, there will definitely be some seasonal fruits of that place. So you can either ingest the fruits in cubes or in crumbled form.
Fried Rice:
Well, this is the best option for dinner, as it is light, full of veggies, satisfying and flavorful. You can look out for your favorite veggies coupled with tofu.
Vegan Pizza:
Pizzas without cheese are vegan (like thin crust pizza). In fact, these are much healthier and more delectable than the other ones, as these contain fat-free and cholesterol-free toppings.
French Fries:
Mostly, French fries are vegan. Just be sure, these don't contain beef fat and are fried in separate vegetable oil.
Polenta:
This is more or less like porridge made from coarsely grounded cornmeal, and hence, full of nutrients and less of calories.
So following a vegan lifestyle is now not challenging at all. You can now enjoy your holidays without hurting your stomach.
---
Have you read?
# Most Startup Friendly Countries In The World.
# Countries With The Highest Average Life Expectancies In 2030.
# World's Best Hospitality And Hotel Management Schools, 2019.
# Best Fashion Schools In The World For 2019.
---
Add CEOWORLD magazine to your Google News feed.
---
Follow CEOWORLD magazine headlines on:
Google News
,
LinkedIn
,
Twitter
, and
Facebook
.
---
Thank you for supporting our journalism. Subscribe here.
---
For media queries, please contact:
info@ceoworld.biz
---