The 2018 Holiday Season: Five Trends Every Retailer Should Be Watching
As we approach the 2018 holiday season what are the trends that retailers should be watching closely? Where is spend expected to go to? How are consumers shopping differently? Which mistakes from last year should be avoided?
Recently, eMarketer tackled these questions in an in-depth 2018 holiday retail preview as well as in a shorter piece focused on emerging behaviors. The analysts conducted surveys, developed forecasts, and also looked at research from a host of third-party sources to determine the major takeaways from the 2017 season and to predict what this season may bring.
So, what did they find? Here are five key holiday shopping trends that every retailer should be aware of:
Brick-and-Mortar Retail Still Receives the Bulk of Holiday Spend (for Now)
Ecommerce has been the big retail story leading up to this season, and deservedly so. According to eMarketer's forecast, online holiday spend is expected to increase by 16.2% in 2018, compared with a 2.6% increase for brick-and-mortar spend.
Given that impressive growth, it's clear that digital is transforming retail. However, what's sometimes lost in all the buzz about eCommerce is that the bulk of holiday purchases still occurs in physical locations. eMarketer forecasts that 87.5% of total holiday spend will go to in-store retail in 2018, compared with 12.5% to online retail.
This doesn't mean that the rise of eCommerce should be ignored. Rather, it's simply a reminder that brick-and-mortar stores account for most holiday sales — for now — and remain essential to consumers.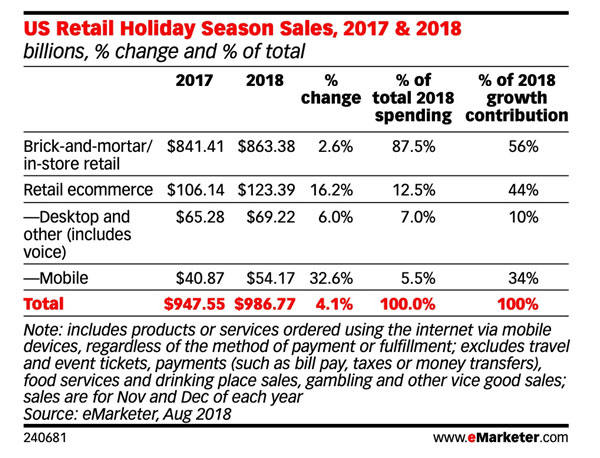 Mobile Is Increasingly at the Heart of Holiday Shopping Online
Increasingly, holiday eCommerce is becoming synonymous with mobile commerce.
Retail purchases made on mobile devices rose by 36.3% last season and are expected to grow by another 32.6% this season, according to eMarketer.
Overall, 43.9% of all holiday eCommerce sales are expected to be mobile-driven in 2018, up from 38.5% in 2017.
A key thing to note here is that these data points only cover purchases. If you take into account browsing behavior, mobile's influence is even greater.
For businesses this is a clear reminder that every element of a digital holiday strategy — from marketing messaging to checkout —  must now be mobile optimized in order to succeed.
The Way Consumers Holiday Shop Online and In-Store Is Changing
One of the biggest challenges facing retailers each holiday season is that behavior is not static: every year consumers find new ways to research and purchase gifts.
According to PwC research cited by eMarketer, there should be a number of these emerging trends in 2018. Some of the key ones identified by the analysts include:
Buy buttons: Some 39% of online shoppers say they would use their smartphones to purchase holiday gifts via these increasingly common digital calls-to-action.
Shoppable photos: A quarter of online shoppers say they would purchase holiday gifts using this content/ad format now offered by platforms such as Instagram.
Smartphone and wearable payments: Some 24% of consumers say they would pay for holiday gifts in-store using their smartphone and 16% would pay using a wearable device.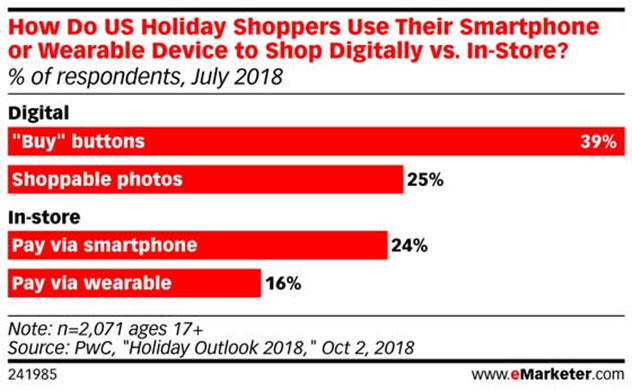 Amazon Is the 800-Pound Gorilla Every Retailer Must Account for This Season
The fact that Amazon is popular with holiday shoppers is no surprise to both online and offline retailers. Still, it's worth highlighting the staggering scale of this popularity.
According to comScore data cited by eMarketer, US consumers spent 22.6 billion minutes shopping on Amazon in December 2017. To put that in perspective, consumers spent only 6.2 billion minutes on eBay and 3 billion minutes on Walmart's online properties.
Given that Amazon now has 97 million Prime members, up from 90 million last year, it's likely that the platform will garner even more attention from consumers this season. For retailers, this means that every holiday strategy must take the eCommerce behemoth into account.
The Holiday Shopping Season Extends Well into December for Many Consumers
Finally, the research highlights a key mistake that retailers should avoid this season: don't end holiday campaigns too early.
A National Retail Federation (NRF) survey cited by eMarketer found that only 34% of shoppers purchased their last holiday gift before December 18 last year.  An additional 27% finished by December 20 and 34% by December 24. More than 5% of shoppers didn't make their last holiday purchase until Christmas day or later.
By extending campaigns through the end of December, it's possible to capture revenue from these late shoppers and make your holiday efforts even more effective. Similarly, by taking into account the other trends identified by the researchers — the continued importance of brick-and-mortar stores, the rise of mobile, the increased use of buy buttons/shoppable photos/device payments, and the competitive threat of Amazon — you can optimize your holiday strategy and ensure this is truly the most wonderful time of the year.
---
Have you read?
➡️ Richest Women In The United States For 2018: 55 Female Billionaires.
➡️ Top 20 Richest Sports Team Owners In The World, 2018.
➡️ The 100 Most Influential People In History
➡️ Top CEOs And Business Leaders On Twitter: You Should Be Following
---
Add CEOWORLD magazine to your Google News feed.
---
Follow CEOWORLD magazine headlines on:
Google News
,
LinkedIn
,
Twitter
, and
Facebook
.
---
Thank you for supporting our journalism. Subscribe here.
---
For media queries, please contact:
info@ceoworld.biz
---