6 Awesome Stress Busting Tips at the Office
Do you normally feel run down by the middle of the afternoon during the work week? Or, do you feel as if your job is all-consuming and is decreasing the value of your life instead of enhancing it?
If you ever feel this way, then practicing stress relievers at work is a great way to make sure that you stay on task, productive, and stress-free during the working day. Here are some great ways to reduce stress while at work.
1) Declutter and Optimize Your Workspace
All too often, we fall prey to having an over-cluttered desk. When we get too busy and do not take the time to make sure our working environment is clean and proper, things such as loose papers, pens, other office supplies, and the like make their way all over our work station. For most, a messy environment leads to an inability to efficiently find important documents and complete important tasks, which can add to developing stress.
In addition, simply having unergonomic office furniture, such as a hard-backed chair or improper computer monitor, can make our bodies stressed. Adding external stressors to the body only increases our internal stressors, which also makes it impossible to efficiently stay on task.
The solution? Try cleaning up your workspace and upgrading your office furniture! Taking ten minutes every morning to file papers, stack pens and pencils, and clean out your computer hard drive puts you in a much more relaxed position during the rest of the working day. In terms of office furniture, a solid ergonomic chair alone can greatly help to release tension from your upper back, neck, and hips, and can decrease internal stressors.
2) Take Small Breaks
It has been instilled into the minds of working men and women to always push harder and longer at work to get ahead. A recent survey by Tork found that nearly 20% of North American office workers felt as if they would not gain respect from their boss if they took regular lunch breaks during the work day.However, those of us who work diligently throughout the entire working day are more likely to suffer from burn out, or an inherent lack of interest in our work, more quickly, according to Forbes. In addition, those who work tirelessly from clock-in to clock-out are more prone to stress.
Taking at least one quick break other than lunch, if not more, during the day has been found to significantly reduce stress and increase worker retention and productivity. In addition, it nearly cancels burn out and helps the worker to stay more focused during the day. Therefore, if you're feeling incredibly stressed during the day, try taking a five or ten minute break to breathe and recharge. You'll feel much better for it!
3) Exercise Before Your Shift
The benefits of exercise are enormous, and not just for the body. While daily exercise does help to ward off possible disease, fat gain, and aids in muscle development, regular exercise has also been proven to significantly boost your mood during the day. This is especially true if you exercise in the morning, since the heightened endorphins can carry well into the afternoon.
In addition, exercise has been proven, due to the higher endorphin levels, to decrease impending depression and anxiety. These feelings tend to build up when we're stressed out, normally from work or other relationships.
Any kind of exercise will do: yoga, pilates, weight training, cardiovascular training, or group fitness. Just make sure that whatever you participate in is something that you enjoy! Bringing a friend along with you can also aid in consistency with your program and increasing overall fun during the workout.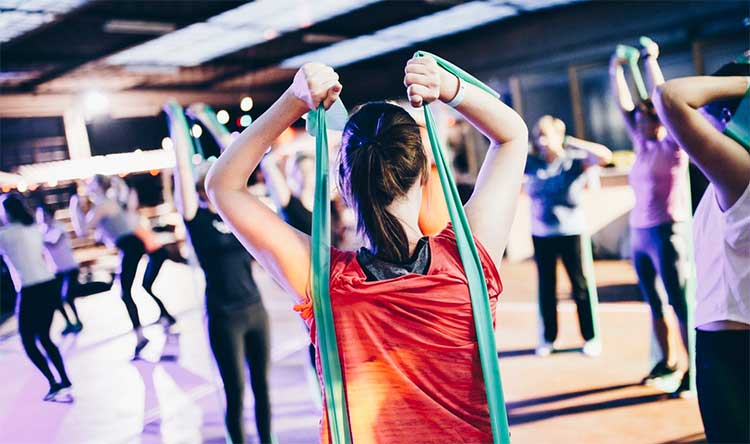 4) Create Workplace Rituals
Sometimes, we get stressed out at work because we simply are not comfortable there. Simple tasks such as team meetings, group presentations, and reports are a huge stress factor to those who are uncomfortable being around the rest of the team, whether because they are new or introverted.
A great way to boost team morale — and, therefore, to decrease stressors — is to engage in workplace rituals. Something as simple as celebrating a birthday or engaging in a fun game at the end of a team meeting are great ways to make team members feel more comfortable and appreciated by their peers. With appreciation comes less stress, which will eventually lead to better working output.
5) Tackle the Hard Things First
Do you ever leave the hardest project for last, and during the day feel the stress of it building? Procrastination is a large proponent to stress, and handling large projects first thing in the morning — before we have time to be distracted by other's attention, emails, and the like — will ease stressors during the rest of the day.
To start, try completing a half hour of work on the biggest project in your queue, then taking a five to ten minute break, and repeating the process. The breaks will help to keep you level headed, and the consistent working on the large project will help to keep stressors at bay.
6) Block Your Time
Often times, we get stressed simply because we feel as if we have a million projects going on at once and no time to finish them all. Without proper scheduling, these projects will pile mentally without being done physically, and the stress of it all can actually supercede any work that can be done!
Instead, make a schedule of your day and set specific time blocks for each project. By doing this, you not only make sure that every project can fit into your day, but seeing that some may not take as long as you originally planned will help to alleviate stress. Now, instead of your day being one stressful mess, it's a much more practical schedule.
---
Best Fashion Schools In The World For 2018
Best Hospitality And Hotel Management Schools In The World For 2018
Best Business Schools In The World For 2018
---
Add CEOWORLD magazine to your Google News feed.
---
Follow CEOWORLD magazine headlines on:
Google News
,
LinkedIn
,
Twitter
, and
Facebook
.
---
Thank you for supporting our journalism. Subscribe here.
---
For media queries, please contact:
info@ceoworld.biz
---