Countries Best-Positioned To Benefit From The Rise Of Advanced Manufacturing, 2018 [Infographic]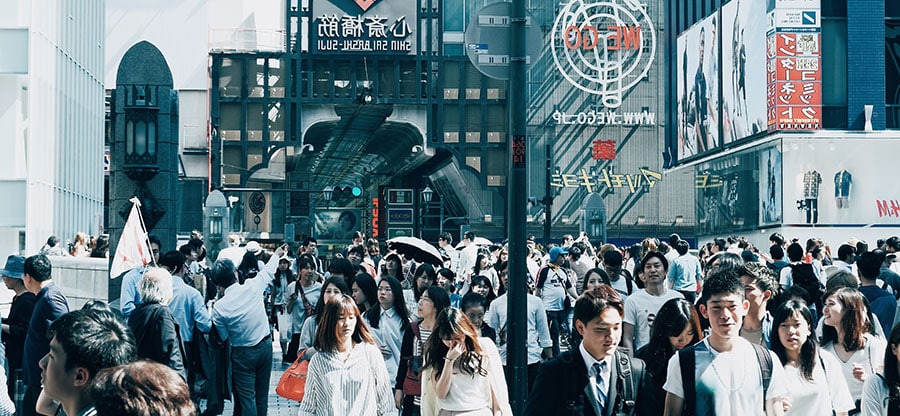 United States, China, India, Japan, and the United Kingdom are among the top 50 countries best-positioned to benefit from the rise of advanced manufacturing and smart factories, according to a new report. Japan ranked number 1 on the WEF's Global Manufacturing Index 2018, followed by South Korea (No. 2), Germany (No. 3), and Switzerland (No. 4).
While China was ranked 5th, the Czech Republic, the United States, Sweden, Austria, and Ireland stood at 6th, 7th, 8th, 9th, and 10th positions in the index, respectively.
Among BRICS countries, China is ranked 5th, India 30th, Russia 35th, Brazil 41st, and South Africa at 45th place.
Other countries, including New Zealand (53rd), the United Arab Emirates (57th), Hong Kong (58th), Greece (60th), Australia (61st), were ranked below Argentina (50th). The report analyses the development of modern industrial strategies and collaborative action.
Countries Best-Positioned To Benefit From The Rise Of Advanced Manufacturing, 2018
Japan
South Korea
Germany
Switzerland
China
Czech Republic
United States
Sweden
Austria
Ireland
Singapore
Thailand
United Kingdom
Finland
Italy
Slovak Republic
Hungary
France
Poland
Malaysia
Slovenia
Mexico
Romania
Belgium
Israel
Netherlands
Denmark
Philippines
Spain
India
Lithuania
Turkey
Canada
Estonia
Russia
Norway
Croatia
Indonesia
Portugal
Bulgaria
Brazil
Serbia
Ukraine
Saudi Arabia
South Africa
Egypt
Costa Rica
Vietnam
Latvia
Argentina
Tunisia
El Salvador
New Zealand
Bahrain
Bosnia and Herzegovina
Colombia
United Arab Emirates
Hong Kong SAR
Uruguay
Greece
Australia
Kazakhstan
Chile
Cyprus
Armenia
Sri Lanka
Guatemala
Lebanon
Jordan
Oman
Dominican Republic
Qatar
Mauritius
Pakistan
Panama
Kyrgyz Republic
Morocco
Peru
Georgia
Bangladesh
Cambodia
Kuwait
Honduras
Moldova
Paraguay
Botswana
Senegal
Kenya
Ecuador
Algeria
Albania
Zambia
Tanzania
Uganda
Azerbaijan
Ethiopia
Ghana
Cameroon
Mongolia
Nigeria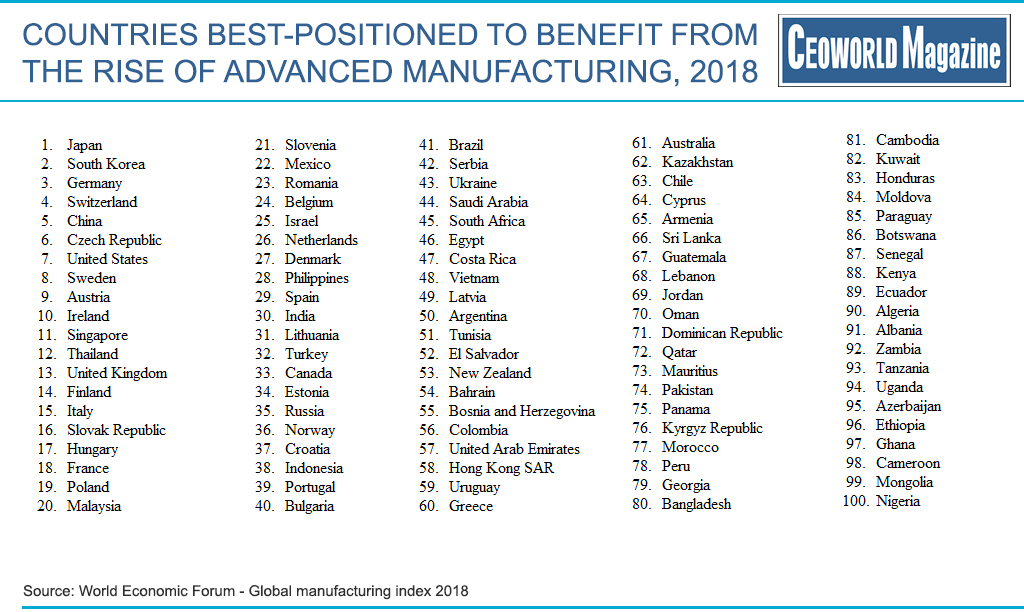 Dr. Amarendra Bhushan Dhiraj is the CEO and editorial director at CEOWORLD magazine, the leading global business magazine written strictly for CEOs, CFOs, top managers, company directors, investors, senior executives, business leaders, high net worth individuals, and the most globally powerful men and women.
Latest posts by Dr. Amarendra Bhushan Dhiraj
Leave a Reply