America's 10 Best Party Cities Of 2017 [Infographic]
If you're wondering which U.S. cities are the perfect place to party, looks no further. Evite, known for bringing people together, just announced it's list of the top 10 party cities in America of 2017.
Houstonians don't need a reason to party. But if they did, here's one more: Houston has been ranked as the party capital of America, boasting a total of 57,268 events, followed by Austin, Chicago, Atlanta, and San Diego.
Seattle came in sixth with 39,974 events, beating out San Jose, New York, Denver, and Dallas.
The list was made from Evite's data from parties, events, and get-togethers planned across the U.S. over the past 12 months.
America's 10 Best Party Cities Of 2017
Houston, Texas: 57,268
Austin, Texas: 52,364
Chicago, Illinois: 51,506
Atlanta, Georgia: 47, 023
San Diego, California: 44,660
Seattle, Washington: 39,974
San Jose, California: 37,275
New York: 35,321
Denver, Colorado: 34,162
Dallas, Texas: 33,932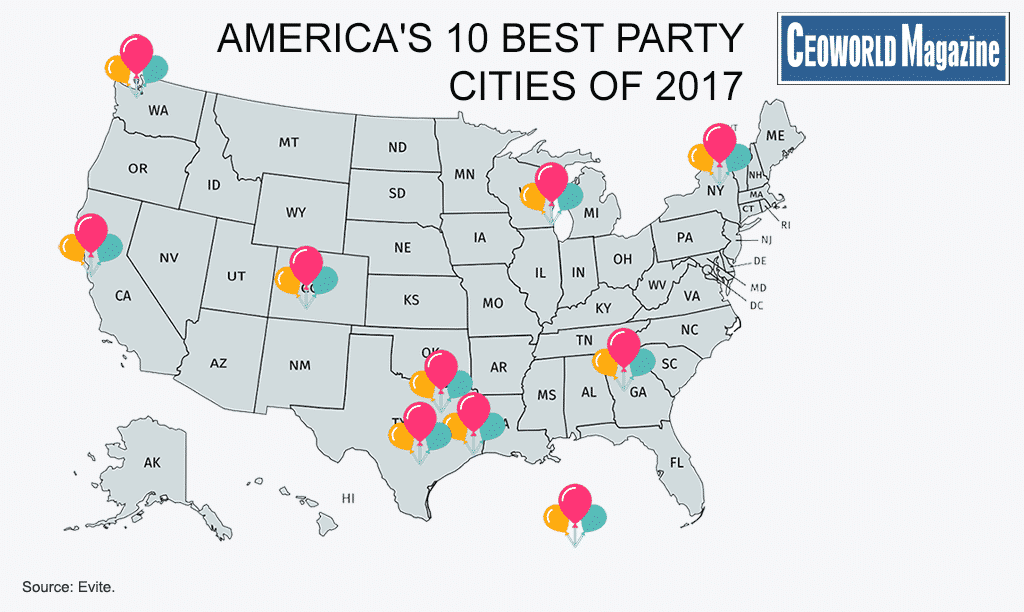 Dr. Amarendra Bhushan Dhiraj is the CEO and editorial director at CEOWORLD magazine, the leading global business magazine written strictly for CEOs, CFOs, top managers, company directors, investors, senior executives, business leaders, high net worth individuals, and the most globally powerful men and women.
Latest posts by Dr. Amarendra Bhushan Dhiraj
Leave a Reply