Here Are The Top 30 Brands Millennials Love The Most, 2017
And it turns out Apple is the most favorite brand for Millennials, with Nike and Samsung representing this demographic's 2nd- and 3rd-most popular brands, according to new study from St. Louis, Miss.-based agency Moosylvania.
Rounding out the top 5 are Target and Amazon. Sony, Wal-Mart, Microsoft, Coke and Google were next on the list.
The brand building agency asked thousands of millennial consumers to name their 3 most favorite brands.
Apple is Millennials' No. 1 brand.
For more insight, here are the 30 brands Millennials love the most
Apple
Nike
Samsung
Target
Amazon
Sony
Wal-Mart
Microsoft
Coca-Cola
Google
Adidas
Nintendo
Pepsi
Starbucks
Victoria's Secret
Ford
Forever 21
Jordan
American Eagle
Disney
Old Navy
Toyota
Under Armour
Express
Kohl's
LG Corporation
Chevrolet
McDonald's
Hot Topic
Macy's
Infographic: Top 30 Brands Millennials Love The Most 2017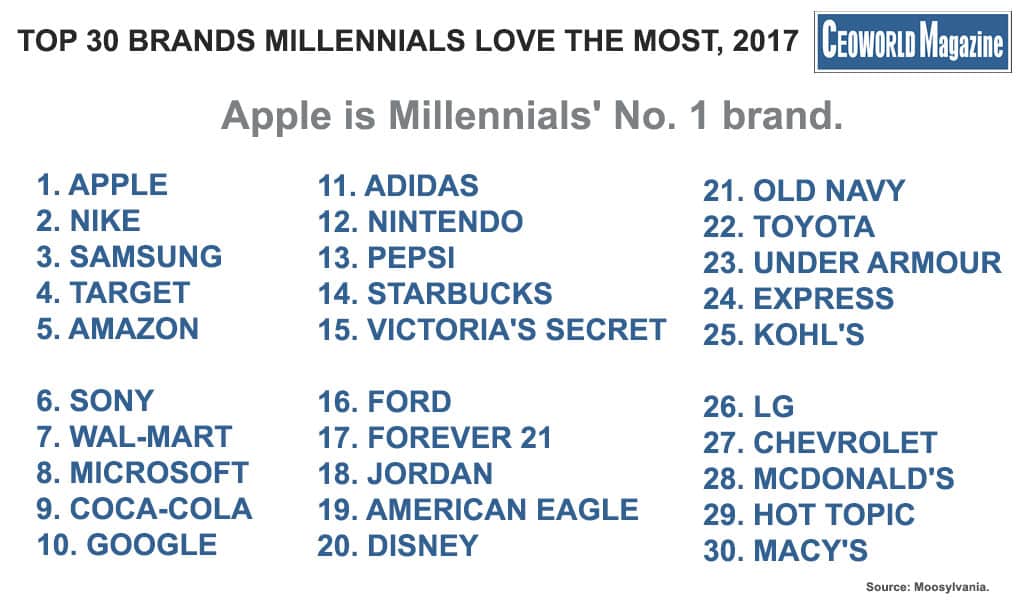 Dr. Amarendra Bhushan Dhiraj is the CEO and editorial director at CEOWORLD magazine, the leading global business magazine written strictly for CEOs, CFOs, top managers, company directors, investors, senior executives, business leaders, high net worth individuals, and the most globally powerful men and women.
Latest posts by Dr. Amarendra Bhushan Dhiraj
Leave a Reply