Meet The Top 8 Highest-Paid Women CEOs in America, 2015
Unsurprisingly, the top-paid woman on the ranking is Oracle Corp.'s Co-Chief Executive Officer Safra Catz, who made $53.2 million last year, according to Equilar 100 list. The 2nd woman on the list is Indra Nooyi, PepsiCo's Chairman and CEO. She raked in $22.2 million last year. Coming in at No. 3 is General Dynamics chairman and CEO Phebe Novakovic, who made $20.4 million in 2015.
Meet The Top 8 Highest-Paid Women CEOs in America, 2015
1. Safra A. Catz, Oracle
Total compensation: $53.2 million
2. Indra K. Nooyi, Pepsico
Total compensation: $22.2 million
3. Phebe N. Novakovic, General Dynamics
Total compensation: $20.4 million
4. Marillyn A. Hewson, Lockheed Martin
Total compensation: $20.2 million
5. Virginia M. Rometty, International Business Machines
Total compensation: $19.8 million
6. Irene B. Rosenfeld, Mondelez International
Total compensation: $18.3 million
7. Margaret C. Whitman, Hewlett-Packard
Total compensation: $17.1 million
8. Lynn J. Good, Duke Energy
Total compensation: $10.7 million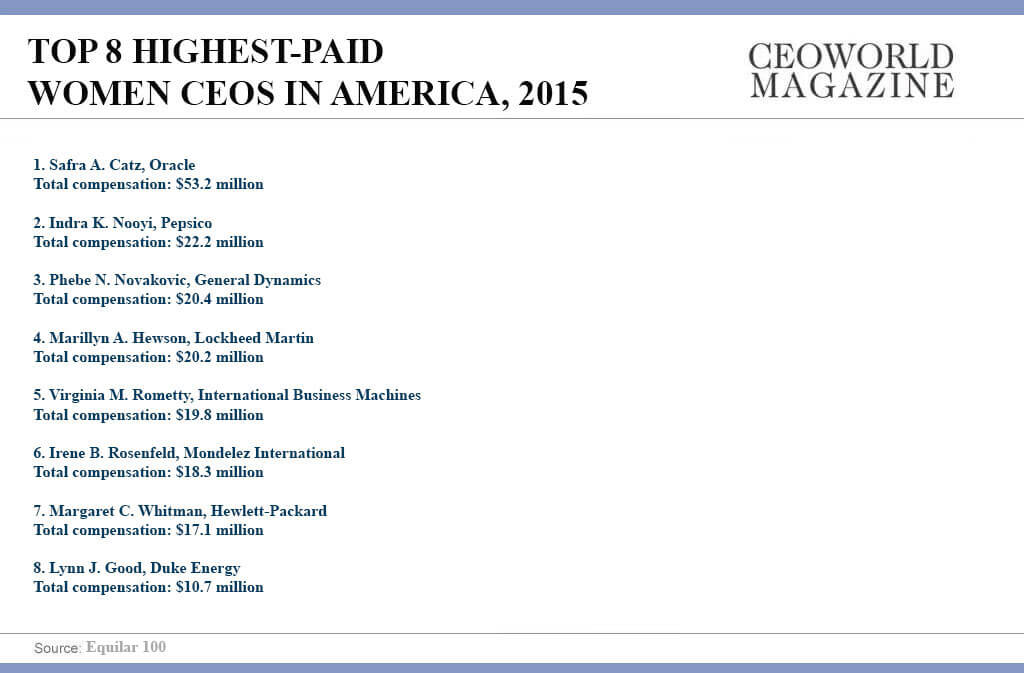 Dr. Amarendra Bhushan Dhiraj is the CEO and editorial director at CEOWORLD magazine, the leading global business magazine written strictly for CEOs, CFOs, top managers, company directors, investors, senior executives, business leaders, high net worth individuals, and the most globally powerful men and women.
Latest posts by Dr. Amarendra Bhushan Dhiraj
Leave a Reply