Most Influential CEOs And Business Leaders To Follow On Twitter, 2016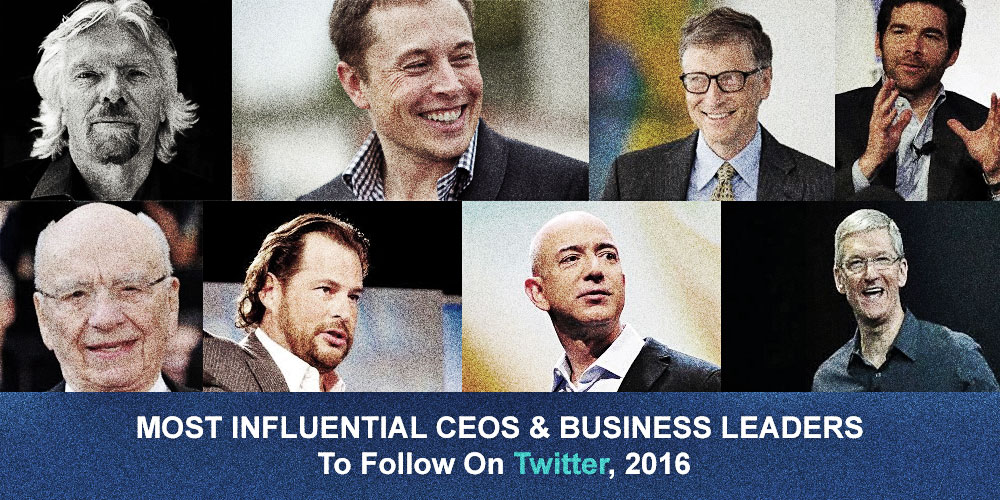 It shouldn't come as surprise that top chief executive officers (CEOs) and business leaders at the world's biggest companies are using Twitter more than ever.  Fortunately, there a number of prominent CEOs and business leaders, who have made Twitter part of their daily routine and share compelling content from their personal and professional lives. Follow them on Twitter to learn how many successful business leaders are using this "new corporate communications" opportunity. You can learn a great lesson and start to use Twitter to engage with your own clients, co-workers or network too, whether or not you are a CEO.
Below are my recommendations for the world's most influential CEOs and business leaders that you should consider following on Twitter:
Please join me by congratulations the most influential social CEOs on Twitter for 2016.
Do you know of another CEO that jumped into social media the right way? If so, please share below.
Follow me on Twitter: www.twitter.com/ceoworld
Track Latest News Live on CEOWORLD magazine and get news updates from the United States and around the world. The views expressed are those of the author and are not necessarily those of the CEOWORLD magazine.
Follow CEOWORLD magazine headlines on:
Google News
,
LinkedIn
,
Twitter
, and
Facebook
.
Thank you for supporting our journalism. Subscribe here.
For media queries, please contact:
info@ceoworld.biz