Doha-based airline Qatar Airways was named the best business class airline in the world for 2018 by the industry organization Skytrax, which surveys more than 20 million fliers every year.
West Asian carrier beat out all the others for the top business class honoree in the 2018 World Airline Awards, including second-place finisher Singapore Airlines, ANA All Nippon Airways (third) and Emirates (fourth), and Etihad Airways(fifth).
The Hong Kong-based Cathay Pacific Airways ranked seventh in the world, with Qantas Airways (sixth), Lufthansa (eighth), Turkish Airlines (ninth), and EVA Air (tenth) rounding out the top 10 of what Skytrax's refers to as its "Best Business Class Airlines For 2018″.
Planning a business trip?
These are the world's 20 best business class airlines for 2018:
20. China Southern Airlines
19. Virgin Atlantic
18. Air France
17. Thai Airways
16. China Airlines
15. Swiss International Air Lines
14. Japan Airlines
13. Austrian Airlines
12. Garuda Indonesia
11. Hainan Airlines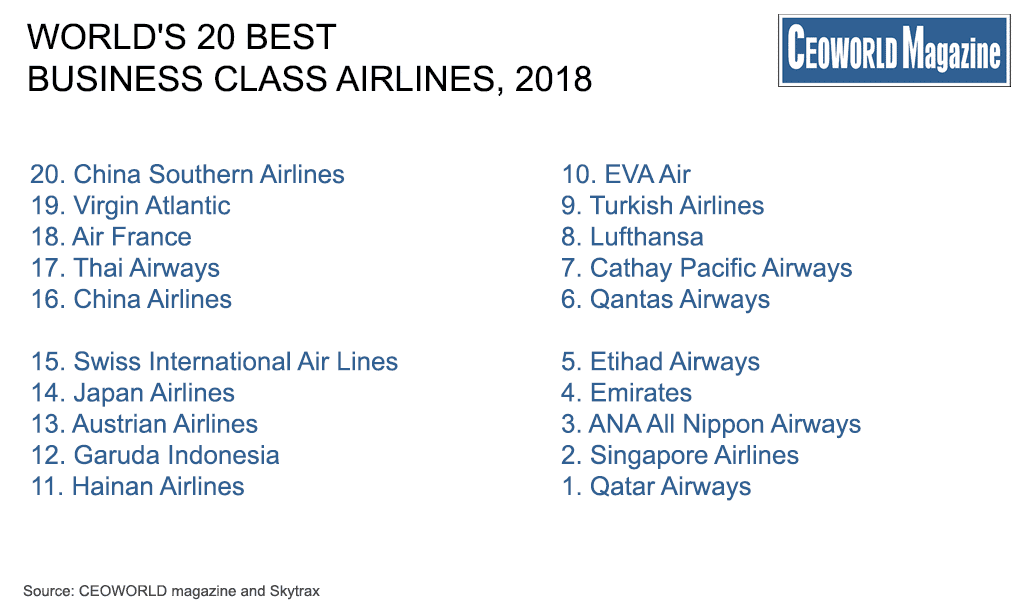 10. EVA Air
9. Turkish Airlines
8. Lufthansa
7. Cathay Pacific Airways
6. Qantas Airways
5. Etihad Airways
4. Emirates
3. ANA All Nippon Airways
2. Singapore Airlines
1. Qatar Airways

Dr. Amarendra Bhushan Dhiraj is the CEO and editorial director at CEOWORLD magazine, the leading global business magazine written strictly for CEOs, CFOs, top managers, company directors, investors, senior executives, business leaders, high net worth individuals, and the most globally powerful men and women.

Latest posts by Dr. Amarendra Bhushan Dhiraj
Leave a Reply
---