Top 10 Offbeat Travel Experiences In Switzerland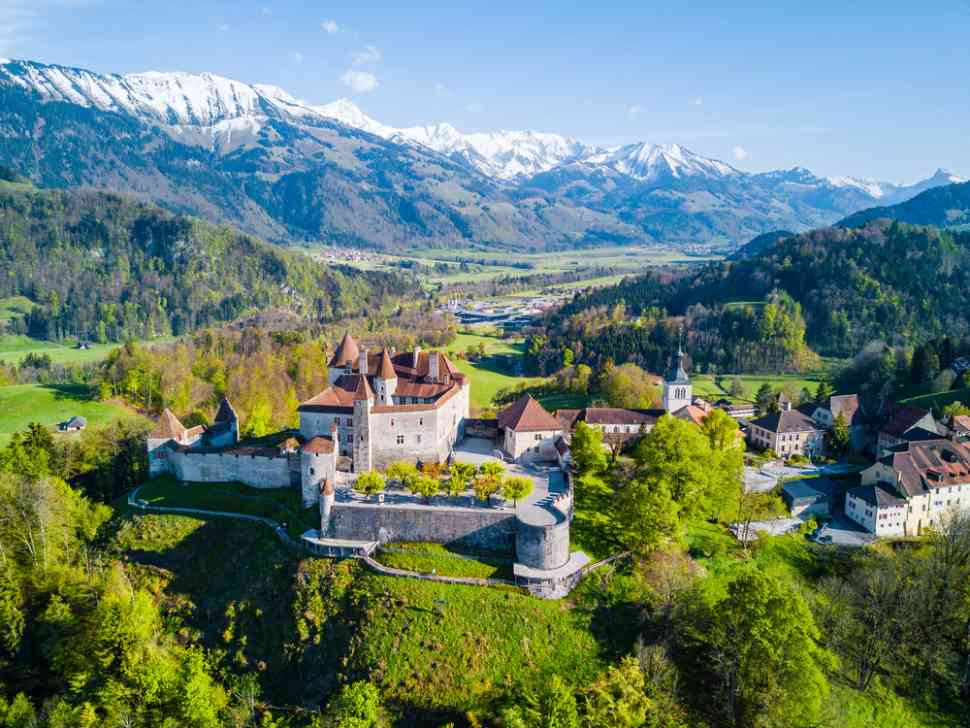 Switzerland is a country that is known for its stunning natural beauty, luxurious ski resorts, and high-end chocolate and cheese. It's a popular destination for travelers looking to experience the best that Europe has to offer. However, beyond these well-known attractions, there are also many offbeat travel experiences in this small but mighty nation. From paragliding in the Swiss Alps to touring a chocolate factory, there are plenty of unique and exciting things to do in Switzerland.
But what makes Switzerland such a special place to visit? For one, it has a rich history and culture. Located in the heart of Europe, various cultures have vastly influenced it, from the Romans to the Gauls. This has left its mark on the country in the form of castles, churches, and other historical landmarks worth exploring.
Switzerland is also home to some of the most breathtaking natural beauty in the world. The Swiss Alps is a winter wonderland offering world-class skiing and snowboarding. At the same time, the lakes and forests of the country provide a haven for hikers and nature lovers. Switzerland has something to offer if you're looking for an adventure outdoors or a more laid-back vacation.
So why not consider Switzerland for your next vacation? Whether you're someone who likes adrenaline or a history buff, you'll find plenty of offbeat travel experiences to keep you entertained and enthralled. Read on to discover ten unique ways to experience Switzerland.
Europaweg
The Europaweg is a multi-day trek that takes you along the Swiss-Italian border, offering breathtaking views of the surrounding mountain ranges. The hike is challenging, but the reward is worth it – you'll be treated to some of the most stunning landscapes in Switzerland. The Europaweg is an excellent option for experienced hikers looking for a new challenge.
Maison Cailler chocolate factory
Switzerland is famous for its chocolate, and visiting the Maison Cailler chocolate factory in Broc is a must for any chocolate lover. Here, you can get the opportunity to learn about the history of chocolate making in Switzerland and see the production process in action. You'll also indulge in some delicious samples, making this a sweet and satisfying experience.
Paragliding in Interlaken
Paragliding in Interlaken is a must-do if you're looking for a sporty adrenaline rush. This small town is in the heart of the Swiss Alps, making it the perfect place to take to the skies. You'll soar above the stunning mountain ranges and get a bird's eye view of the region. It's an experience you'll never forget.
Swiss Fortification Museum
Located in Lucerne, the Swiss Fortification Museum is a unique attraction that offers a glimpse into the country's military history. Here, you can explore underground tunnels and bunkers that were once used to protect the nation. It's a fascinating and educational experience that is suitable for all ages.
Fondation Beyeler
The Fondation Beyeler is a world-renowned modern art museum in Riehen. Set in a beautiful park, the museum has many artworks from famous artists such as Pablo Picasso and Vincent van Gogh. It's a wonderful place to spend an afternoon if you're an art lover.
Boat Ride on the Lake of Geneva
Lake Geneva is one of the most splendid lakes in Switzerland, and a boat ride is a great way to see it. You can choose from various boats, from traditional steamboats to modern ferries. Along the way, you'll have the chance to stop at one of the many aesthetic and charming villages dotting the shoreline, such as Montreux or Lausanne.
Skiing in the Swiss Alps
The Swiss Alps are a winter wonderland, and skiing is one of the most incredible ways to experience them. There is a range of resorts to choose from, suitable for all skill levels. Whether a regarded, seasoned pro or a beginner, you'll find plenty of slopes to challenge you.
Gruyeres
The small town of Gruyeres is a charming and picturesque place to visit. You can tour the castle and try some of the town's famous cheese here. Gruyeres is in the Fribourg region, known for its mesmerizing picturesque landscapes and charming villages.
Wine tasting in Lavaux
The Lavaux region is home to some of the best wines in Switzerland. If you're a wine lover, a wine-tasting tour is a must-do. You'll have the chance to sample a range of wines and learn about the production process. It's a great way to experience the local culture and taste some delicious wines.
Swiss National Park
The Swiss National Park in Zernez is a great place to experience the beauty of the Swiss wilderness. Here, you can hike through stunning landscapes and see a wide range of wildlife, from marmots to ibex. It's an excellent option for nature lovers and those looking to escape crowds.
In conclusion, Switzerland has a wealth of offbeat travel experiences to offer. Whether you're interested in outdoor adventures, diverse cultural backgrounds, or indulging in local delicacies, you'll find something to suit your interests. So why not start planning your trip to Switzerland today and discover all this beautiful country has to offer?
Have you read?
What Is Dumbing Us Down by Henry Mintzberg.
Why Venture Studios Are The Perfect Fit For Venture Capital by Dr. Erik Reis.
GAIN COMPETITIVE ADVANTAGE BY WRITING THOUGHT-PROVOKING BUSINESS BOOK by Jane Wesman.
How Building a Viable Community Can Keep Your Business Going by Mike Fata.
4 Ways You Can Help Build Trust with Your Most Important Stakeholders: Employees by Ingrid Christensen.
---
Add CEOWORLD magazine to your Google News feed.
---
Follow CEOWORLD magazine headlines on:
Google News
,
LinkedIn
,
Twitter
, and
Facebook
.
---
Thank you for supporting our journalism. Subscribe here.
---
For media queries, please contact:
info@ceoworld.biz
---
Tags :
Business Leaders Insider
Chief Behavioral Officer Insider
Chief Budget Officer Insider
Chief Ecosystem Officer Insider
Chief People Officer (CPO) Insider
Co Founders Insider