Employers Need to Understand Climate Quitting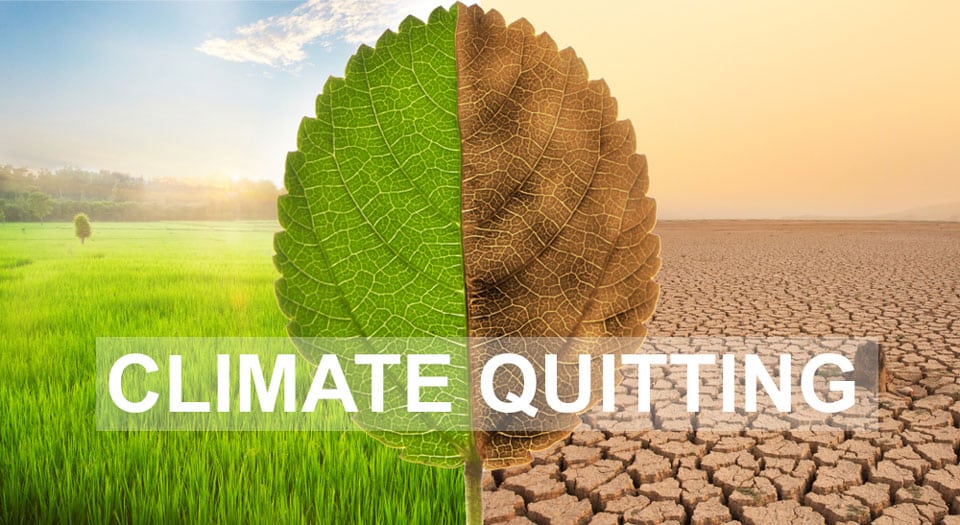 Quiet quitting has impacted employers in recent years as employees challenge the inequalities and inadequacies of workplaces worldwide. Climate quitting is another movement with similar inspirations, catalyzed by growing awareness of the climate crisis and a global need to make sweeping and immediate societal changes. If employers don't address these concerns, recruitment and retention could fall to their lowerest in decades.
What is Climate Quitting, and Where Did it Begin?
Climate quitting is when employees leave a job because their employer isn't doing their part to mitigate the climate crisis — so they take it upon themselves to make a positive impact. It could be because the company has no environmental, social and governance (ESG) goals in place, has insufficient ESG goals, or blatantly dismisses the severity of climate change. Predominantly younger generations are climate quitting to take a stand. It's a form of advocacy that could turn the tables and force companies to reckon with their environmental impact.
Environmentalist movements have historically placed pressure on consumers. The zero-waste movement is a prime example of how companies convinced consumers that purchasing metal straws and glass Mason jars would solve climate problems — and increased their profits while they were at it.
While these movements paved the way for well-intentioned consumer-based actions like activism and voting, some believe it was propaganda for corporations to displace their environmental responsibility on individuals. This strategy bought employers the time they wanted to avoid addressing the climate crisis for a while.
Corporations have the most notable negative impact on the planet. As the world's youth becomes more aware of this influence, climate quitting is a means to express outrage and leverage their labor and value against employers. The ultimatum strives to change companies' perspectives for more sustainable initiatives and increased self-awareness. Plus, it reminds employers how much power employees have.
Who is Responsible for Implementing Changes?
Everyone from accountants to upper-level management is responsible for preventing climate quitting. It's important to instill honest corporate social responsibility (CSR) values and provide evidence for ESG progress. 
If a company localizes efforts to a single department, like HR, employees may still climate quit because they suspect greenwashing. More holistic company involvement will assert an employer's dedication to the planet. Plus, entire companies are responsible for affirming the power of CSR and ESG after adopting these frameworks to perpetuate greenwashing trends. 
Another reason every department is responsible for implementing greener changes is that the shifts must make sense within a company's mission. Instead of a fashion company's marketing department publicizing a general carbon-offsetting effort to plant trees, they should focus on more industry-focused climate problems, like reducing textile waste. Employers must have expert communication to identify the projects worth committing to. Otherwise, employees will question their company's knowledge and duty in their sector — leading to climate quitting.
Considerable responsibility falls on administrators' shoulders. Rebranding to a purpose-driven company culture will require restructuring. It's not a small feat, but it's non-negotiable in the modern age. For too long, CFOs have slashed sustainability budgets, and talent acquisition hasn't communicated to employees how the company is improving the world. Nowadays, it may be more costly in the long run to take climate concerns out of budgets than actually fund them. 
Are There Benefits of CSR and ESG Aside from Retention?
Companies have to worry about more than just their existing staff — they have to consider hiring as a whole, all the way to recruitment. Employees who climate quit also represent a group of people who will not accept a job offer from a company that isn't helping the planet. Environmentally aware job hunters have their priorities, even if they haven't climate quit before.
A company with genuine CSR and ESG models will inspire prospective employees from the moment they see a job posting to continued retention efforts. Every initiative that prevents climate quitting also equates to a reputation boost. Companies that embrace transparency and prove their CSR and ESG efforts have an impact could garner brand loyalty, rising stock prices, stronger investors and company resilience. HR, PR and marketing departments will have easier jobs when there is good press to share.
Additionally, high retention will save companies significant time and money. Companies spend an average of $4,700 per hire, investing additional time and other resources in training and onboarding. Explicit CSR and ESG standards equal more resilient budgets because businesses won't need to funnel useless dollars into futile hiring.
Most importantly, employers must value the benefit that their efforts have on the planet. For some enterprises, it might be challenging to appreciate these efforts when they don't always benefit a company's bottom line. However, it's a vital corporate mindset to combat climate change.
Climate Quitting Places Responsibility on Employers
Though younger generations are the primary demographic for climate quitters, many workers across all generations consider it. As with any workforce uprising, it pressures employers and informs the populace of where priorities should be. Employers must take responsibility for the planet to achieve actual progress. Climate quitting has tangible effects as more businesses adopt ESG goals and adjust operations for a healthier world.
---
Written by Jane Marsh.
Have you read?
The opportunity for success in 2023 is yours by Ingrid Maynard.
A First-Rate Family Enterprise Involves Collective Learning by Wendy Sage-Hayward.
Leading as a Purple Making by Dr. Chip R. Bell.
The new arena of tourism entrepreneurship by Prof. (Dr.) Manoj Joshi.
POST-PANDEMIC LEADERSHIP: New Challenges for Positive Influence Leaders by Glenn Parker.
---
Add CEOWORLD magazine to your Google News feed.
---
Follow CEOWORLD magazine headlines on:
Google News
,
LinkedIn
,
Twitter
, and
Facebook
.
---
Thank you for supporting our journalism. Subscribe here.
---
For media queries, please contact:
info@ceoworld.biz
---
Tags :
Alternative Managers Insider
Chief Fiduciary Officer Insider
Senior Executives Officers Insider
Senior Partner Insider
Wealth Advisor Insider
Wealth Consultant Insider