Learning to Make a Difference
After delivering a CEO group presentation this morning in Seattle, I was seeking inspiration from a storied location, only to discover Place Pigale Restaurant and Bar overlooking Elliott Bay. The old wooden bar and sky-blue ceilings beg the speculation, "If these walls could talk…" It's been a perfect haven for reflection.  
I recently became reacquainted with an HBR article from 2019 titled, Where Companies Go Wrong with Learning and Development by Steve Glaveski (October 2, 2019). While I will make several comments about where I agree and disagree with the content, it's not meant as a criticism or review of the article so much as an act of standing on Glaveski's shoulders to extend and advance the conversation – something I suspect he would encourage (my point of view notwithstanding). 
Here's the reality: We're not talking about learning and development. We're talking about learning to make a difference.
Poor ROI 
Here's some now-familiar data that Glaveski assembled for the article:
Organizations spent $359 billion globally on training in 2016.

75% of 1,500 managers surveyed from across 50 organizations were dissatisfied with their company's Learning & Development (L&D) function.

70% of employees report that they lack the skills needed to do their jobs.

Only 12% of employees apply new skills learned in L&D programs to their jobs.

Only 25% of a recent McKinsey survey respondents believe that training measurably improved performance. 
Glaveski is spot on. This may be the only area of business that would put up with this kind of poor ROI. So why do we find it acceptable in Learning & Development?
Look at the Whole Chessboard
If there is no learning or development per se, then there must be other reasons so many companies throw good money after bad. Here are a few:
Learning & Development is a powerful recruiting tool.
The more robust an applicant perceives the L&D program to be, the more attractive the company becomes. But…most job applicants won't realize that the program as described will not provide them with the additional skills it takes to bring real value to the company until long after being hired. No harm, no foul, I guess.  
Companies seem content with the de facto bargain. 
Everyone knows that by themselves CPE credits, certifications, degrees, or credentials of any kind are inconsequential. It's not the credential that will (or should) get you promoted or certainly help you become a better contributor. It's what you learn and can apply from those learnings that matter. If good employees are granted learning opportunities and employers prize participation over added value, that's fine. Just admit to your board of directors that the numbers as cited above will always remain the same.
Companies are happy with L&D content.
Unlike Glaveski's assertion that "we're learning the wrong things," I'm not convinced that L&D content is the real culprit. Much of the content is excellent. However, using his reference to the Ebbinghaus Forgetting Curve, which I loved, there is simply no mechanism that allows for operationalizing that content, no matter how good it is. When Glaveski wrote about Lean Learning and making the step to Applying, the sentiment was right, but it was offered without a mechanism to bridge the gap. This is where peer learning groups would be incredibly impactful. 
Peer Learning
To be clear, Glaveski writes about the importance and value of peer learning, yet he stops short of explaining their total potential value. Does learning in peer groups help people learn better? Absolutely. Articles espousing social learning theory have been making this case convincingly for decades. But companies are not book clubs. Companies that create peer learning opportunities should also leverage the opportunity for peers to give one another the confidence, courage, and encouragement to apply what they've learned. Even with some trial and error, once they achieve positive results from what they've applied, they can celebrate the win, which only inspires repeated behavior. This is what Peernovation's Learning-Achieving Cycle is all about.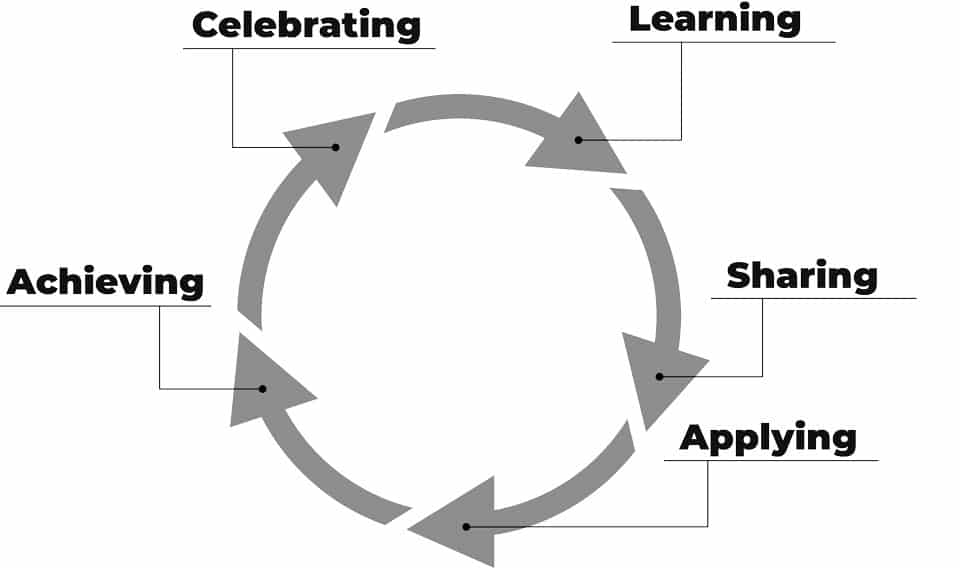 Summary
In many respects, I am picking nits at an article I otherwise appreciate. For my last nit, let me offer this: Glaveski says we learn best when we have to learn. I believe we learn better when we want to learn. If we could instill in our employees the belief that the power of we begins with me, we could inspire a new generation to prize making a difference over filling a spot. 
For every CEO who takes the time to read this piece, inspired by Steve Glaveski, I recommend you ask more of your Learning & Development program than you are currently receiving. It will not only improve your program but will also make your company stronger in myriad ways. So use it to make a difference. 
Thanks to the fantastic staff at Place Pigalle for their patience and hospitality – again, if these walls could talk.
---
Written by Leo Bottary.
Have you read?
How Business Intelligence helps executives to make better decisions.
5 Ways Business Leaders Can Uncover an Industry Gap and Find Success by Ryan Stana.
Advantages of telemarketing why marketing calls still work in 2023.
Why Need To Scale Up Your Start-Up in 2023.
CEO Spotlight: Tom Wheelwright CPA, CEO of WealthAbility.
---
Add CEOWORLD magazine to your Google News feed.
---
Follow CEOWORLD magazine headlines on:
Google News
,
LinkedIn
,
Twitter
, and
Facebook
.
---
Thank you for supporting our journalism. Subscribe here.
---
For media queries, please contact:
info@ceoworld.biz
---
Tags :
Director Insider
Director of Human Empowerment Insider
Executive chairman Insider
Executive Level Managers Insider
Executive vice president Insider
External Director Insider