Book Review: Ownership: Reinventing Companies, Capitalism, and Who Owns What by Corey Rosen, PhD and John Case
Among the revelations of research into causes of the Great Resignation are that employees don't feel like they get paid enough, don't feel like they're given opportunities to grow, and don't feel like they're respected for their work. In short, they don't feel like their employers value them. The result: they leave — in the millions. And it's not a stretch to call this a failure of capitalism. What if there were a magic bullet, so to speak, to make employees stay? In Corey Rosen and John Case's book, Ownership: Reinventing Companies, Capitalism, and Who Owns What, it's clear that there is. The answer is employee ownership. 
This isn't a book about how to deal with the Great Resignation in hindsight. It's about something far bigger. It's also clear to most leaders that the voluntary exodus of millions of workers was compounded by factors like the pandemic and its toll on physical and mental health; and the unsettling, uprooting and sudden scramble to find new, safe, socially distanced, effective, efficient ways to work. In the face of these pressures, even the most caring leaders were challenged as to how to convey to their employees that yes, they do matter. 
What the surge of quits demonstrates is an uncomfortable reality: traditionally owned companies can't always put people first, and people know it. But as the authors ably demonstrate, companies thrive when the people who work for them own a piece of their success. 
Rosen and Case are insiders when it comes to business and employee ownership: they're not working off a theory, they're working off of real use cases and some very big companies — Publix, for instance. Rosen works in the trenches advising employee-owned companies (or ESOPs), among his many other roles. Case, a business and economics expert, penned the benchmark bestseller Financial Intelligence.  What they do in Ownership is make a clear case for reviving the American economy and also achieving the holy grail for leaders: real employee engagement and more importantly, buy-in and alignment with company objectives. When a company's success is shared by its people, they're on board.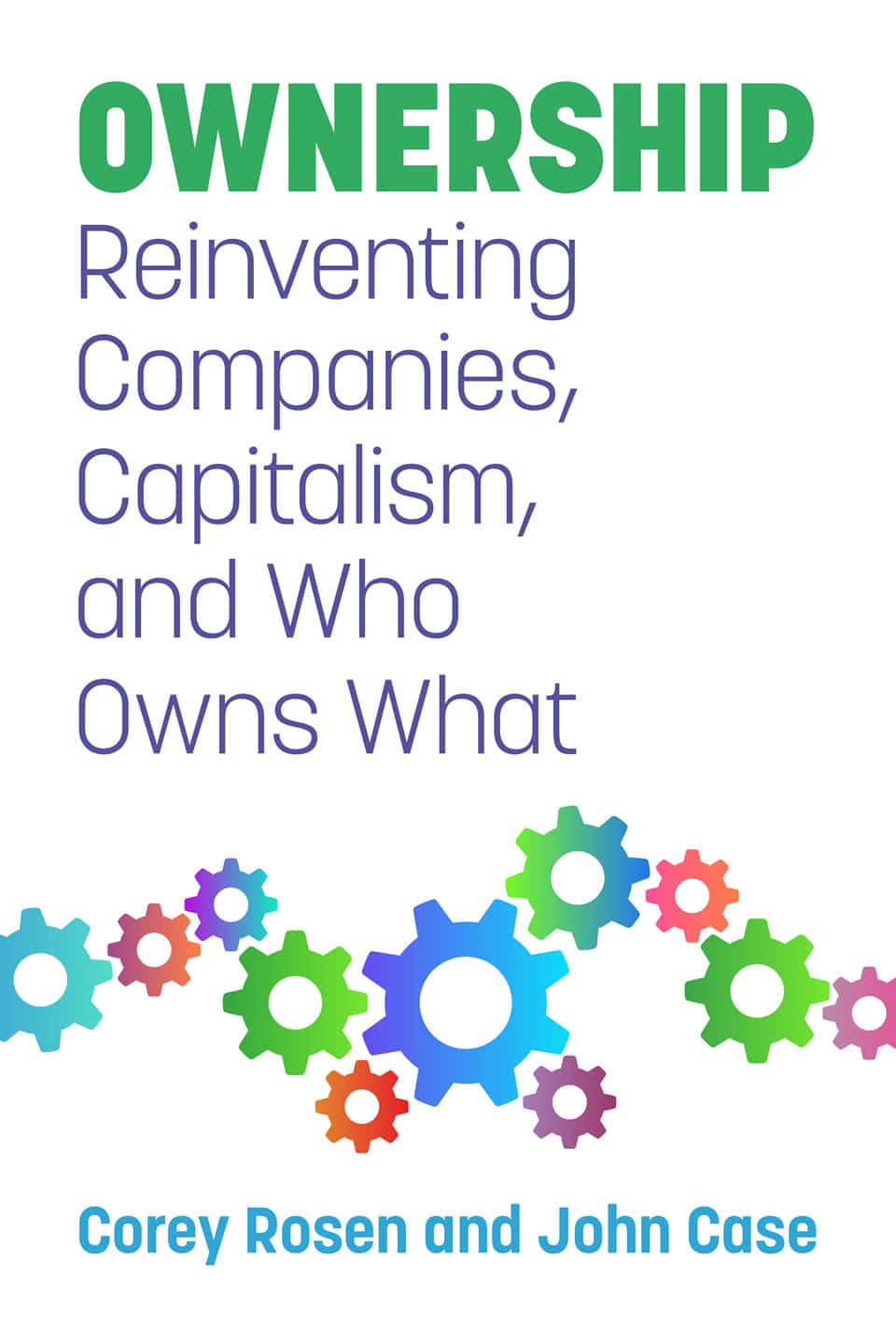 The book certainly isn't an indictment of capitalism — rather, it's an argument for expanding it by expanding ownership. As they write, "Capitalism has been a remarkable engine for growth and innovation. The goal is to extend ownership, to help create a capitalist economy that works for the many rather than just for the few. You might say that the goal is to create more capitalists, people who have a greater stake in the system and more money in the bank than they do now." 
In the chapters that follow, the authors take a closer look at global ownership and its complexities — a "crazy quilt" of shareholders that has nothing to do with employees, yet depends on them entirely. It's an irony repeated throughout countless industries — and compounded by the Rubik's cube nature of Wall Street investing strategies and the private equity ownership model of buy-and-churn. They examine the attempts at regulation and reform and show why they're so lacking. The momentum of the profit motive simply rolls over much of what's designed to ease its impacts. 
None of this is surprising: many of the worst cases of companies losing their way, losing their people and tanking in value have been in the news. But here the story takes a brighter turn, because there's an alternative to this strange hamster wheel of rises and falls: employee ownership. 
Delving into its history, its guiding principles, and its many forms, Rosen and Case show how employee ownership has worked, how it can work, and how it will work for companies that shift to that model. As they point out along with its many practical and economic benefits, the bottom line is that ESOPs are often the companies people want to work for. Given the labor market we're in — and if you believe that any company's best asset is its workforce — that's an irrefutable win.
---
Written by Ladys Patino.
Have you read?
How to Lay the Groundwork for a Successful Business Model by Brook B. Taube.
What Should High-Worth Individuals Do Before the Tax Cuts and Jobs Act Expires by Susan Jones.
How can Businesses Contribute towards Minimising Carbon Emissions Globally?
3 Steps to Grow International E-Commerce Amid Global Economic Uncertainty by Simone De Ruosi.
---
Add CEOWORLD magazine to your Google News feed.
---
Follow CEOWORLD magazine headlines on:
Google News
,
LinkedIn
,
Twitter
, and
Facebook
.
---
Thank you for supporting our journalism. Subscribe here.
---
For media queries, please contact:
info@ceoworld.biz
---
Tags :
Chief Government Relations Officer Insider
Chief Human Resources Officer (CHRO) Insider
Chief Information Officer (CIO) Insider
Chief Information Security Officer Insider
Chief Information Technology Officer Insider
Chief Innovation Officer Insider