Top-10 Requirements Management Tools and Software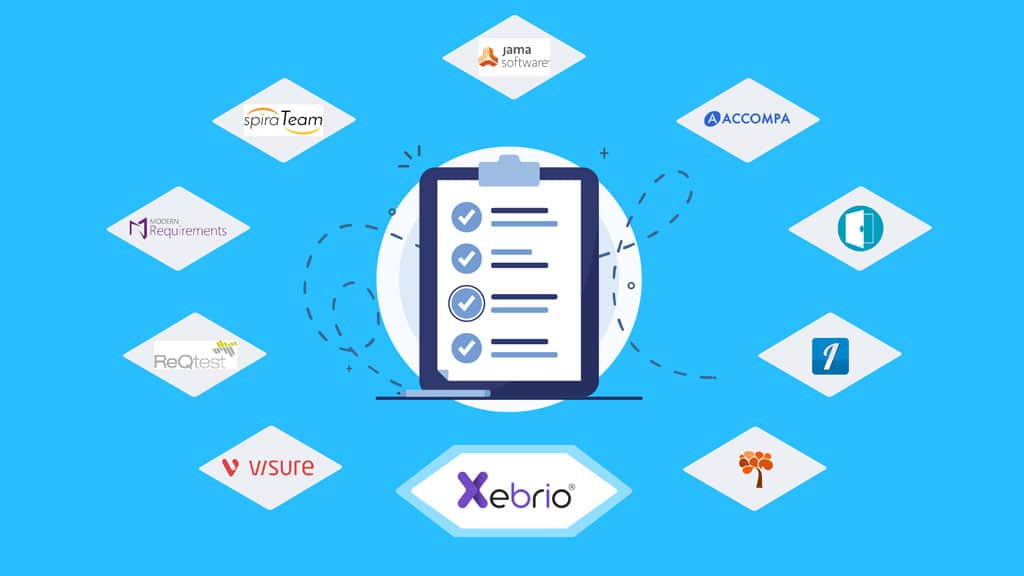 Requirements have always been a crucial component of the project management lifecycle and must be tracked from start to end for successful project completion.
The requirements manager is responsible for ensuring that the team members are in sync, that they can course-correct when unforeseen issues arise (as they will), and that the project is always on track by shedding light on the specifics of what is happening in the project throughout the development stages.
Several all-in-one requirements management software are available since handling requirements is so common in software engineering.
Here is a summary of selected tools that will simplify the requirements of managers' jobs:
Xebrio: The Most Adaptable and Flexible Requirements Management Tool

What sets it apart?
a) Gather requirements and get timely approvals from stakeholders with the approval workflow.
b) Map requirements to tasks, milestones, and test cases.
c) Manage test cases with the test management feature.
d) Track the progress of each requirement right up to the product and project release.
e) Track requirements across versions in real-time and obtain transparency throughout the project with end-to-end requirements traceability.
f) Use a bug tracker to tackle real-time obstacles.
g) Use other project management features that help to keep the data intact.
h) Offers a 14-day free trial.
i) Pricing starts from $1 per user per month.
IBM Rational Doors: The Feature-Rich Requirements Management Solution of Choice for Larger Enterprises
What sets it apart?
a) Provides a range of supporting items and software for resource management.
b) Enables easy interoperability with various tools, including, example, lifecycle management, team collaboration, and systems/software engineering
c) Provides integration for products based on Jazz and Jazz-hosted solutions.
d) A 45-day free trial period is available.
e) As a SaaS, prices start at $164 per user per month.
Visure: An easy-to-use requirements management software mainly used in the engineering process
What sets it apart?
a) Supports different project management methodologies
b) Has complete traceability, from the conception of the requirements through their deployment.
c) Tracks issues, run tests and manages risks.
d) Implements requirements engineering techniques
e) Manage modifications by gathering, examining, validating, and enabling requirements across the application lifecycle.
f) Create requirements using Microsoft Word and Excel.
g) Has more than 60 integrations (think: JIRA, Visual Studio, IBM doors, etc.)
h) To choose a plan for your organization, request a custom quotation.
i) Offers a 30-day free trial.
Jama Connect: The Best Requirements Tool for Diverse Engineering Disciplines and Software Development Methodologies
What sets it apart?
a) Along with monitoring risks, sketch out the linkages between requirements and procedures.
b) Assemble, order, and carry out test plans and test cases based on requirements.
c) Throughout the software development process, communicate requirements, objectives, project status, and interdependencies with high precision and dependability.
d) Manage change and demonstrate compliance more effectively with the help of this requirements management software.
e) Utilize real-time end-to-end tracing of people, data, and processes.
f) Price available on request.
Modern Requirements: An Inclusive Web-based Requirements Management Software
What sets it apart?
a) Microsoft's Azure DevOps is directly integrated with several modules that let users design and manage requirements.
b) Allows you to define requirements visually by using mockups and use cases
c) Uses a series of HTML and Javascript controls to organize thoughts, design user interfaces, and wireframes
d) Get the price on request.
e) Offers a 30-day free trial.
ReQtest: A Perfect Tool for Agile Requirements Management
What sets it apart?
a) Provides a requirement tracking Agile Board.
b) Allows for the attachment and tracking of design materials, mockups, documents, etc.
c) With traceability, it makes it possible to link requirements to test cases and bugs
d) Aids in data filtering and visualization in a pie or bar chart.
e) Pricing for small teams starts at $6 per user per month, while big teams pay $45 per user per month.
SpiraTeam by Inflectra: The Best Requirements Management Tool for End-to-end Traceability
What sets it apart?
a) Manage test cases and project requirements with ease.
b) You can manage your project portfolio by utilizing executive dashboards, real-time reports, and extensive analysis.
c) Monitors tasks, issues, and defects.
d) IDE for developers and source code integration
e) Utilizes the collaboration-promoting qualities of instant messaging.
f) Has more than 60 integrations (think: JIRA, Visual Studio, IBM doors, etc.)
g) Pricing for three concurrent users starts from $109.99 per month
Accompa: Easily, the Easiest Requirements Management Tool Out There To Use
What sets it apart?
a) Enables you to record and monitor requirements for various products and projects.
b) Permits you to write, check, and verify requirements.
c) Provides a wide range of fundamental practical features, including managing requirements, tracking changes and dependencies for impact analysis, creating custom fields and discussion boards, and sending notifications to encourage teamwork.
d) The standard pricing plan starts from $199/month.
e) Offers a 30-day free trial.
ReqView: A Simple, Powerful, and Lean Requirements Management System for Quick and High-Quality Performance
What distinguishes it from the competition?
a) Allows you to capture requirements in a structured document.
b) Stores information on a shared network drive to enable team communication while working offline without any issues.
c) It gives teams the ability to arrange requirements into a tree structure.
d) Use rich text format to improve the specifications text explanation in this requirements management tool
e) Enables the project manager to encrypt documents before sharing securely
f) Pricing for users begins at $366.35 annually.
g) offers a 14-day free trial.
Innoslate: The Best Software to Develop and Manage Complex Products and Systems
What sets it apart?
a) Utilizes NLP (natural language processing) technologies to analyze requirements.
b) Has a user-friendly graphical UI.
c) Utilizes version control to manage and use any project modifications.
d) Make the criteria specific to the demands of the project.
e) To choose a plan for your business, you can ask for a quotation.
Top-12 Factors To Keep In Mind When Selecting A Requirements Management Tool
Honestly, a "robust" requirements management system does not have a predetermined template of features. The sort of tool you select will ultimately depend on:
The requirements of your business, each project you are working on, and your whole team.
What kind of system are you building?
The process and approach you want to use.
The values and work culture of your company.
Here is a brief list of the most typical features that ought to be included in any requirements management solution worth its salt:
Electronic signatures encourage real-time communication, approvals, and input from all stakeholders, consumers, and partners during requirements validation.
It enables you to create an accurate development timeline by removing specific technical activities from the requirements document.
A streamlined UI of this requirements management software enables you to develop, record, track, and reuse requirements.
Provides integrated version control and requirement history tracking.
Drills down from demands to tests and situations to help.
It supports custom fields and allows process customization.
Wrapping up
Your requirements are bound to change. So, the ability to define requirements and track updates and progress via a unified requirements management platform throughout the development cycle is nothing short of a superpower.
This is where requirements management software comes in handy. Integrating the combined expertise of manual resources and intuitive software can kickstart your project on the right track and end it before time and within the budget. Try it and see the difference for yourself.
---
Have you read?
These are the countries with the Highest Average Salaries, 2022.
International Financial Centers Ranking, 2022.
How to Create More Efficient Workflows Within Your Organization by Rhett Power.
Social Responsibility vs Marketing: The corporate struggle to do both by Fotis Pantopoulos.
Keep your Employees Happy: Employee Engagement & Experience by Stuart Andrews.
How Fractional Sales Management Can Help Your Small Business by Dan Hurt.
Track Latest News Live on CEOWORLD magazine and get news updates from the United States and around the world. The views expressed are those of the author and are not necessarily those of the CEOWORLD magazine.
Follow CEOWORLD magazine headlines on:
Google News
,
LinkedIn
,
Twitter
, and
Facebook
.
Thank you for supporting our journalism. Subscribe here.
For media queries, please contact:
info@ceoworld.biz
Tags :
Chief value officer Insider
Chief visionary officer Insider
Chief web officer Insider
Corporate Executives Insider
De Facto Director Insider
Deputy general manager Insider
Director Insider
Director of Human Empowerment Insider
Executive chairman Insider
Executive Level Managers Insider
Executive vice president Insider
External Director Insider