5 Stages of Your Leadership Journey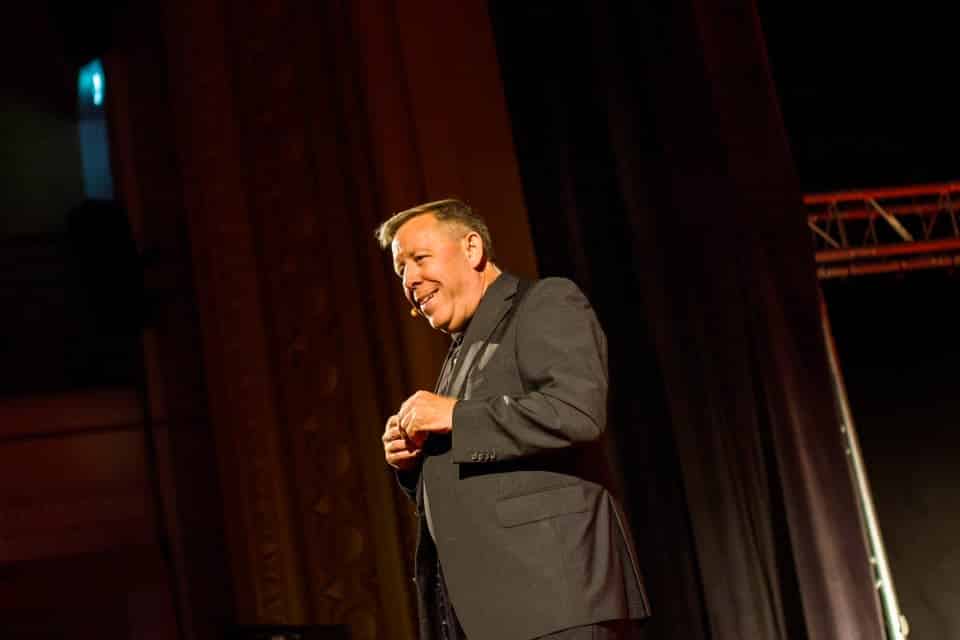 I often hear people say leadership is a journey, not a destination. While I agree in principle with that, I believe it's a journey with distinctive with many different stages, and each stage can require different skills and that what works at one stage may not work at the next. Not only that, but an inability to let go of those skills could stop you from getting to the next level.
I believe that there are five stages on our leadership journey and that you need to pass through each on your way to becoming an inspirational leader.
Informal Leader
This is the first stage of leadership, the stage where we lead without a position. Where you are helping and supporting teammates and colleagues, recognizing their contribution, and working to create a strong team from within, it can also be something as simple as taking a stand, speaking up, and looking to make a difference. To me, this is the most important stage because here, you're showing your leadership potential, and you're also getting practice in engaging, enabling, and supporting people. Very rarely have I ever promoted someone into a leadership position who wasn't already demonstrating leadership. Being an informal leader will also help others accept you into that first leadership role as they will already appreciate our support and contribution.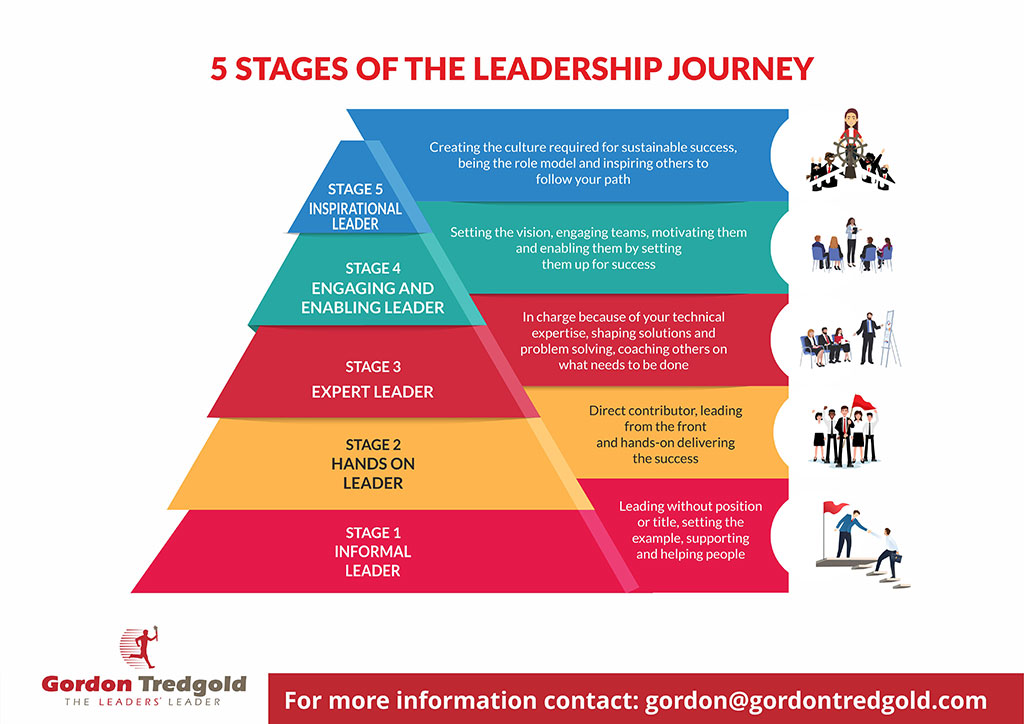 Hands-On Leader
At this stage, you're a key contributor to the initiative's success, probably leading from the front giving support and advice to your teammates, coaching them to help increase their contribution, leading a team, setting the goal, creating the plan but also hands-on involved in its delivery. I tend to think of this as a player/captain kind of role. Here one of the keys is to get the balance right between managing, leading, and doing and to not fall into the trap of micro-managing people.
Expert Leader
Once your successful in the hands-on role, the next step is to move to the Expert Leader level. Here you're selected because of your expertise, and your organization is looking for you to have a bigger impact. They want to relieve you of the burden of doing the work so that you can direct, coach, and empower more people and have a bigger impact. Here it's all about the planning and leading teams, and you're probably leading several teams, so you're one step further away from the work. It's about holding people accountable and helping them with your expertise to deliver the results.
This is where many people struggle, and their career stalls because while it's your expertise that got you the role, it's your people skills that will determine how successful you're going to be.
Engaging and Enabling Leader
If you struggled with the move to people management, then it's doubtful that you're going to make it to this level, but if you do, then without a major upgrade in those skills, you are really going to struggle.
At this level, you're going to be leading teams where you are not going to be an expert, but maybe you're not even going to have any expertise or experience. I remember when I made this leap, I was leading a team of Ingres Database Administrators (DBAs). Not only did I not know Ingres, but I had never even been a DBA, so here it was all about my ability to engage and empower people. Understanding what they needed to be successful and then providing it for them. It was about understanding the challenges and the opportunities and then about working with them to set the vision and direction for the team. This requires us to trust our teams, to be prepared to be vulnerable, and to admit we don't know everything or even anything sometimes.
For many, this can be a bridge too far, too much uncertainty to deal with, or that you have to put faith in others. But in reality, you need to put your faith in your leadership skills, your ability to build a strong team, and to get the best out of people. It's all about being a people expert and having confidence in that expertise, rather than being a technical subject matter expert.
Inspirational Leader
This is the highest level of leadership, and at this level, you're going to be leading large departments, probably multiple departments, or even the entire organization. Here it's all about setting the strategy, creating culture, inspiring others through your actions. Leadership defines the culture, and it's the highest levels of leadership that have the highest impact on culture. In these roles, your touch is going to be the lightest, and so it has to be impactful. Messages need to be simple, powerful, and consistent, and each interaction needs to inspire and motivate people. It's all about creating a movement and momentum through creating a shared vision and a strong culture that supports that vision.
Leadership is a journey, one that has many stages, and not everyone will have the skills for each stage right now. That's why to be a leader you need to be a constant learner as the next stage usually requires a different set of skills, and what got you to the previous stage might hold you back from getting to the next stage or might cause you to fail if you do get there. Sometimes it's about letting go of what made you successful and learning the skills needed to progress and be successful at the next level.
I'd love to know where you are on your journey and any of the challenges you faced going from one stage to the next.
---
Written by Gordon Tredgold. Have you read?
Best Hospitality And Hotel Management Schools In The World For 2021.
Best Fashion Schools In The World For 2021.
Trialbee – Match. Enroll. Engage.
CEO Spotlight: Mona Maine de Biran.
---
Add CEOWORLD magazine to your Google News feed.
---
Follow CEOWORLD magazine headlines on:
Google News
,
LinkedIn
,
Twitter
, and
Facebook
.
---
Thank you for supporting our journalism. Subscribe here.
---
For media queries, please contact:
info@ceoworld.biz
---
Tags :
Chief software officer Insider
Chief value officer Insider
Chief visionary officer Insider
General manager Insider
Manager Insider