Advantages and examples of adopting cloud computing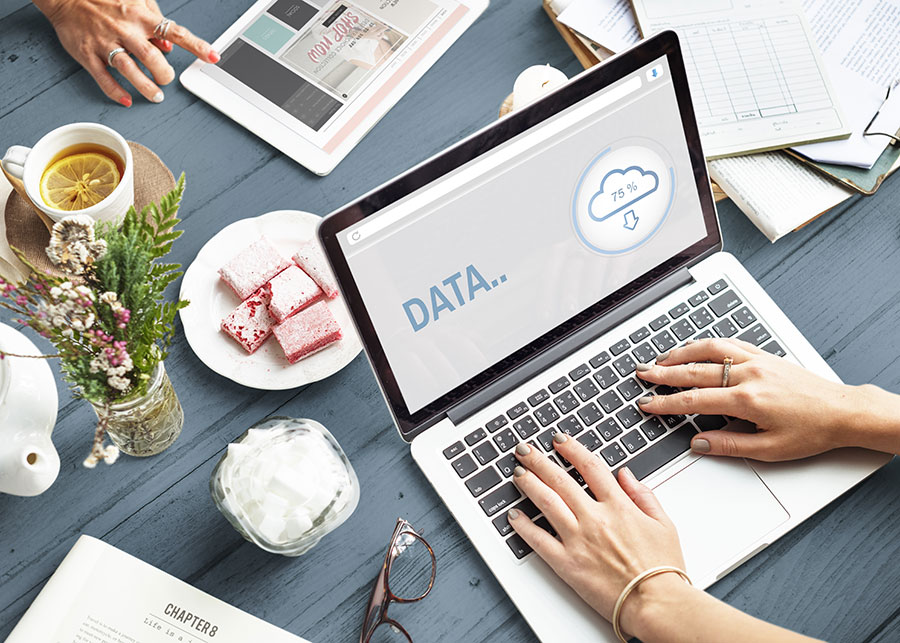 More and more people around the world are working remotely, but that's just one of the reasons why cloud solutions are getting so popular now! How can using cloud computing benefit your business? What are the biggest companies using it?
In short about cloud computing
Many of us still remember that not so long ago people needed to download programs and applications on a physical computer or server in order to use them. Nowadays, it works differently, and we can use them via the Internet.
So where are our data? They are collected, stored and processed by remote servers (cloud servers). How is this better than storing them on our personal computers or company's server? Placing data on cloud servers frees up the memory and computing power of our devices, but there are more advantages than that!
Advantages of adopting cloud computing
An obvious advantage of using cloud computing is reducing costs – you no longer have to maintain your own servers. There is no need to invest in a large data center to grow your business – actually, you don't even need so many skilled IT employees to handle your data center. You can rent space in the cloud from a consulting and services company specializing in Big Data and Cloud Platforms and have them manage it for you. Companies like DS Stream take care of that for their customers, so they can focus on their businesses.
There is another thing – the costs related to downtime. This can be a huge expense and create problems for any organization. Downtime doesn't happen a lot in cloud systems, so you don't have to spend additional money on fixing problems related to it.
Data recovery                                  
You certainly don't know how much data recovery can cost in the event of some unexpected technical (or any other kind of) disaster… and believe us – you don't want to find out. Fortunately, storing your data in the cloud takes this risk away. No matter what happens with your equipment (eg, laptop), data in the cloud is safe and always available.
Losing your data is not such an unlikely ordeal. There are a lot of hazards – equipment gets old, systems can be attacked by viruses or malware… Uploading your data to the cloud prevents data loss.
Data security
The second concern is about safety in the face of cybercrimes, like data breaches. Such a situation may not only destroy the company's resources, but also affect customer loyalty and brand positioning.
Companies offering cloud solutions for business implement protection systems for their platforms and processed data. Assuring the safety of their customers' data is one of their primary tasks. Most enterprises that use cloud solutions also add their own security systems.
Scalability
Cloud computing providers are aware that a large enterprise will have totally different requirements than a medium business. Cloud solutions are scalable, so they can change quickly if a company's situation changes.
Some companies are choosing cloud solutions from the very beginning, so when they grow bigger, they need additional space to store and process data. This usually works both ways – if your business is growing, you can increase your cloud capacity.
100% mobility
With remote working getting so popular now, having access to your data any time from any place in the world sounds attractive. With data stored in the cloud, you don't even need to meet in the office with your team to work on documents together. Cloud solutions are so functional that you can even modify a file simultaneously with your team member.
Popular companies that have adopted cloud computing
Netflix: We all know one of the biggest movie streaming platforms. Netflix has not only been successful in movie streaming, because now produce their own shows. What they needed was scalability for their applications, so they used cloud solutions. They have millions of users and the number is still growing!
Instagram: So many data, so little memory. Its first server got overwhelmed the very day Instagram was launched! They soon realized that they needed the cloud to handle the crazy amount of activity on the platform. In a half a year, they had three million regular users. Now they have more than 800 million active users a month!
Apple: Apple decided to use cloud computing to manage the release of Siri. Every time we ask her a question, it is processed in the cloud, and then we receive an answer. Since her first release, Siri has been modified and improved in the cloud and users didn't even realize that she had changed while they were using her.
---
Have you read?
The World's Best Luxury Superyacht Charters And Builders.
Luxury Superyacht charter in Greece and the Greek Islands.
World's Best Destinations For Business Travelers.
Crewed MegaYacht charter in Greece and the Greek Islands.
---
Add CEOWORLD magazine to your Google News feed.
---
Follow CEOWORLD magazine headlines on:
Google News
,
LinkedIn
,
Twitter
, and
Facebook
.
---
Thank you for supporting our journalism. Subscribe here.
---
For media queries, please contact:
info@ceoworld.biz
---