Electronic Data Interchange (EDI) In Supply Chains – On-Premises Vs. Saas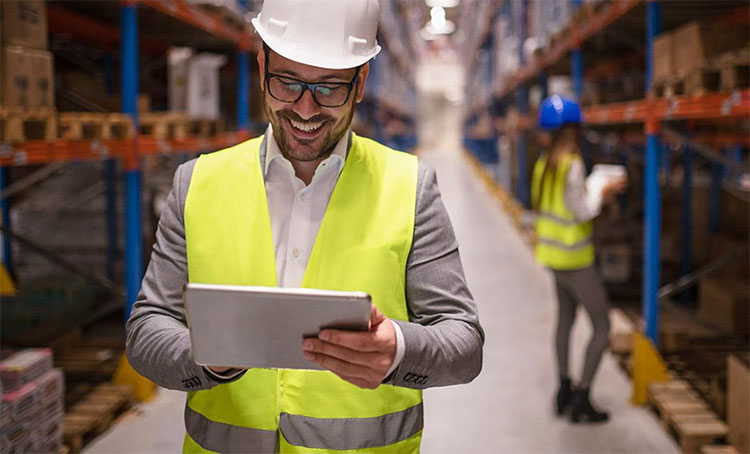 This article compares the following models for EDI in supply chains:- SaaS: cloud-based software is installed and maintained by an external service provider. It is accessible via the Internet in the cloud.- On-premises: on-premises software is operated locally, on your company's servers and computers.
What is the main difference between these two solutions?
In order to operate EDI on-premises, it is necessary to set-up an EDI dedicated hosting infrastructure and acquire software or add-ons to build interfaces/EDI channels, translation maps and, if desired, portal solutions such as WebEDI. Additionally, a business partner service desk takes care of the on-boarding process and support during the operational phase.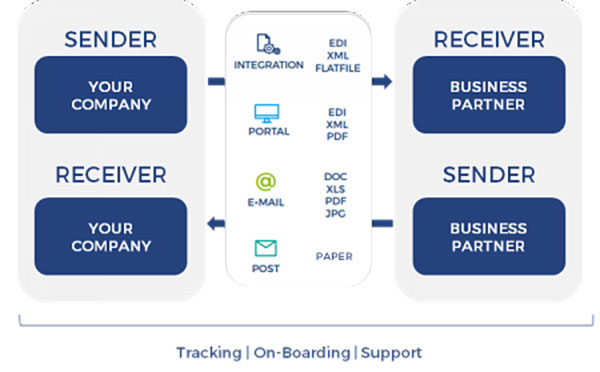 In the SaaS model, a provider acts as a hub for the connection of your business partners. Your company only operates one connection, between your internal IT system/s and the provider. Generally, the EDI provider creates all translation maps and integrations with your business partners. They also operate second and third-line service desk resources. A good EDI provider may still give you the choice to take over certain activities, such as first-line support, tracking and monitoring, or to outsource them to the provider.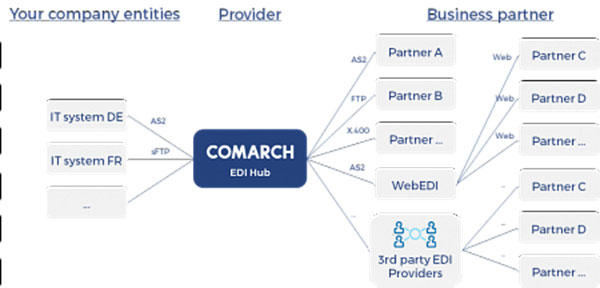 Taking control vs. shortcomings of your internal IT systems
In an EDI project, business partners operate different internal IT systems that each support different EDI channels and formats. Forcing your business partners to conform with your own requirements is unrealistic and will lead to project failure. Therefore, you will have to prepare your own internal IT system and EDI hosting infrastructure in a way that supports all kinds of integrations. Setting up the right clients may be very costly. Also, you must prepare translation maps for numerous formats to send and receive files directly between your internal IT system and those of your partners.
An EDI provider operates a large B2B platform that already supports all input and output channels. This does not only concern EDI channels, but also additional web interfaces to the EDI platform, such as WebEDI, partner portals, and tracking and support applications. Therefore, the only task required for the set-up of an EDI channel is to exchange technical parameters with your partners. Furthermore, translation maps are done in no time thanks to a huge pool of existing maps (of which Comarch has about 4 000). These factors reduce both time and costs of an implementation.
An EDI provider may carry out additional actions that your internal IT systems may not support. This includes mathematical and business validations, data matches (such as three-way match and partner lists), long-term archiving, and tracking services.
Security | Do not underestimate ICT
"I would rather have data in the cloud of a service provider who knows a lot about security than on an old server in the basement of a bank" – Executive director of a German bank supervision institution (anonymous) at the BME IT Sourcing Day
Many companies feel very anxious about outsourcing important business processes and letting anyone get access to internal data. Therefore, security is a crucial discussion point.
Especially in highly competitive industries, security policies are a must. There are numerous certifications and agencies defining organizational measures and technical requirements. If your company is already operating many IT solutions, the organizational part may not be a challenge. This may include the following areas:
Multi-step confirmation workflows
Physical protection of hosting sites (video cameras, security services, alarm systems, power supply, temperature, humidity control, network connections, fire protection, etc.)
Password policies and admin controls
Emergency plans
etc.
However, the technical requirements represent a bigger challenge: Do not use the same hosting infrastructure for EDI as for other applications. To be more precise, you might use the same data center, servers and back-up servers if you accept the risk of a potential server breakdown causing multiple applications to malfunction at once. Yet, you should definitely set up different virtual machines, each with enough power to handle peaks of document exchange. Furthermore, the following typical data center security requirements apply:
Build various security zones, such as web, demilitarized zone, secure zone and WAN zone
Encrypt all communications, not just with entities outside your infrastructure but also internally
Automatic alerts and event protocols
Tests and update policies
Access policies
and many more.
Building your own EDI platform means building a more or less separate multi-tier hosting infrastructure. Otherwise, your own EDI activities will be much more vulnerable than when outsourcing EDI to a provider. In other words, security concerns would not be a valid argument for an on-premises solution.
Naturally, a professional EDI provider supports these security requirements and can provide appropriate certification for proof. They will also be open for any kinds of tests such as security audits and pen-tests. Comarch even offers ICT and hosting services for vulnerable institutions such as banks, proving expertise in this area.
Therefore, you need to check your own capabilities, resources and budget for setting up your own EDI infrastructure safely compared to the security standards of a potential provider.
Trustworthiness and reliability of an external provider
As the IT security aspect has been covered above, we shall focus on other factors which may determine the trustworthiness of a provider. Of course, normal project requirements apply here. You can check certification and references and get contractual securities related, for example, to SLAs. You may also ask for platform performance indicators to ensure a reasonable processing time of the document exchange. Comarch may even prioritize certain very important documents such as just-in-time delivery notes according to numerous criteria. As a comparison, you need to realistically estimate your own capabilities in this area. Therefore, you should pay particular attention to the following sections of this document.
Is on-premises DIY less costly?
Companies often expect on-premises solutions to be less costly than external services, especially when an ICT infrastructure already exists. To be sure that your calculations are correct, please take into account the following potentially hidden costs which you may incur on top of the expense of mappings, integrations and on-boarding:
Hosting (extra licenses, servers, clients and maintenance)
IT security (such as server hardening, pen-tests, vulnerability tests and audits)
Costs related to e-invoicing obligations (legal analysts and IT translators)
Tracking and monitoring (admins, and second and third-level support)
Project management, internal communication and decision making
License costs (such as for mapping software)
Software as a service gives you the advantage of
ECONOMIES OF SCALE
On a shared B2B or EDI platform, many of the above-mentioned costs are shared among all customers of the provider. Therefore, the costs per client are lower.
This advantage becomes very obvious when considering e-invoicing obligations. Every country has its own mandatory technical requirements with regard to formats, interfaces, platforms and certification for electronic invoice exchange. Legal consulting is expensive. But is it worth employing a dedicated legal analyst when there are new e-invoicing obligations every few months? Additionally, do not forget that these regulations are often only available in local languages. Therefore, professional translators for IT-related legal documents are necessary, too. The same goes for all the other EDI activities listed above.
Furthermore, let us not underestimate experience. The routine of an EDI provider allows swift and cost -efficient implementations.
Yet, everything mentioned above falls apart when you cannot answer the following question positively:
Do you have enough IT resources?
In times of IT staff shortages, this is an extremely important question and will affect critical business processes and thereby the entire company's success. Mistakes in EDI influence all core business activities, and can result in missed and delayed deliveries, unpaid invoices, claims, missed sconto , liquidity issues and so on.
Major IT companies do not simply have lots of people. They also have the expertise which increases the efficiency and speed of work. And, in the event of absences, there are always enough people and processes in place to ensure business continuity.
In short | The financial perspective
The board of directors, investors, the controlling and finance department will be interested in a small but important accounting difference: on-premisese solutions (including hardware and software) are written off and lose value every year. In the meantime, however, personnel expenses remain the same. If EDI comes from a service provider, the service is recorded as an expenditure without loss of value.
Best practices
Besides cost efficiency, a third-party provider also delivers experience and best practices. The value of a specialist who has gained experience working for many years on one sub-task of EDI is not to be underestimated.
Programmers are already familiar with standards and customer-specific formats and interfaces. A database of existing connections and mappings maximizes speed and quality.
Project management for EDI implementations consists of a team of specialists. Each sub-team and every member takes care of one small part of the puzzle. PMs ensure the cogs are working together to ensure timely success. This is especially important when there are also complex company structures on the client or business partner side, when there are lots of countries in the scope of the project, and when differences in culture, time zones and so on must be taken into account.
Support and on-boarding via the support desk deserves special attention in EDI projects, since communication with business partners when setting up EDI relations or convincing them to use web solutions is more work than the actual IT implementation. This should become clear when you think about the usual reply rate of your suppliers to calls and emails related to administrative issues. Besides the ability to reach partners and convince them to participate, it's worth checking all the languages and time zones your service desk needs to support.
In this context, note the following:
Shared services = shared innovation
A provider constantly improves their services. Innovation mainly comes from general market trends (such as artificial intelligence, machine learning or block chain) as well as customer wishes. When you are part of a shared EDI platform you will benefit from improvements and developments in the least costly way.
Flexibility
Finally, many firms use the term in the context of on-premises solutions without thinking about it further. But what are the actual expectations?
Speed of implementation: do you have enough resources and expertise to compete with an experienced, dedicated EDI provider?
Customer specifics: when choosing a provider, you may filter those who are able to make dedicated adjustments to fit your needs in a cost-efficient way. You may also benefit from lessons learned based on experience. Connections to individually developed IT systems and the support of individual formats do not even require mentioning for EDI specialists.
Scalability: each of the business partners you want to connect with has different circumstances and a different IT environment. Therefore, you need to build or buy solutions that enable all partners to exchange documents digitally, from an organizational and technical perspective. That is why Comarch offers a whole range of tools for each industry, process, business case and size:
Do keep in mind that a provider can also offer to take over only part of the EDI services, or act as a task force in the event of problems and delays.
Glossary:
Electronic data interchange (EDI): the structured, electronic exchange of documents related to the supply chain with your business partners (suppliers or clients). This may cover over a hundred different document types such as orders, order responses, dispatch advices, invoices, waybills, transport instructions, etc.
E-invoicing: EDI for invoices – all explanations equally apply to e-invoicing.
Structured files: electronic data files that contain data and file structure. So, data are not transferred as images (such as PDFs). Examples of structured file formats include XML, IDoc, EDIFACT, ODETTE, VDA, X12, etc.
EDI channel: to facilitate document exchange, technical interfaces are created between your ERP system and that of your business partners. These interfaces are called EDI channels. Examples include AS2, sFTP, X.400, WebService and API.
Translation map: every ERP system requires different file formats. Therefore, a format conversion is required in almost all EDI relations. The correspondence of fields, their values and restrictions from one format to another are defined on a translation map.
On-boarding: Includes all activities to connect business partners for EDI exchange, such as the initial contact and communication, agreements on formats and EDI channels, technical set-up and tests.
Internal IT system: this article refers to IT systems that create, send, receive and process business documents as internal IT systems, because they may include ERP, MM, PIM to ECM or other applications depending on each company's individual IT infrastructure.
---
Commentary by Paula Müller. Have you read?
The World's Best Luxury Superyacht Charters And Builders.
Luxury Superyacht charter in Greece and the Greek Islands.
World's Best Destinations For Business Travelers.
Crewed MegaYacht charter in Greece and the Greek Islands.
---
Add CEOWORLD magazine to your Google News feed.
---
Follow CEOWORLD magazine headlines on:
Google News
,
LinkedIn
,
Twitter
, and
Facebook
.
---
Thank you for supporting our journalism. Subscribe here.
---
For media queries, please contact:
info@ceoworld.biz
---