The Best Hotels In Elounda (Crete) For Business Travelers, 2020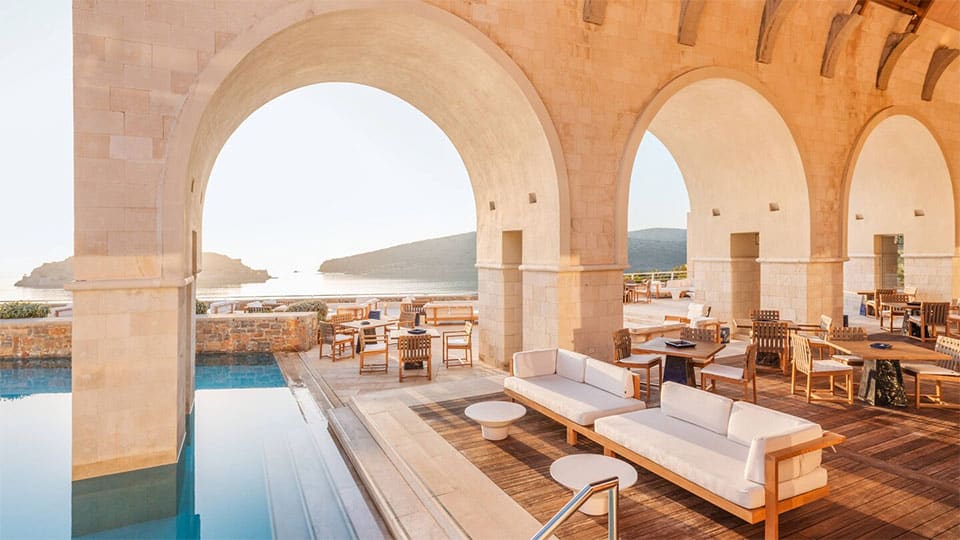 Elounda, a small pristine town on the northern coast of the Crete Island northwest side of the famous Mirabello Bay, is one of the most favorite tourist destinations with ultra-luxe hotels and resorts. Home to the most beautiful landscapes in Greece, just 10 km north of Agios Nikolaos, this historic town retains the traditional Cretan touch and offers you the calm and tranquility to regain the mind-body balance.
Heading towards Elounda from Agios Nikolaos you will follow the shore while climbing to the top of the small mountain. You will cross the small fishing village of Plaka (Lasithi) overlooking the former leper colony Spinalonga and the Kolikithia Peninsula and reach Lenika to enjoy the spectacular view of Mirabello Bay and the lagoon of Elounda (or Korfos).
Head east from the city towards e peninsula of Spinalonga and move further to see the old stone windmills and a wonderful stone bridge. Continue your journey and reach the chapel of St. Luke and relax near the famous beach of Kolokytha. In the whole journey, the beautiful nature and welcoming locals will accompany you everywhere.
Blue Palace, a Luxury Collection Resort and Spa, Crete .
Elounda, Crete, Greece
Enthralling uninterrupted views of the Cretan Sea and the island of Spinalonga from this architectural masterpiece makes this property a favorite amongst leisure travelers. This modernist white-washed resort with a touch of Cretan culture along overlooking a private beach makes it an ideal place to spend a holiday with family. All 52 suites and four villas, amidst an olive-tree garden, offer you a cool mix of tradition and contemporary comfort to make you stay memorable. You have everything here to pamper all your senses including a spa with hammam and sauna, PADI dive center, tennis courts. Large infinity pools and private beach will help you find the mind-body balance. Don't miss the voyage on Sunset Cruise to sail around Spinalonga.
Elounda Mare Hotel
Elounda, Crete, Greece
This ultra-luxe five-star resort redefines comfort in the Greek Island of Crete. Situated in a secluded part of the cavernous coast, Elounda Mare Hotel offers you well furnished traditional suites, villas, and bungalows to relax in heavenly comfort. Private pools and six senses spa will help you regain the charm. If you love sports, then you have a nine-hole golf course and several water-sports activities to flex muscles. The small sandy beach welcomes you to dip in pristine blue water and bask in the Mediterranean sun. You have three multi-cuisine restaurants to enjoy local as well as international delicacies.
Elounda Peninsula
Elounda, Crete, Greece
Situated on the edge of a cove with panoramic sea views, this boutique hotel is rated best for clam and tranquil retreat. Mesmerizing view deep-blue beautiful sea from the suites of the modernist yet traditionally designed property makes it perfect for peace seekers. The architect-owned property offers you the warmness of traditional Greek hospitality and contemporary premium amenities. Let your body regain the charm at Six Senses Spa. You have a giant-size infinity pool to relax and enjoy the uninterrupted view of mesmerizing sea and landscape. If time permits swing the club at the nine-hole golf course and try scuba diving at two protected beaches. You have the Calypso restaurant to enjoy the best local delicacies.
Porto Elounda Golf & Spa Resort
Elounda, Crete, Greece
Feel the vastness of the calm deep blue sea from this luxury hillside cove property of Crete.   Porto Elounda, with its bold and bright modernist design, offers you royal retreat to relax and enjoy the beauty of this pristine land. Playing at the nine-hole golf course overlooking the Bay of Mirabello will be a unique experience. All 128 rooms and suites, with its private pool and terrace, are well-equipped with modern amenities to make your sojourn special. Six Senses Spa, infinity pool, and private beach give you ample avenues to regain mind-body balance.
Royal Marmin Bay Boutique & Art Hotel
Elounda, Crete, Greece
Perfectly in sync with the landscape this boutique and art hotel is rated best for its eco-friendly atmosphere and warm Cretan hospitality. Situated amphitheatrically on a natural hill extending up to the sea coast, this adult-only luxury property offers you the right mix of comfort and convenience. Elegantly built rooms with a breathtaking view of the famous Mirabello Bay is an excellent choice for travelers looking for peace and tranquility.
Elounda Bay Palace
Elounda, Crete, Greece
Nestled on the lush green garden the edge of the pristine Mirabello Bay, this award-winning luxury resort offers you the right mix of tradition and comfort to make your stay enjoyable. Rated best for unique hospitality with traditional Cretan charms, all rooms and suites are equipped with modern amenities to help you relax in a natural setting. You have a pool to float and a fine dining facility to enjoy Mediterranean delicacies.
Sensimar Elounda Village Resort & Spa by Aquila
Elounda, Crete, Greece
If you are looking for a romantic natural escape with modern amenities, then this property overlooking the pristine Mirabello Bay is a perfect abode of you. This exclusive couple and adult-only stone-built hotel offer you heavenly comfort across all rooms, suites, and bungalows with plush beds and serene views from the window. Personalized services with absolute privacy give you both exclusion and exclusivity. Infinity pool stretching out to the Aegean blue makes you feel like in heaven. You are just 3 km from the fishing village of Elounda and 7 km from the cosmopolitan town of Agios Nikolaos.
Elounda Gulf Villas
Mesa Pigadakia Schisma Elounda, Elounda, Crete, Greece
This family-owned boutique property rightfully blends natural serenity and creates the right seclusion to help you relax in spacious villas and suites. The award-winning property overlooking the Mirabello Bay offers you elegantly built 18 pool villas and 15 suites with modern amenities. Enthralling view of the Aegean Sea from the hotel room along with the private pool and spa makes it a perfect abode to relax and rejuvenate. You have two a la carte restaurants, a lounge bar, and a private beach club to indulge in fine dishes of Mediterranean cuisines.

Cayo Exclusive Resort & Spa
Plaka, Elounda, Crete 720 53 Greece
Conceptualized with a focus on timeless values of Greek culture, hospitality, and Cretan tradition, this exclusive property just above the charming Plaka village assures the finest experience.  Overlooking the famous Spinalonga Island, Cayo Exclusive Resort offers you modern comfort and luxury in harmony with the environment. Chic accommodation, exquisite gastronomic brilliance, soothing spa, and rejuvenating relaxation on Plaka beach makes it perfect for a memorable holiday.
Elounda Garden Suites
Leoforos Dimokratias, Elounda
Ideally located near the beautiful Elounda coast, this luxury white-washed property blends brilliantly with the local landscape to offer your natural experience. Elounda Garden Suites offers you a vast array of options to choose and enjoy the Cretan hospitality in the center of the city. Rooms and suites are elegantly decorated and furnished to make your stay comfortable. You have an outdoor pool to relax and enjoy local cuisines at the on-site restaurant.
---
For those who are planning their next business trip, read on for our list of the world's best cities for bleisure travelers. As you continue to travel, we continue to listen: Here are the best hotels for business travelers to stay in Athens, Crete, Kefalonia Island, Corfu Island, Santorini Island, Halkidiki, Mykonos Island, Rhodes Island. Skiathos Island, Elounda (Crete) .
---
Add CEOWORLD magazine to your Google News feed.
---
Follow CEOWORLD magazine headlines on:
Google News
,
LinkedIn
,
Twitter
, and
Facebook
.
---
Thank you for supporting our journalism. Subscribe here.
---
For media queries, please contact:
info@ceoworld.biz
---