CEO Spotlight: Illia Danylenko; About The EdTech Market In Modern Business; One Trillion Dollars; And DNA of Wealth
I recently had the opportunity to interview Illia Danylenko, CEO of an EdTech information-analytical platform TeachMeCash. May 2019, ExCeL London exhibition center. After the Business Show, we had the opportunity to attend a private meeting of business owners in the field of banks, insurance, and FinTech.
The event was unusual, instead of serious men wearing expensive suits, young, promising, and trendy-looking entrepreneurs discussed problems and prospects of their start-ups. The environment was very relaxed yet serious, which facilitated the possibility of communication with the ideological and successful new-format businessman Illia Danylenko.
At the meeting, Illia told us that he has been working in EdTech, IT and marketing for the past ten years and shared with us solutions to the problems and tasks that he and his team face every day.
Also, Illia shared his secret on how to make money on knowledge and become financially successful.
Hello, Illia. Thank you allotted time for us. We noticed you spent more than an hour with the managers of J.P. Morgan Asset Management and RBC Wealth Management, are you planning a partnership?
Hello. From the start of ТeachMeCash, I always try to devote time to the press, if I have time, knowing that my clients and partners expect insights from me. At the moment, I can't answer your question, as this information is confidential and I prefer to tell people news about the result, not the process.
So, you declare that everyone can earn knowledge. Is this the core principle of TeacMeCash? And I would also like to know more about your new invention.
"Learn and earn" is the motto of our company; it's the main idea of the TeachMeCash platform. You might have noticed that TeachMeCash has a DNA as its symbol. What does this concept mean? Scientists state that poverty is coded in people's DNA, and my final goal is to change this mindset, to give all people the key to success, the key to success. All in all, all of us possess information and knowledge. Still, not everyone realizes that knowledge can be turned into money. This is what you need to become financially independent. Once you accept this thought and make it your ultimate goal, you'll see that your expertise is the most valuable asset ever, and you can become wealthy with this! TeachMeCash is going to pay people for their knowledge, their expertise.
Very inspiring, we'll get back to this a bit later, Let's see how it all started. First, tell us about how your professional way started, please.
Just after school, I decided to get a technical specialty. It was a conscious choice – complex technological processes always attracted me. By the way, this knowledge helped me to understand the structure of business processes and to clearly define goals for the future.
Since the times of studying at the university, I've been aiming to develop my skills. I regularly attended international courses and training where I learned about the world of marketing and IT business. I've met my future business partners there. This is how I started my career as an entrepreneur, which has grown from a simple hobby to a lifelong business.
Why EdTech?
The product topic, of course, was not created instantly. Some time ago, I was watching how professional programmers work – their experience and skills could be useful to thousands of other people. Later, I got the idea of how to solve this problem – to create a chain of relevant online courses, so everyone would have access to them from anywhere in the world.
A promising idea of educational courses turned out to be a profitable business. And the main point is that EdTech was an ideal niche for realizing our innovative endeavors.
This is not the only advantage of this niche, isn't it?
Educational technologies are aimed at improving the level of education. Of course, the niche has several advantages:
Accessibility for everyone thanks to the Internet;
Competitive price – offline education is usually much more expensive;
Perfect time management – users can choose the time and place to listen to lectures;
The value of information – students from anywhere in the world have access to high-quality education.
I would also add practicality, as all the knowledge gained in the EdTech framework is applicable 'here and now' as opposed to any offline analogues.
Could you please give us some examples where EdTech is currently used?
In fact, educational technologies are applied even more often than we can imagine. They are used by children of different age who learn via special apps, programs, and courses; by students from all over the world who receive distance and additional education; by all thinking people who master new activity directions and want to obtain a new profession.
How do you assess the future potential of EdTech?
The EdTech market has been booming for the past 5 years and continues to have huge untapped potential. Our experts anticipate growing of the EdTech market volume to $1 trillion by 2024.
And the main goal of my project which I'll describe a bit later is the development and popularization of the EdTech sphere, and the key task is to make the market even stronger. 
What about the mission? Do you have it?
Yes, sure, TeachMeCash has a mission. While developing in the developing industry and earning money, each of our partners acts as a guide to the world of knowledge and information. We build the future for our children and society, improving the quality of education and raising the standard of living. This is important for us.
Are there any EdTech problems which TeachMeCash solves?
We have carefully researched the EdTech market. The main problem we have noticed is the lack of popularity of online courses due to the lack of analytical information about the industry among developers. Not everyone is ready to work in the online EdTech industry without such statistics. Developers of online education programs don't always have actual and focused data to keep up with the changing needs of solvent clients.
The next issue we solve is that people who want to learn are not always aware where they can get high-quality education and achieve tangible results.
We also grow experts in the industry and popularize online education across the world. We pay people for their expertise and knowledge, thus, giving them a chance to earn while learning something new.
What is the solution you came up with?
We came up with a platform which allows us to comprehensively achieve all the goals described above.
Here is an illustration of our business model, where you can see how we solve both problems and cooperate with partners and clients.
It seems that your platform can be the right solution. What does it look like?
TeachMeCash consists of an annual subscription to information services provided by the best experts in the field of online education. Our experts study the EdTech market and generate analytical reports on thematic news and trends for people who want to gain new knowledge in the industry. Recent research and developments are exactly what will help develop this industry and grow experts to join our team.
My global goal is becoming a consulting center with representative offices across the world. We have a career program which allows partners gather their own teams and build a whole referral system that works for them. They will be able to open own TeachMeCash offices and consult leaders and new clients. Long story short, it is based on the referral business model, and our sales network is called 'sales family', where each of you can become a 'sales friend'. 
Interesting. And what about your annual subscription – what is that?
We have prepared 3 subscriptions – from the minimal one which contains one large-scale fundamental research to the maximum one with weekly analytical digests and the opportunity to get my personal consultation. They differ by the price and income. The more professional subscription is, the more we pay for expert opinions. We pay only for expertise, and support people's personal and financial development. As an EdTech company, we want our clients educate and grow.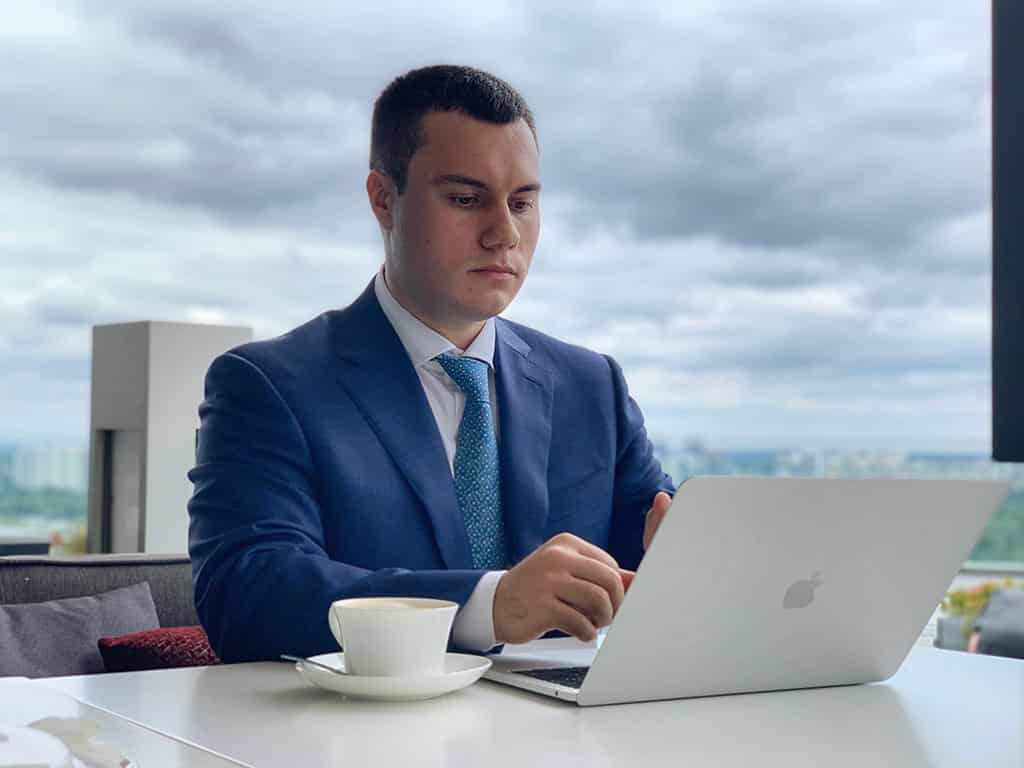 What result can your clients anticipate?
As in any other business, everything depends on the willingness and efforts of each client or partner. We provide the tools to increase people's expertise and competence and the possibility of earning. Once a subscriber has read the latest news and made their mind on the recent changes in EdTech, they can fill out our marketing surveys. These surveys are used in our next pieces of research – they give us a big picture of what is happening on the market from the point of view of different demographic groups. We pay our subscribers not for their purchases, not for their participating in the projects, we pay for their constantly growing expertise.
As for earning with our platform, there are two available ways:
1) becoming a subscriber, participating in surveys and getting money for the increasing expertise;
2) becoming our 'sales friend', promoting the product and attracting new clients – this helps us grow a representative sample.
Why did you choose the referral business model for TeachMeCash?
Everything is simple: this model requires almost no advertising costs – the entire advertising budget is distributed among partners who promote our product. For instance, our partners dedicated more than $232 million for the global market research, and instead of spending it on our activities, we pay clients to grow our sample, based on answers of which we create analytics. I'd like to note that all our financial calculations can be found in our roadmap on the TeachMeCash website.
Thank you, there is something to think about! What plans does the company have for the upcoming years?
As your probable future business partner, I can state the following: we need just five years to grow into a consulting holding with representative offices all over the world. Anyone will be able to get expert advice on which specialty to choose for themselves and their loved ones, which professions are most relevant, which forecasts are there for the nearest future, and so on. So, based on the information received, people will be able to choose the best options for online education.
Also, we have lots of other plans from adding new payment methods to introducing a machine learning-powered analytics system. You can see all of them in the roadmap.
Sounds! And to draw the bottom line, could you please share some motivation with our readers?
Years of practice helped me realize that working for yourself, being successful, building your own highly profitable business has become the real thing today! I assembled all these opportunities in my project. And I'll be happy to share the details with you on my master class, which will be held at 7 PM CST (China Standard Time) on September 6, 2019.
Anyone can take part free of charge and decide whether they would like to join my ambitious educational project. See you!
---
Have you read?
# Countries With The Highest Average Life Expectancies In 2030.
# The World's Best Performing Companies 2019.
# The World's Safest Cities Ranking, 2019.
# World's Most Luxurious Hotels, 2019.
---
Add CEOWORLD magazine to your Google News feed.
---
Follow CEOWORLD magazine headlines on:
Google News
,
LinkedIn
,
Twitter
, and
Facebook
.
---
Thank you for supporting our journalism. Subscribe here.
---
For media queries, please contact:
info@ceoworld.biz
---