These Are The Most Haunted Places In The United States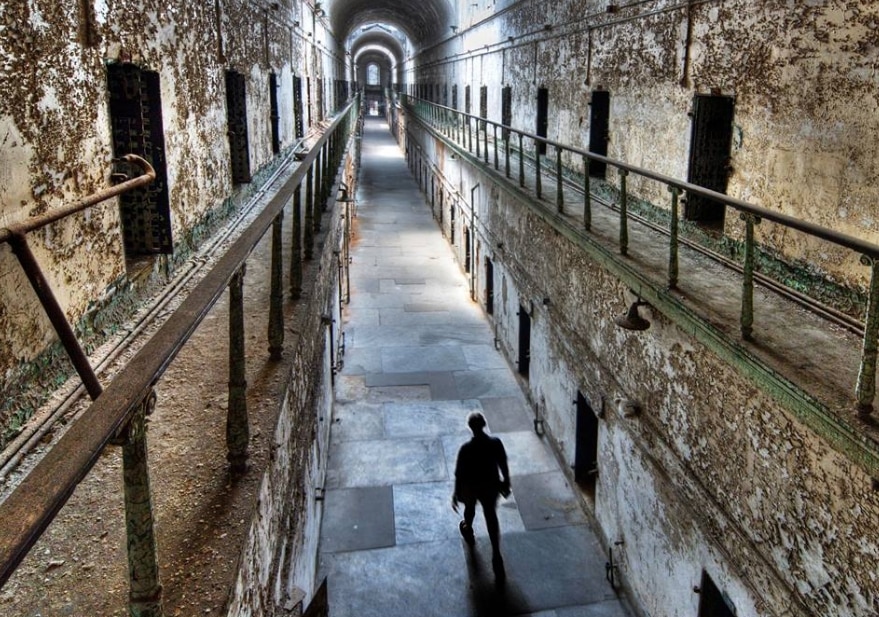 Regardless of whether you believe it or not, America's towns are loaded up with creepy stories passed down through time. Each state has its own spooky spots, regardless of whether a yearly haunted attraction, a truly haunted place, or only an awkwardly spooky spot in nature. egardless of how you scare, your state has a place to freak you out whether it be old mental hospitals, amusement park fright houses, valleys filled by ghosts, cemeteries, historic hotels.
Here we're pulling together a list of some of the spookiest spots in the United States.
Eastern State Penitentiary, Philadelphia.
The castle was built in 1829 and it took solitary confinement to the new levels. Whenever an inmate leaves his cell, a guard was there to cover his head with a hood so he couldn't see or be seen. All the Prisoners lived alone, ate alone and exercised alone. Due to overcrowding in 1913, the prison had to abandon its solitary system but the punishment did not get any less severe. Now, this place welcomes thousands of visitors every year for its ghost tours.When the prison closed in 1971, it is believed that the ghosts of the inmates took back the prison. Visitors have reported many paranormal happenings including disembodies laughter, pacing footsteps, and shadowy figures.
Trans-Allegheny Lunatic Asylum.
This asylum was once known as the Weston State Hospital and was home to thousands of people with mental illness. Before the asylum closed in 1994, hundreds of people died here. When the asylum's grounds served as a military post, the spirits were said to haunt the site. You can have a 2-hours paranormal tour at the asylum's 4 main hot spots. If you want to experience the more intense ghost hunt then take an 8-hour tour with experienced ghost-hunting guides.
Atrox Factory, Alabama.
This is considered to be the largest haunted attractions in the southeast. The most interesting things are the lineup of horror celebs – the Vampire Slayer's James Jude Courtney on 26th and 27th October. The lineup was open until 3rd November to midnight Fridays and Saturday.
Sammie Dean.
Jerome has different reputation years back for paranormal activity and is home to just 400 residents. There are plenty more ghostly residents from the days of mining accidents.  One popular spirit is the working girl Sammie Dean who was a prostitute and was strangled by a customer in the old Crib District. It is said that her beautiful spirit roams the alleys and looking for her killer who was never found.
The Alaskan hotel, Alaska.
If you are not scared of a long, dark walk through bone-cold and only one match then this place will scare you which is fully heated bear-free Alaskan Hotel. It is the state's oldest operating hotel and considers into a more legendary haunted spot. It is said that a ghost – gold miner's wife who lived there was waiting for her husband to return is roaming in these halls. When her husband didn't return she began to work as a prostitute until the time he returns.
Cuban club, Tampa.
Cuban club was founded in Tampa's Ybor City and is known as Circulo Cubano de Tampa. The spot became the popular hangout for Cuban immigrants in 1917 who fully enjoyed outdoor band shell, ballroom, and cantina with a dance floor. Many hosts exhibit concerts and special events in the compound area which is controlled by the National Historic Register. It is also a set for many ghost stories where spirits play the piano and ride the elevators.
Cahawba, Alabama.
The Cahawba, Alabama take its name from the state's longest river which was abandoned after the Civil war. Its empty buildings, spooky cemeteries and slave burial ground are now a very popular set for ghost tours and paranormal activity. You will definitely hear the most famous tale of this place which is of a luminous floating orb appearing in the former garden maze of Colonel C.C. Pegues's house.
St. Augustine Lighthouse, Florida.
This house was visited by more than 2,25,000 people yearly however its still well-known for its international visitors. You can see many tragic events happening here which have contributed to the alleged paranormal activity. The first event occurred when the lighthouse die while painting the tower since then his ghost has been spotted here watching over the grounds.
The Stanley Hotel, Colorado.
You'll only know the feel of this snowbound hotel if you have ever read or seen the shining.  It's the same location which Stephen King overlook his Hotel. If you have not watched the 1990s made-for-TV movie version then it won't look like a film to you. The rumor was about the haunted rooms and service workers who still wander the grounds. You will see a much more sinister danger here.
Moon river, Brewery.
This building was considered to be one the oldest in town when The Moon River Brewery brought his beloved beers to Savannah in 1999. In its actual narration, this place was the high-end city hotel which had a solid history of violence during the civil war. Many men were killed in this hotel from heated skirmishes which include a Yankee who was beaten to death by locals in 1860. You'll see some bar patron saying they've seen bottles mysteriously fly in the air and have also witnessed visitors touched, pushed and slapped by the unseen spirits.
---
Have you read?
# New York Rich List For 2018: The Billionaires Of New York.
# Richest Women In The United States For 2018: 55 Female Billionaires.
# Top 20 Richest Sports Team Owners In The World, 2018.
# The 100 Most Influential People In History.
---
Add CEOWORLD magazine to your Google News feed.
---
Follow CEOWORLD magazine headlines on:
Google News
,
LinkedIn
,
Twitter
, and
Facebook
.
---
Thank you for supporting our journalism. Subscribe here.
---
For media queries, please contact:
info@ceoworld.biz
---