The World's 10 Best Honeymoon Stays Destinations
It is a fair myth that honeymoon always lands up in a charismatic and romantic destination, a 'made for each other' type. But not every couple on earth goes to a quixotic and dreamy place to spend time together. Below enlists some of the honeymoon stay destinations that will draw both the starry-eyed couple and the otherwise.
Paris, France

The 'Romantic Capital' of Europe is a dream honeymoon destination for couples all around the globe. Dinner or just another cup of coffee at the Eiffel Tower under a star-studded night is a fantasy of many. A romantic ride along the river Sienne watching the city's evening light décor is another charm in the list of romantic couples.
Bali, Indonesia

Ever dreamt of the dinner date inside a candlelit encampment beside the sea? Come to Bali, the island province of Indonesia. Its extensive beaches offer a mixed and unsurpassed experience of adventure and culture. Couples can together go for a trek in the nearby hills or simply lay down at the beach to watch the silent water lines.
Mauritius
Here comes the east African honeymoon stay for couples who enjoy both candlelit dinners and adventure happenings. The serene beaches of Mauritius are the perfect boons for a relaxing honeymoon. Couples can go for a private cruise or try parasailing at the coastlines. Luxurious hotels and beachside cottages; all are available at Mauritius satiating the moods of the couples.
Andaman and Nicobar, India

Another adventure cum dreamy honeymoon stay is the Andaman and Nicobar islands on the south-east coasts of India. Snorkeling, glass boating, scuba diving, parasailing, speed boat, and banana boat are some of the adventures that a couple can take up while in Andaman. Evenings can be best spent around a bonfire near the beach with live karaoke.
Santorini, Greece

The explosion knot of the world's largest volcano is the islands of Santorini in Greece. Its silvery establishments on the blue canvas of Aegean Sea offers the seamless honeymoon stays for duos across the globe. Trekking to a volcano to watch the brilliant sunrise is an altogether unique experience for couples who will unquestionably adulate the gorgeousness of the islands.
Maldives
The transparent and unblemished water of Indian Ocean can only be enjoyed in the Asian country of Maldives. You can quietly spend your time in the water Bungalows viewing the blue strands of the ocean if you are not interested to go for diving or island hopping. Couples can also indulge themselves in body and mind healing Ayurvedic Spa that is all exclusive only in the Maldives.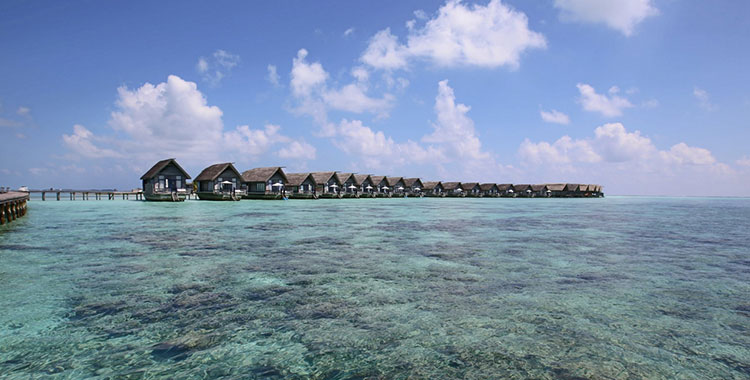 Venice, Italy

Another perfect romantic honeymoon destination in the northeastern part of Italy is Venice. A warm 'gondola' ride along the narrow waterways of Venice makes the perfect morning for newlywed duos. Watching Venetian operas and wandering along the age-old Venetian architecture will surely sum up the entire day. Venetian wine with a perfect view of the island from the hotel balcony is all that you will ask for to brighten your moody evenings.
Zurich, Switzerland

The ultimate gateway for a romantic European honeymoon is Switzerland. If you are a foodie couple, Swiss wines and chocolates are the lust to your taste buds. Also, you can finish your dinner in the rooftop sky bars that offer a magnificent view of the city.  Lake Geneva and Rhine falls are among the many other glamorous couple destinations in Switzerland that make it a top choice as a honeymoon stay.
Munnar, India

Staying in a cuddly and warm tree house has not been any better than in Munnar, a small hill station in India. Munnar offers a perfect blend of green national parks, bottomless lakes, and high elevations. Couples can go for a 'shikara' ride, an elephant gallop, hike mountains, visit a tea garden or simply enjoy their Indian dinner in the tree house.
Shetlan, Scotland, United Kingdom
Want to enjoy the Northern lights with your partner? Come to Shetland! Yes! It may sound odd but this place in Scotland does show up the fantastic Aurora Borealis! The place is perfect for couples who want to solely enjoy each other's company. It's tall cliffs with quiet beaches and hoary castles will make your honeymoon cherish for long.
---
Have you read?
# World's Top 50 Universities For Psychology Degrees, 2019.
# World's Top 50 Universities For Arts and Humanities Degrees, 2019.
# World's Top 50 Universities For Education Degrees, 2019.
# World's Top 50 Universities For Social Sciences Degrees, 2019.
Also read: CEOWORLD magazine ranking – The World's Best Honeymoon Destinations In 2019.