America's 20 Best-Run Cities (And, Alternatively, The Worst-Run Cities) For 2018
People, Policies, Places, Pollution, and Politics, with so many factors to consider when looking for the most well-run cities. Nampa, ID has been named the best-run city in the United States, according to a new study by finance website WalletHub. The city of Provo, UT was ranked second overall, followed by Boise, ID; Lexington-Fayette, KY; and Missoula, MT.
The worst? Washington, DC.
To determine the ranking, the website examined the operating efficiency of 150 of the country's largest cities to sleuth out which ones are managed best (and, alternatively, the worst). The study focused on 6 service categories — financial stability, education, health, safety, economy, and infrastructure & pollution — measured against the city's per-capita budget.
The 20 Best-Run Cities In America For 2018
1. Nampa, ID
2. Provo, UT
3. Boise, ID
4. Lexington-Fayette, KY
5. Missoula, MT
6. Sioux Falls, SD
7. Durham, NC
8. Lewiston, ME
9. Nashua, NH
10. Oklahoma City, OK
11. Las Cruces, NM
12. Greensboro, NC
13. Cedar Rapids, IA
14. Huntington Beach, CA
15. Billings, MT
16. Raleigh, NC
17. Rapid City, SD
18. Fort Wayne, IN
19. Fargo, ND
20. Virginia Beach, VA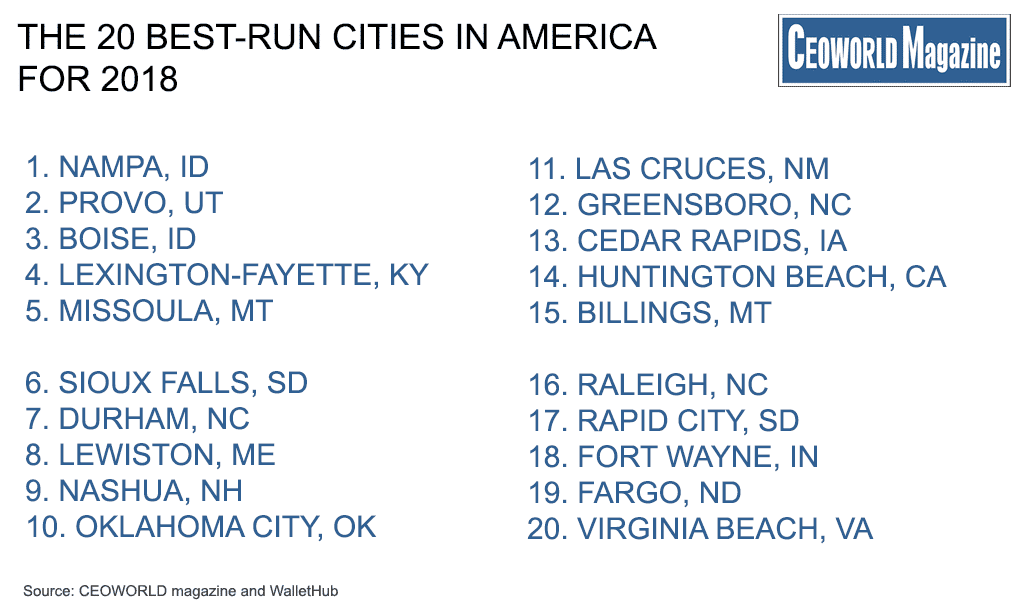 The 20 Worst-Run Cities In America For 2018
1. Washington, DC (150th)
2. Detroit, MI
3. New York, NY
4. San Francisco, CA
5. Gulfport, MS
6. Oakland, CA
7. Chattanooga, TN
8. Flint, MI
9. Cleveland, OH
10. Hartford, CT
11. Chicago, IL
12. Tacoma, WA
13. Los Angeles, CA
14. Atlanta, GA
15. St. Louis, MO
16. Memphis, TN
17. Philadelphia, PA
18. Yonkers, NY
19. Cheyenne, WY
20. Denver, CO (131st)