United States Is World's 18th Happiest Country
Interestingly, a new UN-backed survey into global happiness has placed United States 18th out of 156 nations. The United States, one of the world's wealthiest countries, fell to 18th place from 14th last year.
Finland was ranked as the happiest country in the world, both among its immigrant and general populations. Briefly put, Europe's Nordic nations regularly appear in the top five happiest countries, according to the report. Norway, Denmark, Iceland and Switzerland were the other countries in the top five.
The top ten, after Switzerland, is as follows; the Netherlands, Canada, New Zealand, Sweden and Australia.
The World Happiness Report for 2018 claims to be a "landmark survey of the state of global happiness" which ranks "156 countries by their happiness levels" and "117 countries by the happiness of their immigrants."
Burundi was the least happy, taking over from the Central African Republic.
The world's happiest – and least happy – countries
Happiest
Least happy
1. Finland
147. Malawi
2. Norway
148. Haiti
3. Denmark
149. Liberia
4. Iceland
150. Syria
5. Switzerland
151. Rwanda
6. Netherlands
152. Yemen
7. Canada
153. Tanzania
8. New Zealand
154. South Sudan
9. Sweden
155. Central African Republic
10. Australia
156. Burundi
The top 10 happiest and least happy countries in the world, 2018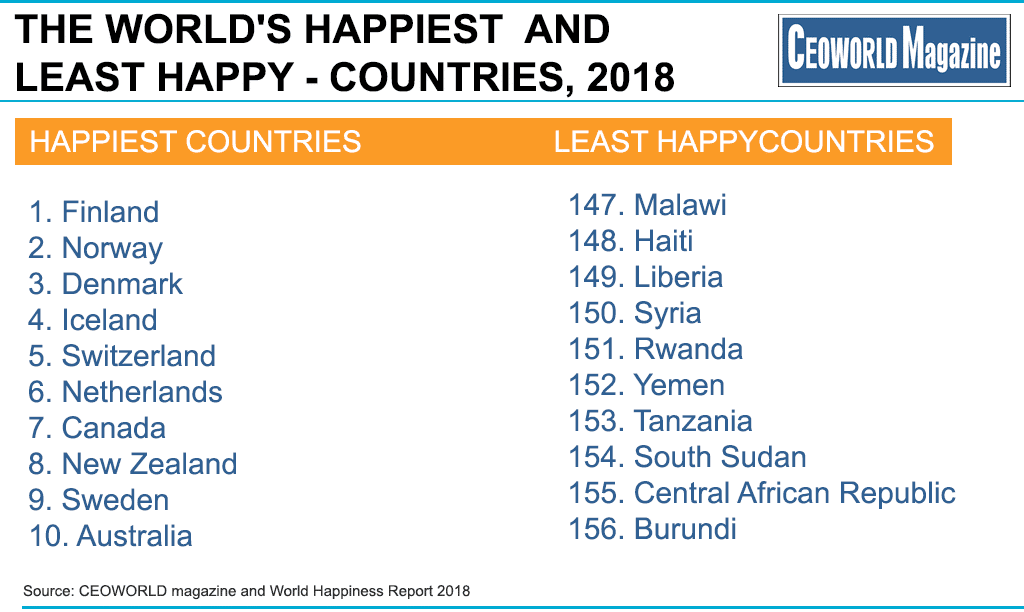 Dr. Amarendra Bhushan Dhiraj is the CEO and editorial director at CEOWORLD magazine, the leading global business magazine written strictly for CEOs, CFOs, top managers, company directors, investors, senior executives, business leaders, high net worth individuals, and the most globally powerful men and women.
Latest posts by Dr. Amarendra Bhushan Dhiraj
Leave a Reply